Low turnout in Minn. primary election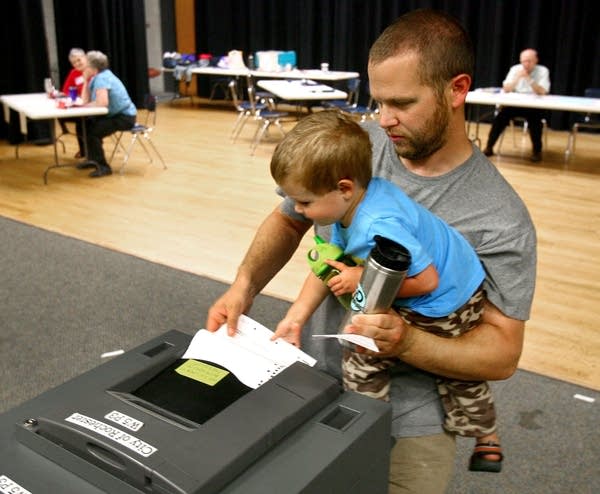 Candidates made last-minute pushes to try to encourage their supporters to vote in Minnesota's primary election Tuesday, as low turnout made outcomes hard to predict in key races.
Voters are choosing the candidates who will appear on the general election ballot in November for each party.
Contested primaries this year include races in the 1st and 8th Congressional Districts, as well as in 40 legislative seats across the state. Primary voters will also narrow down the fields in nonpartisan races, including judicial, local and county offices. 
Secretary of State Mark Ritchie expects a turnout of less than 15 percent of eligible voters.
This is only the second time in recent history that a primary is held in August. It was moved up from September two years ago to give more time for military personnel and overseas voters to return absentee ballots.
"It was actually above 15 percent last time," Ritchie said. "This time will probably be below 15 percent, but it's always about the same, no matter what month you choose."
Many polling places have changed locations since the last election due to redistricting. But Ritchie said voters are showing up at the correct location.
"So far, so good," he said.
The Minnesota Secretary of State's office has set up a website for residents to find polling places and check their registration at mnvotes.org. Most primary polling locations will be open from 7 a.m. to 8 p.m. Voters can register at the polls. 
The general election will be held on Tuesday, Nov. 6. 
Here are a few of the competitive primaries happening today: 
In the 1st Congressional District in southern Minnesota, two Republicans are vying to take on U.S. Rep. Tim Walz. Primary voters will choose between state Sen. Mike Parry, R-Waseca, and former state Rep. Allen Quist. That primary campaign has turned nasty as Parry pointed to  comments Quist made in the past as proof that Quist wouldn't be a good candidate in the general election. Parry has found himself in hot water after suggesting that Gov. Mark Dayton abuses prescription pills, which the governor called gutter politics. Quist has raised more money than Parry, largely because of funds he lent his campaign. Neither candidate has the Republican party endorsement, after a deadlocked process.
In the 8th Congressional District in northeast Minnesota, DFLers Jeff Anderson, Tarryl Clark and Rick Nolan are competing to run against U.S. Rep. Chip Cravaack, a Republican. 
Rick Nolan served three terms in Congress in the 1970s. He has the DFL endorsement and former U.S. Rep. Jim Oberstar's blessing.  Clark has criticized Nolan's actions as head of the Minnesota World Trade Center.  
Tarryl Clark has received the endorsement of former President Bill Clinton, and has  raised more funding  than her opponents.  She's been criticized  as an outsider in the region.
Jeff Anderson is an Ely native, veteran and  former president of the Duluth City Council . Anderson has the endorsement of Duluth Mayor Don Ness. Clark has criticized Anderson as inexperienced.
In the Minnesota Legislature, there are primaries for 40 of 201 seats.  Every seat is up for election in November.
State House: Ten House Republican and 14 House Democratic primary contests will be decided in this primary election.
In the heart of the Iron Range's House District 6B, three DFLers are battling to replace retiring Rep. Tom Rukavina of Virginia. There's also a Republican primary, with two candidates.
In Minneapolis'House District 59B three main DFLers are competing for the seat of  Rep. Bobby Joe Champion, who is running for the Minnesota Senate. There are also two GOPers competing in the primary.
State Senate:  There are primary contests in 18 Minnesota Senate districts, including nine GOP races and ten DFL races. 
In St. Paul's Senate District 67, three DFL candidates are battling it out to fill the seat of DFL Sen. John Harrington, who decided not to run again.
In Senate District 47, Republican Senate Tax Committee Chair Julianne Ortman of Chanhassen is facing a tea party challenge from Bruce Schwichtenberg.
Reporter Laura Yuen contributed to this report.
Gallery
11 of 11
1 of 11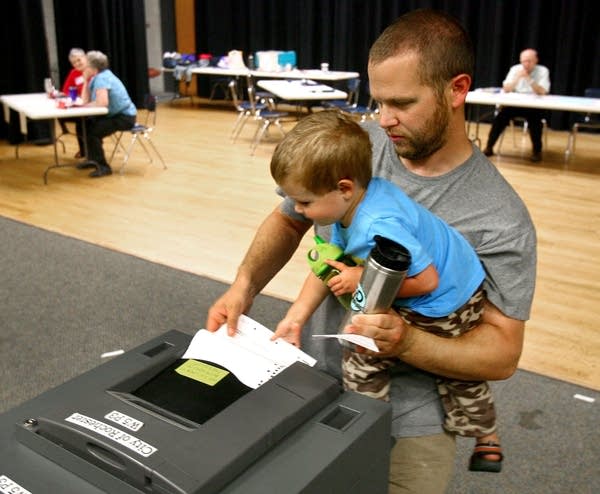 2 of 11