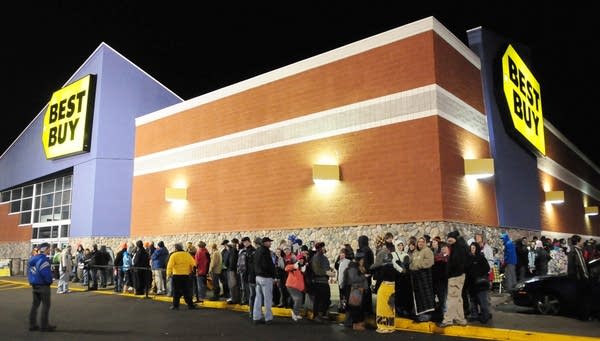 Best Buy's earnings report is expected at 7 a.m today, after a highly eventful start to the week.
• Update: Q2 profits drop 90 percent
On Tuesday, the struggling consumer electronics retailer named a new CEO. Founder Richard Schulze rejected the board's proposed timeline for his buyout efforts. And, by day's end, Best Buy's share price had fallen 10 percent.
Today, the Richfield-based retailer will likely provide an update on efforts to improve the company's fortunes.
Best Buy remains profitable with about $50 billion in annual sales. But the retailer's sales at stores open at least 14 months have fallen for seven consecutive quarters. This so-called "same-store" sales figure excludes recently opened and closed stores and is a key industry benchmark.
The declines have ranged from between one- to five percent.
Wedbush Securities analyst Michael Pachter says that "slow bleed" could kill Best Buy.
"If that happens for ten consecutive years, they will be out of business," Pachter said. "They can't afford a sales decline forever."
After some four months of searching, Best Buy on Monday named Hubert Joly as the new CEO. Joly comes from Carlson, the giant hospitality company based in Minnetonka.
The French-born executive has some previous technology experience. Starting as a McKinsey & Company consultant, he went on to head tech giant Electronic Data Systems' operations in France. After that, he took over as CEO of Paris-based Vivendi's international video game business, and later rose to vice president of the parent company, Vivendi Universal.
Joly joined Carlson Wagonlit Travel in 2004. Carlson said he grew revenue there from $8 billion in 2003 to $25 billion in 2007. He was named head of the parent firm, Carlson, four years ago and became the first CEO outside of founder Curt Carlson's family.
Joly is not likely to be on the conference call that will follow today's earnings release. He doesn't officially start at Best Buy until next month. Joly, a French national, must secure a work visa, the company said.
Joly succeeds Brian Dunn, who left in April amid an investigation that he had an improper relationship with a 29-year-old female employee. Since Dunn's departure, Best Buy board member and former UnitedHealth Group executive Mike Mikan has filled in as interim CEO.
The board had earlier indicated the search for a new CEO would take until at least October, maybe as long as January, but settled on a new permanent CEO quicker than expected.
In a released statement, Kathy J. Higgins Victor, who headed the company's search committee, said, "Given the need to fill this post without delay, committee members devoted an enormous amount of personal time over the past five months to ensure the search was thorough. We were delighted by the number of qualified candidates, and we are deeply pleased with the result, in Hubert Joly. The committee's work is another example of the board's commitment to excellence in corporate governance."
With the change at the top, Best Buy's earnings discussion will probably lack more details on a long-discussed and much-anticipated turnaround plan. Joly will probably want to develop his own plan, which could take several months.
In March, Best Buy announced the closing of 50 stores, the cutting of 400 corporate jobs and $800 million in cost cuts. In early July, the retailer said it would lay off 600 staffers in its Geek Squad technical support division, along with 1,800 other store workers. But the company has said it plans to take further actions to close and shrink its big-box stores and adjust its product mix, customer service and price competitiveness.
Even without details on a turnaround plan, Wall Street analysts will be looking for further insight into Best Buy founder Dick Schulze's effort to buy the company and take it private.
Schulze said earlier this month that he was committed to his offer for the electronics retailer and has heard from a number of private equity firms prepared to make ``significant commitments."
However, Best Buy and Schulze went back and forth in public announcements over the weekend.
According to Best Buy's statement Sunday, the company spelled out certain terms for acquisition talks to proceed. They included a 60-day deadline for Schulze to bring forward a fully financed proposal.
"The board showed great flexibility in the details around how an agreement with Mr. Schulze could be implemented so as not to limit his ability to make a definitive proposal for the company that was in the best interest of the shareholders,'' according to Best Buy's statement Sunday. "Mr. Schulze did not accept the company proposal."
In response, Schulze issued his own statement, saying, "I am disappointed and surprised by the Best Buy Board's abrupt termination of our discussions. For the record, we engaged in good-faith negotiations with Best Buy's board and its advisors over the weekend and expected to conclude this matter before the company's earnings announcement early this week."
Some analysts think Schulze will get nowhere with his buyout effort, but expect that he will keep trying. One industry expert expects Schulze will wait for the company's stock price to fall further and then make a move. In the meantime, as Best Buy stock falls in value, the value of Schulze's shares drops, too. Schulze owns about 20 percent of Best Buy's shares.
This reports contains material from the Associated Press.