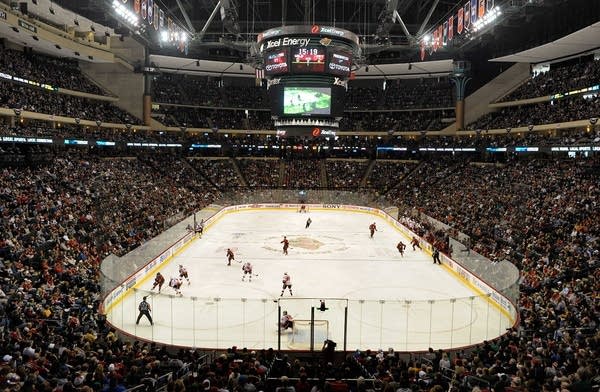 The Minnesota Wild were supposed to kick off the 2012 home season with an opening night celebration in downtown St. Paul Saturday night. But an ongoing lockout will keep players off the ice for at least a few weeks.
The Wild play their home games at the Xcel Energy Center in downtown St. Paul. City officials say the impasse between team owners and players is hurting businesses in the area, and they fear a repeat of the lost season of eight years ago.
St. Paul Mayor Chris Coleman — who refers to his city as the capital of the "state of hockey" — said he wants the players and owners to understand the true cost of the dispute.
"It's costing good will," he said. "It's costing people income that they need. It's costing the economic vitality of the communities that host them. I just hope that they see beyond their own narrow interests and just push through to a deal."
The amount of lost dollars per canceled game is a little hard to calculate. But St. Paul city officials estimate that if each of the 18,000 people who attend the average Wild game spends $50 on things like parking, dinner, drinks and hotel, that it adds up to $900,000.
There are more than 40 home games per season — not including the playoffs. Coleman said a canceled preseason game between the Wild and the Winnipeg Jets meant groups of Canadian fans stayed home.
"That impacts the hotel they were going to stay at," Coleman said. "It impacts the restaurants they would have eaten at. It impacts the charter bus company that was depending upon it and the drivers that would have driven that route. So that's just one instance of one group coming from one city for one night."
Coleman and others fear a repeat of the 2004-2005 season that was canceled completely due to a lockout. The city claimed that year the local economy lost $60 million in revenue — a number it reached by comparing the sales tax revenue from that year to two previous hockey seasons.
But MPR News analyzed 15 years of hockey season sales tax numbers and found that revenues have steadily increased over the years, even during the lost season.
BAR OWNERS FEARFUL
The impact of inactivity at the Xcel is much easier to measure for local business owners like Sean O'Byrne, who runs Great Waters Brewery located just a few blocks from the home of the Wild.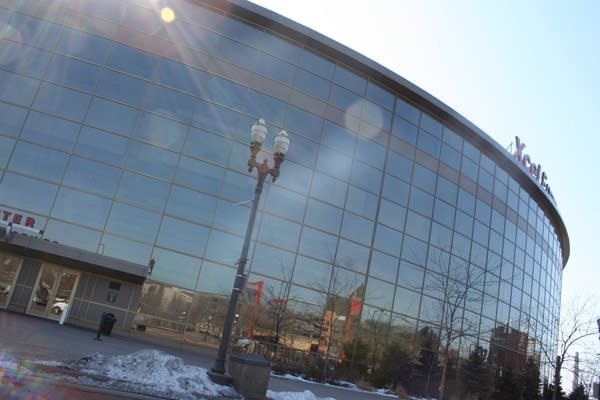 O'Byrne said normally he hires three to four more servers at the restaurant during hockey season. But he hasn't so far this year. And O'Byrne said he's really worried about another year-long lockout.
"I think it's going to hurt more this time around than it did eight years ago," O'Byrne said. "The reason being is the economy right now isn't as robust as it was eight years ago."
Other nearby restaurants are already preparing for the worst-case scenario. Kevin Geisen, co-owner of the Eagle Street Grille across the street from the Xcel, said he was prepared to hire more workers to cover the increased hockey fan traffic.
However, due to the possibility of a season-long lockout, Geisen said he's started drastically cutting the shifts available to his staff and is working those hours himself.
"I went from working, probably, 24 to 30 hours a week to anywhere between 80 to 100," Geisen said.
Geisen said during the missing season of 2004-2005, the restaurant lost 65 percent of its gross income and he laid off nearly all his staff. Given the sluggish economy, Geisen said another season-long lockout will be even more devastating. Geisen said he kind of feels like a farmer with a hockey team as his main crop.
"If the crops are bad, you cut everything, you sell your equipment," Geisen said. "We're not to that point right now, but we're preparing ourselves so that hopefully we don't get to that point."
At last check, NHL players and owners have resumed talks. If the two sides can reach an agreement soon, the NHL season will start in two weeks and the Wild will have its first home game on Oct. 27.