A brighter home for the treatment of the mentally ill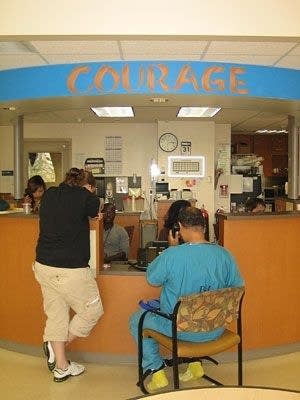 At Hennepin County Medical Center, Unit B2 is often where you go when there's no place - or hope - left.
[image]
Patients of the psychiatric unit at Hennepin County Medical Center are now greeted with bright colors and supportive messages, as well as an array of artwork. MPR Photo/Marianne Combs
According to John Gray, Interim Director of Psychiatry and Rehab Services, approximately 70% of the people he sees are suffering from some form of serious mental illness - bipolar, schizophrenia or major depression.
Grow the Future of Public Media
MPR's budget year comes to a close on June 30. Help us close the gap by becoming a Sustainer today. When you make a recurring monthly gift, your gift will be matched by the MPR Member Fund for a whole year!
"They're usually brought in by police or family, unwillingly," said Gray. "Sometimes it's very random who they bring to jail and who they bring to our psychiatric emergency room. They're usually brought in for some sort of public disturbance or family concern; they've expressed suicidal thoughts."
Patients may stay up to 8 weeks in the unit before moving on - hopefully to a better place.
"There are community resources designed to help people get back into the community but they're in short supply, so many patients bounce back here," said Gray.
Up until recently a stay in Unit B2 would be, at best, a bland, colorless experience. But at the urging of Abebech Mimi Girma of the Cultural Wellness Center, Gray teamed up with a group of community artists to create a more welcoming, nurturing environment for patients.
[image]
Jordan Hamilton, Nancy Sampson and Douglas Ewart, members of the Healing Arts Collective, worked with HCMC psych patients to create a more welcoming environment. MPR Photo/Marianne Combs
According to Girma, the goal was to create a warm and welcoming space where people would feel like they belong. It was not about simply making the rooms look pretty.
"If they just wanted art they didn't need me, they could just go on E-bay and buy poster art or work with some fancy interior designer because that's what most hospitals do," laughed Girma via phone from her native Ethiopia, where she's visiting family.
"Most hospitals don't have relationships with local and indigenous artists. Most hospitals are very wealthy corporations who work with other recognized entities who work in the world of art."
As an African woman, Girma said she sees indigenous art as something that's both functional and sacred.
"I want culture to be prominent in the conversation on health, restoring and maintaining health. To me culture is the glue that keeps families and communities together, and gives us direction.
"How do we get better when the term disease literally means 'not at ease?'" Girma mused. "What puts a Hmong person at ease or an Ethiopian person at ease when they are in a mental health institution?"
Together the artists and HCMC applied for a Hennepin Health Foundation grant, and were awarded close to $20,000.
[image]
A mud cloth wall-hanging decorates a warmly painted room used for neuropsychological testing.
MPR Photo/Marianne Combs
The artists, who now call themselves the Healing Arts Collective, met with the patients of Unit B2 and asked them what they would like to see on the walls. They hosted a slideshow in which the residents got to vote for particular works of art.
For John Gray, it was a watershed moment.
"We're in an environment where we take everything away: belts, shoelaces, anything sharp," reflected Gray. "And that day they got to take control of the environment."
In addition to bringing in dozens of works of art, the artists worked with patients to choose new colors to paint the rooms, and came up with designs for murals. On various walls can be seen symbols from African and Native American cultures.
[image]
Jordan Hamilton painted this 'Sunscape' to simultaneously provide a sense of warmth while also symbolizing new beginnings
MPR Photo/Marianne Combs
At the opening of the newly renovated psychiatric ward, which featured live music and entertainment, patients known for being shy and reclusive opened up and interacted.
All in all, the artists spent close to two years working with HCMC, sometimes daily as they worked on installing murals. Gray noticed the patients didn't greet him with nearly the same enthusiasm with which they greeted the artists.
While it's hard to measure the impact of such a project, Gray said he has no doubt it's been significant.
"I don't think there's any question about that. Artists have really made an impact," said Gray. "One patient contacted me and asked if she could buy a piece, because she couldn't have made it through her stay without it.
"So much of it was interactive, and not focused on why these patients were here - there was no judgement involved. It broke through the human loneliness factor. These patients are a part of this community, and this brought artists from their community here inside the hospital."
[image]
A Native American symbol is combined with encouraging words in the Intensive Care Unit of Psych Unit B2. MPR Photo/Marianne Combs
Artist Douglas Ewart says the project allowed him and his colleagues to both ease the minds of the patients, and show them some respect.
"Nobody is asking their opinion most of the time... but for this project they were being asked and listened to" explained Ewart.
"Much of the artwork serves as portals out of their current environment, and that's what I want to do in any way I can, provide art instead of medicine. Art is medicine."
Ewart says staff from other wings of HCMC are now clamoring for the artists to come work in their areas. But such work will have to wait until the hospital and the Healing Arts Collective find a new source of funding.
"We've gone far past the amount of the grant," said Ewart, "but this is so much more than the money - this is a pioneer project for us."