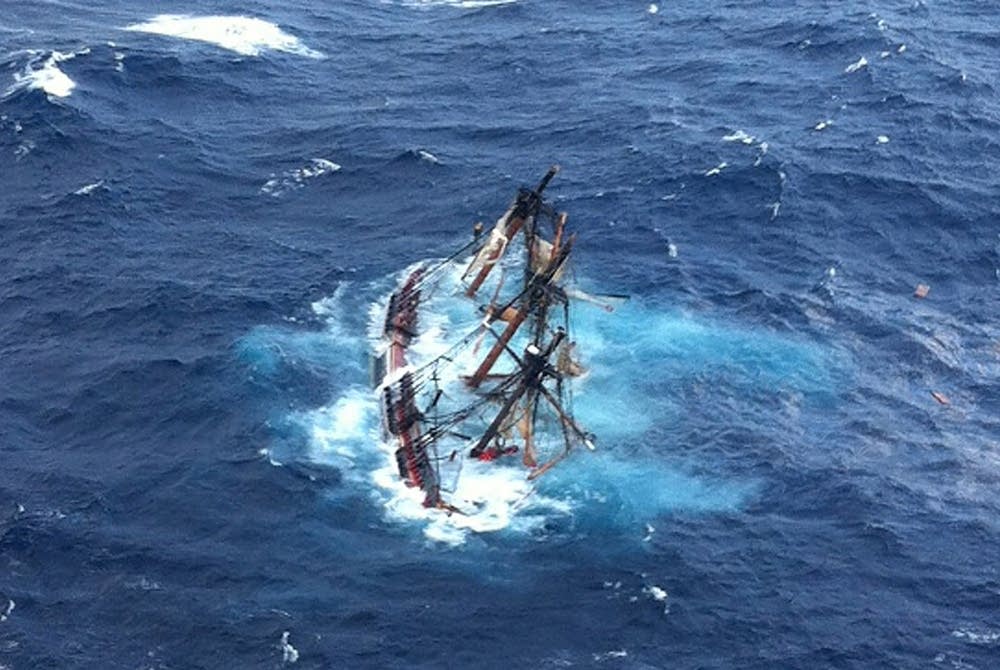 The mother of a Minnesota native sailing aboard a ship wrecked by Hurricane Sandy counts him as lucky to be alive.
John Svendsen, 41, had been the first mate aboard the replica of the HMS Bounty, which sank Monday off the coast of North Carolina. His mother, Joanne, said he'd been hurt before the crew abandoned the 180-foot, three mast ship before dawn on Monday.
"Well, he said he'd been rescued and had a cast put on his hand, and he'd broken some ribs and bumps on his head," she said. "But he said everything is healable."
Svendsen had been working aboard the Bounty for about three years, she said. A Brainerd High School graduate, he'd previously worked as a deep sea diver, and worked for the Nature Conservancy. "He's always been an adventurer," she said.
Svendsen said that she knew the Bounty was heading south in front of the approaching hurricane — headed, she believed, for a winter berth in Galveston, Texas. She said she knew her son was ahead of the storm, and was watching the weather with concern.
The ship's captain, Robin Walbridge, had told the ship's owner that he believed they would be able to beat the storm as it headed up the east coast.
"We are just going to keep trying to go fast and squeeze by the storm and land as fast as we can," said the message, posted on the ship's Facebook page. But the ship put out a distress call on Sunday night after it lost power and started taking on water. On Monday morning, the captain ordered the 16 person crew to abandoned ship.
Coast Guard footage shows a rescue helicopter lifting the crew from a life raft in high seas on Monday. Walbridge and another crew member, Claudene Christian, were washed overboard before they could reach the raft, and went missing as the boat foundered. Christian was pulled unresponsive from the water and died at a hospital in Elizabeth City, N.C. Walbridge remains missing.
Joann Svendsen said she watched the video of the rescue, but couldn't tell immediately if her son was among those saved from the ship.
"In those survival suits, you can't recognize them," she said. But she spotted John in video after the Coast Guard brought the surivors to shore yesterday.
She said her son wasn't in any condition to talk at length about the incident, but said he would call back in a few days when he'd recovered more.
The Bounty was a replica of the original legendary British sailing ship, built in Nova Scotia in 1962 for the filming of the movie "Mutiny on the Bounty," starring Marlon Brando.