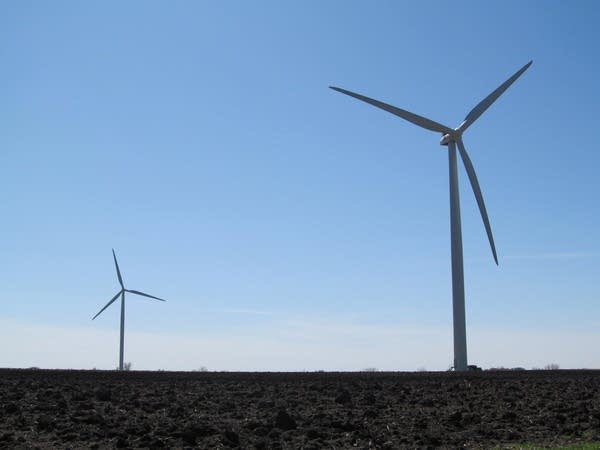 Hundreds of workers in our region are losing their jobs as wind turbine manufacturers cut production.
The federal tax credit that subsidizes wind energy is set to expire at the end of the year, and political uncertainty is putting the brakes on the wind industry. More than 500 workers are losing their jobs in the Red River Valley.
By the end of November, 345 workers who make wind turbine blades at a Grand Forks, N.D. factory will be out of work.
Bill Burga, who heads manufacturing in North and South America for LM Wind Power, the Denmark-based company that operates a turbine blade plant in Grand Forks, said orders for next year have dried up because no one is sure if Congress will renew the wind energy tax credit.
The company had no choice but to downsize a highly skilled workforce, he said.
"This is not good. This is not a happy experience for us. Not a happy experience for our people," Burga said. "When you take it down like this, it's like stopping and starting a freight train. It can take a long time to wind it down and a very, very long time to bring it back up."
Congress could act to extend the wind production tax credit before it expires in January. But even if that happens, Burga said it will take at least six months for the industry to get back up to speed. Some companies probably won't survive the slowdown, he said.
"In fact, I've got companies calling me that deal in used equipment that are seizing on this opportunity. I'm quietly telling them it's not time," Burga said. "We have no intention of giving up any of our assets. We're going to wait for the market to crawl back and we're going to be there."
Burga does not know when the North American wind market will rebound. He does expect some movement in Congress on energy policy or tax reform next year, but for now his company is focusing elsewhere, building a turbine blade plant in Brazil where the wind energy market is growing.
Wind industry layoffs are happening across the region and nationwide. Fergus Falls-based Otter Tail Corporation recently sold its West Fargo turbine tower manufacturer, leaving more than 200 workers with an uncertain future.
A Texas company is purchasing DMI Industries. Analysts say the factory might be converted to build rail tank cars or storage tanks for the booming North Dakota oil industry.
Some industry analysts say about 30 percent of wind manufacturing jobs nationwide will be lost by the end of the year because of uncertainty about the wind energy production tax credit. Industry estimates say 3,000 of 11,000 manufacturing jobs will be lost. If the production tax credit is not extended, job losses could climb to 75 percent. The Minnesota Department of Employment and Economic Development does not track jobs in the wind energy sector.
Peter Kelley, vice president of public affairs for the American Wind Energy Association, said 2012 has been a record year for wind energy development. Part of the reason is that developers are rushing to finish projects by the end of the year so they can qualify for a federal tax credit.
But expanded manufacturing of wind turbine components in places like Minnesota has reduced the cost of building turbines, Kelley said, and that's also helped fuel growth.
"We've gotten the advantages now. We've gotten the jobs and the cost savings, and if we give it away through lack of leadership in Congress and allow this popular tax credit to expire, then I don't think we can expect to get those jobs back right away," Kelley said.
This also is not the first time the wind industry has fallen off a cliff. About a decade ago when the tax credit expired, more than 75 percent of wind industry jobs disappeared, Kelley said.
Some economists say the fluctuating industry is bad for rural economies. Arne Kildegaard, who teaches economics and management at the University of Minnesota - Morris, said it is bad idea to build an industry on a temporary production tax credit.
"If you take the long view it makes absolutely no sense to keep the industry on such a short rope where you're jerking it forward and backward," Kildegaard said. "That's a sort of flimsy structure to build an industry on in the first place. Every time there's some question about renewal of the PTC the industry sort of crashes."
The PTC or production tax credit expires in January.
Kildegaard says as wind industry manufacturing grows in upper Midwest states like Minnesota and North Dakota, each wind energy crash has higher stakes for the regional economy.