Best Buy CEO outlines turnaround plans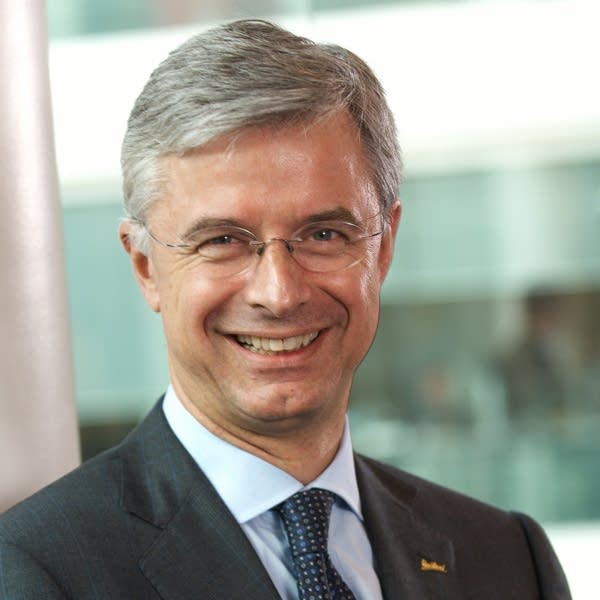 Best Buy is promising to reverse the consumer electronics chain's slumping sales and falling profits.
CEO Hubert Joly laid out his vision for the Minnesota-based electronics retailer to Wall Street analysts and investors Tuesday in New York, telling them that most of the company's problems are of its own making and can be fixed.
But analysts indicated Joly did little to reduce their concerns about the struggling retailer's future.
Joly traveled to New York to deliver a plan that was already familiar -- rethinking the mix of products sold in stores, improving customer service, and creating a better online shopping experience. Best Buy's management has been talking about all of those ideas for years. But Joly, who got the CEO job just this past August, said he is putting plans in place that he will carry out and that will make a difference.
"Best Buy must embark and indeed it is embarking on a journey to address this situation and make Best Buy great again," he said.
Joly said Best Buy's performance has been unsatisfactory in several areas, everything from keeping its stores adequately stocked to having enough employees on hand during the busiest times.
"I cannot guarantee how quickly we're going to turn this. But there's a sense of urgency. Best Buy has been a winning organization for decades. And people are sick and tired of losing," Joly said. "People want to win."
Joly said the company can improve sales and profits by selling a wider variety of unique and profitable products, cutting expenses, and doing a better job of managing the cost of customers returning purchases. And he said the company should embrace show-rooming as a sales opportunity, in which people visit Best Buy stores to look at products, intending buy them online for less.
About 15 percent of the people visiting Best Buy stores are checking out things they plan to buy from a competing online merchant, the company estimates.
But Joly argued many of these tire-kickers can be converted into buyers through price-matching, free shipping and better customer service.
Whatever the mix of strategies embraced, they have to counter data that show sales at Best Buy stores open at least 14 months have fallen for nine consecutive quarters and the company's stock recently hit a 10-year low.
Joly's presentation also came amid deep uncertainty about the future because Richard Schulze -- Best Buy's founder, former CEO and largest shareholder -- is trying to take the company private. The buzz now is Schulze may make an offer for the company next month, but Schulze's bid for the company did not come up during the company's presentation or the Q&A session that followed.
And Joly got a skeptical reception from analysts, who wanted more details and specific timelines.
"Nothing they said tells me what's going to stem the current negative sales and how they're going to stem the losses to Amazon and other Internet retailers," said Brian Yarbrough, an analyst with Edward Jones.
Yarbrough said he was also surprised to hear that Best Buy has no plans to close a bunch of stores in addition to the 50 closings announced this past March. Analysts say the retailer has many big-box stores that are too big and expensive to operate. But Yarbrough said Joly's analysis differs from what analysts were hoping to hear.
"One thing a lot of people were looking for was massive store closures. But really they've only got a few stores that are losing money. And closing a bunch of stores isn't going to improve operating income," he said.
Some analysts also thought Best Buy didn't adequately address how it'll compete on pricing.
"Consumer electronics customers are going to flock to the lowest price, regardless of the level of service provided," said R.J. Hottovy, an analyst with Morningstar. "There is a perception that they don't have the best prices and a lot of the time that is the reality."
Hottovy doesn't see how Best Buy will be able to boost its profit margin if it has to cut prices to compete with match online competitors.
Best Buy says its online sales are far short of where the company believes they should be. The company indicated its share of total online consumer electronics sales is about 7 percent.
Ultimately it appears Joly's effort to rally Best Buy investors yesterday fell short. The company's share price fell nearly 1 percent Tuesday, continuing a slide that has knocked off a third of the company's market value this year.
Gallery
1 of 2
2 of 2
Your support matters.
You make MPR News possible. Individual donations are behind the clarity in coverage from our reporters across the state, stories that connect us, and conversations that provide perspectives. Help ensure MPR remains a resource that brings Minnesotans together.