Apple among brands in pricing tension with retailers
Bill Nelson recently headed to the Best Buy store at the Mall of America to shop for an iPad. He'd been shopping around, and wherever he looked prices were "pretty much the same."
Nelson, of Woodbury, Minn., generally prefers a PC, as he figures Windows-based computers give users more for the money than Apple computers do. But he also wants a tablet computer, and he's going for an iPad, despite reservations about Apple's pricing. Prices for the iPad range from about $300 to $800.
"I'd like to see some more discounting from them," he said. "The only reason I'm here instead of the Apple store is I got some gift cards for my birthday."
Although many manufacturers try to ensure the prices of their products don't vary to keep profits from eroding, it is hard to enforce such price consistency. That's because there is competition among retailers, particular for customers interested the latest electronic gadgets.
Lately, Target, Walmart and Best Buy have offered attention-getting discounts on iPods, iPads and other Apple products. The ads typically show Apple's standard price, but they also tout discounts off that price or offer gift cards.
"That seems to be the way a lot a retailers are getting around the hard line manufacturers are taking, with regard to pricing — subsidizing it with gift cards," Morningstar retail analyst R.J. Hottovy said.
Before you keep reading ...
MPR News is made by Members. Gifts from individuals fuel the programs that you and your neighbors rely on. Donate today to power news, analysis, and community conversations for all.
Apple executives won't say if the company has agreed to the discounts.
Jason Bonfig, vice president for computing at Best Buy, said retailers think long and hard about whether to offer price cuts manufacturers don't like.
"There are situations where you decide you're going to price a product where you want to and if there's a penalty associated with that, you will take that penalty," he said.
HOW MINIMUM ADVERTISED PRICE POLICIES WORK
Apple, Sony, Bose and many other prestigious manufacturers try to keep their prices from falling in a highly competitive retail environment through the use of minimum advertised price policies. The policies suggest minimum prices at which products should be advertised.
Some manufacturers also set out minimum suggested selling prices. They can't compel retailers to stick to those prices because that would violate anti-trust laws. But manufacturers of high-demand products still have a lot of clout.
"Well, the first thing a manufacturer can always do is choose with whom it will do business," said Michael Lindsay, chairman of the antitrust practice of the Dorsey & Whitney law firm.
"A manufacturer can say to the retailer, 'You are free to charge whatever price you want. But I will tell you in advance that if I see your prices go below my minimum, don't expect any further shipments,' " Lindsay said.
Manufacturers say pricing policies help ensure they have enough revenue to develop new products and also keep their brands from being cheapened by widespread price cuts. The policies also can help make sure a manufacturers' products are sold only by top-tier retailers.
But Lindsay said manufacturers have to consider if they'll really have the will to carry out these policies.
"What do I do if my largest reseller doesn't comply with my policy? Am I going to cut them off?" he asked. "... You should assume that someone will test you and choose not to comply with your policy. You will have to cut that person off, because if you don't, you will eventually have a failed policy."
HOW THE POLICIES AFFECT CONSUMERS
But consumer advocates think such pricing policies unfairly force consumers to pay higher prices.
"Stores should be able to set prices as they see fit, cut their profit margin, offer a doorbuster, without having to have the blessing of the manufacturer," contends Ed Dworsky, a consumer lawyer and former Massachusetts Assistant Attorney General for consumer protection.
Minimum advertised pricing policies vary in terms of what they permit, and retailers can use various tactics to try to get around the policies, taking advantage of intentional or unintentional loopholes and exceptions. That's why some websites won't reveal a price until a customer puts an item into an online shopping cart.
Best Buy does that on its website, explaining that "because our price on this item is lower than the manufacturer's suggested retail price, the manufacturer does not allow us to show you our price until you add the item to your cart."
Others have similar practices, said Lindsay, the Dorsey & Whitney attorney.
"Some policies I've seen prohibit showing a lower price in the shopping cart," he said. "Other policies I've seen say it's OK to show a lower price in the shopping cart as long as you don't tell customers, 'Move product to shopping cart to find lower price.' "
Retailers dislike it when they try to adhere to pricing polices but see competitors ignore them.
At an investment conference in April, Target CFO John Mulligan said the retailer had told vendors that "if you are going to have a minimum advertised price then hold all channels to that advertised price. ... Don't hold us to a minimum advertised price and allow others to go below that."
Minimum advertised pricing policies can be mutually beneficial for manufacturers and retailers as they curb discounting that erodes profits for both parties.
That seems to have been the case for H.H. Gregg, which has about 230 stores in 20 states and competes against Best Buy in the appliance and consumer electronics businesses.
During a May conference call with analysts, H.H. Gregg CEO Dennis May explained how TV manufacturers were increasingly determined to enforce pricing guidelines.
"Many of our [TV] manufacturing partners have lost billions of dollars within the past year and the manufacturers are very focused on returning the industry back to profitability," May told analysts. "With this goal in mind, manufacturers have put added discipline into their pricing strategies.
Manufacturers have incorporated a broader-reaching, minimum advertised price policy."
May said he was "pleased with the early profitability results of these efforts."
"It doesn't matter whether it's online or in print, in cart, out of cart, whether you're pure play, doesn't matter what type of retailer you are, these MAP policies impact you," he said. "That's a minimum advertised price. Then you have ... unilateral pricing policies, meaning that the price is set by the manufacturer and it's retailed and sold at that price across all channels of distribution."
That price assures a profitable sale for every retailer, since merchants are not trying to undercut each other on price.
IGNORING MINIMUM ADVERTISED PRICE POLICIES COMES AT A COST
There are indeed consequences for retailers trying to skirt manufacturer pricing policies.
Last year, Zagg — perhaps best known for its screen protectors for smartphones — terminated its relationship with one of the company's first distributors, according to a transcript of a Zagg teleconference with analysts this past February.
"The account provided decent revenues, but they were supplying resellers that would not honor our MAP, or minimum advertised price policy," Zagg CEO Robert Pedersen told analysts. "Ultimately, we decided to walk away from this distributor to protect the pricing integrity of our products. This benefits our major retailers and helps protect our premium brand positioning."
The war to win the customer with ever lower prices has changed the retail landscape. The Best Buy juggernaut has seen its business stagnate over what many analysts contend is a failure to keep up with lower prices online. But Best Buy and other chains are getting some help from manufacturers.
Many hire firms to track down retailers that reject pricing guidance, and tempt other merchants to follow their example.
"Brick-and-mortar chains are pretty apoplectic about what is going on online," said Wes Shepherd, CEO of Channel IQ, which monitors the online pricing of client's products. "So, we've seen a huge shift of major brands getting really, really serious about managing their brands online."
That means cutting off merchants whose advertised prices are too low for a manufacturer to stomach, Shepherd said. If they don't punish offending retailers and reward cooperative ones, manufacturers' pricing policies can quickly become moot.
Lindsay, of Dorsey & Whitney's agreed.
"The other retailers who are selling the product are going to say, 'This doesn't make sense. I'm losing sales to this guy who is charging a lower price," he said. "I'm going to lower my prices."
Gallery
1 of 2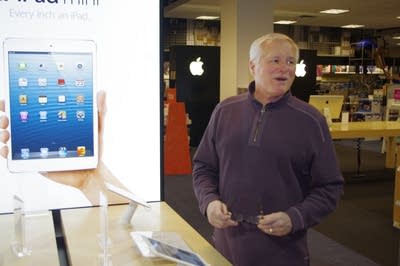 2 of 2