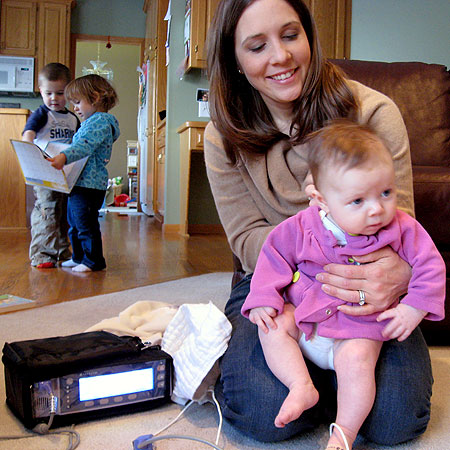 Minnesotans reported more than 4,300 cases of pertussis this year, far more cases of the respiratory infection than in any year since World War 2.
Experts blame the increase in what is commonly known as whooping cough on a redesigned vaccine introduced in the 1990s, whose full effects have only recently become clear.
"I can tell you that our epidemiologists are exhausted," said Kris Ehresmann, director of Infectious Disease Epidemiology at the Minnesota Department of Health. "We're getting 20-plus reports a day of pertussis.
The first pertussis vaccine became available in the United States in 1943. Before that, Minnesota had as many as 5,000 pertussis cases some years.
The vaccine quickly drove down the state's pertussis cases to 1,500 and less per year. Then in 1991, a new pertussis vaccine was introduced in an effort to reduce the vaccine's side effects.
The new vaccine used small, purified pieces of the pertussis bacterium instead of whole cells, said Patsy Stinchfield, director of pediatric infectious disease services for Children's Hospitals and Clinics of Minnesota.
"The reason that change occurred was to try to get us the high-level response with fewer side-effects," Stinchfeild said. "So less high-pitched crying, less fever, less redness at the site of the injection. And we accomplished that."
But the effect of the vaccine change is becoming clear now. The protection doesn't last as long, something that has taken time to observe.
"It's evolutionary," Stinchfield said. "You have to sort of watch how it evolves. You make a change to a vaccine in the '90s and you evaluate it a decade later."
One of the Minnesotans affected in 2012 was Heather Chasse. To look at the plump, rosy-cheeked Delano 3-month-old today gives you no idea what she's been through.
"I always feel like she's a toy because we plug her in," said her mother, Rachel, who has to monitor her baby's oxygen levels and heart rate.
Chasse first took her daughter into the clinic with a severe cough when she was two weeks old. Rachel was waiting in an exam room when Heather had a particularly bad coughing episode and had trouble breathing.
"She turned dark, dark red-purple and went limp in my arms, and her eyes got really big, and she just stopped making noise, she just stopped doing any of this and I started screaming," Chasse said.
Heather was taken by ambulance to Children's Hospital in Minneapolis, where she spent two weeks. At one point her oxygen levels plunged as low as 17 percent. A normal reading is around 100 percent.
Two months later, Heather is much better but when she gets agitated, you can hear the remnants of her pertussis cough.
Ehresmann said immunity begins to wane around three years after vaccination. So by the time fully immunized kids reach adolescence, they have very little protection left against pertussis.
The latest outbreak bears that out. Of the more than 4,300 pertussis cases in the state, a quarter of the infections were among children 9 to 12.
"My hope is that with some changes in the immunization recommendations that this won't continue to be the new normal," she said.
There is a booster vaccine available for people 10 and older. Public health officials have been recommending the vaccine since 2005.
But it is not required under Minnesota's school immunization law. The Health Department is in the process of creating a rule that would require the booster for adolescents.
At the same time, the federal Advisory Group on Immunization Practices, is reviewing the pertussis vaccine schedule, to see if booster shots should be given more than once in a person's lifetime. The committee has already urged pregnant women to get the booster shot during every pregnancy, so maternal antibodies to pertussis can be passed on to newborn babies.