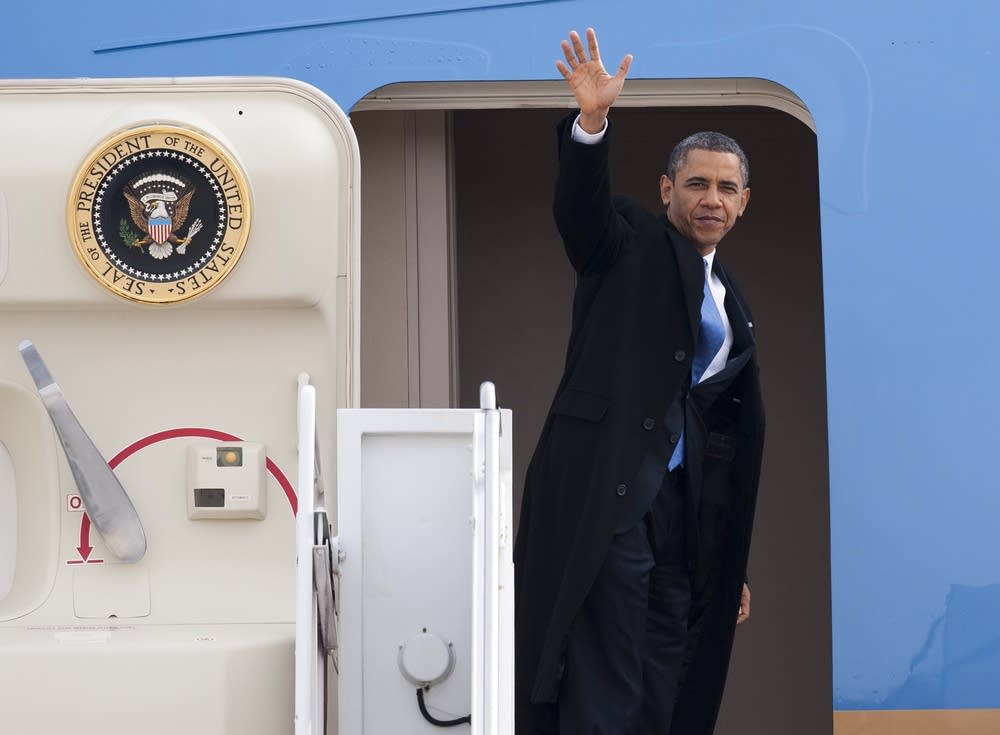 Today on the MPR News Update: President Obama visits north Minneapolis to talk about guns. Twin Cities homebuyers are finding surprisingly few homes for sale as the housing market recovers. And Minnesotans have a chance to comment this week on whether moose and other animals should be considered endangered species.
NO ONE'S USING THE WORLD 'BOYCOT' ... YET: Obama is in Minneapolis to push for tougher gun laws and highlight some of the things the city has done to try and reduce gun violence as Mayor R.T. Rybak and some of his counterparts across the country try to put direct pressure on firearms makers.
STATE GUN LAWS: Firearms will also be the main topic this week at the Capitol when state lawmakers begin discussing several bills designed to prevent gun violence. A state House committee has planned three days of public hearings on gun proposals.
THE SON RISES: Sami Rahamim has committed statistics about gun deaths to memory, folding them into sentences that make his case. He talks like a lawyer, not a high school senior -- no pauses or filler, no public trace of his pain. On Sept. 27, Sami's father, Reuven Rahamim, was shot and killed along with five others at Accent Signage Systems in Minneapolis, the company he founded, by an employee who had just been fired. In the months since, Sami has become a 17-year-old lobbyist for reducing gun violence.
STATE OF THE STATE: Gov. Mark Dayton is set to highlight his vision for Minnesota on Wednesday, when he delivers his third State of the State address. Reporter Tim Pugmire spoke with Morning Edition's Phil Picardi this morning about the coming week at the state capitol.
HOMES FOR SALE WANTED: The glut of homes the housing crisis dumped into the real estate market has largely dried up. By the end of last year the number of homes for sale in the Twin Cities hit its lowest level in 10 years. Reluctant sellers are partly responsible for those low inventories. Many home owners still feel uneasy about putting their homes up for sale.
LIST THE MOOSE? Minnesotans have a chance to comment this week on a list of plants and animals the state Department of Natural Resources plans to consider endangered, threatened or of special concern. Public hearings are scheduled for Tuesday through Thursday in Bemidji, Duluth and Plymouth. The DNR proposes to make moose, the Canada Lynx and the big brown bat species of special concern.
THIN ICE: Two deaths over the weekend have Hennepin County officials renewing calls for people to stay off lake ice. Sheriff Rich Stanek says that when people drive on unstable ice and fall in, they also put emergency responders at risk. And he says he's frustrated that despite repeated warnings there have been 14 incidents of vehicles and snowmobiles going through ice on Lake Minnetonka since the beginning of the year.
KERRY REPORTS: New Secretary of State John Kerry reported for duty Monday, acknowledging that as Hillary Rodham Clinton's successor he has "big heels to fill" and promising to protect U.S. foreign service workers from terrorist attacks overseas.
BATUQUE: Contempo Physical Dance hit the Cowles Center stage in Minneapolis over the weekend with the world premiere of "Batuque." The company blends contemporary movements with Afro-Brazilian dance and capoeira martial arts, and photographer Nikki Tundel gained some extraordinary access to the dancers as they rehearsed.
SCENES FROM YOUR JANUARY, IN CASE YOU MISSED IT: Minnesota Public Radio is inviting you to share your images on Flickr. If you do, we may pick your work to appear on MPR's Minnesota Today, and in a monthly gallery right here. We're looking for general interest photos of all kinds: wildlife, landscapes, festivals, events, rural scenes, urban life, outdoor recreation, sports, lutefisk - pretty much anything that you think reflects life in the Land of 10,000 Lakes. Here's a big gallery of our picks for January (and one or two from December that were too good to pass up).
REALITY ICE: Whether a TV reality show about ice fishing launches Isle into the national spotlight, and whether the characters paint a picture of the sport that sits well with everyone on the southeastern edge of Mille Lacs Lake, remains to be seen. But the film crew has found its hook -- a plot hook, not the fishing hook with which one boisterous bar patron had his nipple pierced during a post-tournament celebration during the filming.
THE $6 MILLION UPGRADE: A mill in Two Harbors, Minn., that makes wood siding for homes has closed for four weeks as it undergoes a $6 million upgrade. The Louisiana Pacific facility, which opened in the mid-1980s, employs 129 full-time workers.
FOOD TO CAFETERIA: A series of workshops across the state will encourage more locally grown food in Minnesota schools and cafeterias. The eight workshops, which begin Monday and run through April, will be a chance for both farmers and food service directors to learn more about Farm to Cafeteria programs.
FUNDS TO MAYO: Several top DFL lawmakers are raising serious questions about the Mayo Clinic's request for a $500 million public subsidy for the city of Rochester and surrounding communities. The health care provider announced this week its proposal for a $5 billion expansion over the next two decades, a plan that relies on about $500 million in taxpayer money -- an unprecedented financing plan for Minnesota.
VIKINGS' CARTER IN HALL OF FAME: Prolific Minnesota Vikings receiver Chris Carter was one of seven men named to the Pro Football Hall of Fame on Saturday. Carter took six years to get in despite putting up some of the best receiving numbers in NFL history. He broke down in tears upon hearing the news, calling it "the happiest day of my life."
PETERSON TAKES NFL MVP: Adrian Peterson's sensational season following major knee surgery has earned him The Associated Press 2012 NFL Most Valuable Player Award. Earlier Saturday, Peterson won Offensive Player of the Year. The Minnesota Vikings running back finished with 2,019 yards, a mere 9 yards short of breaking Eric Dickerson's rushing record. Peterson beat out Peyton Manning, who in his first season as Denver's quarterback contended for a fifth MVP trophy.