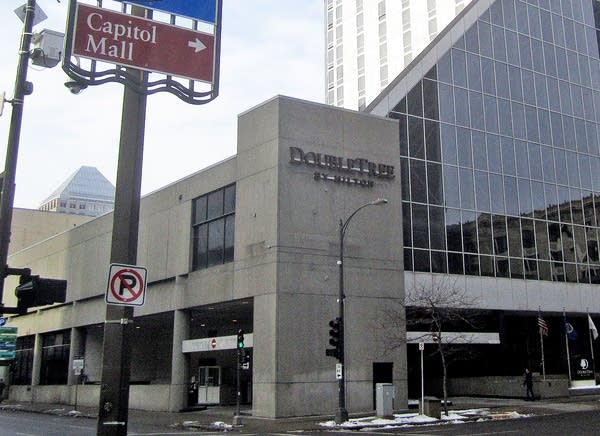 More than 1,800 slot machines create an orchestral blur of electronic entrainment at Grand Casino Mille Lacs.
Over the last two decades they've helped bring wealth and a return to self-sufficiency for the Mille Lacs Band of Ojibwe, a once-impoverished Indian nation that plans to grow its prosperity.
Early next month, the band is expected to finalize its purchase of the Double Tree and Crowne Plaza hotels in St. Paul, deals aimed at diversifying its business holdings
"We'd love to see the Corporate Commission become a $1 billion company someday," said Joe Nayquonabe, the band's commissioner of corporate affairs.
It's difficult to assess how far the band has to go to reach that goal, as Mille Lacs leaders wouldn't provide information about its finances. But the band would like to own a hotel in every major U.S. market, said Nayquonabe, who leads business operations for the band and delivers profits to the tribal government.
By putting the casino's profits into its new hotel venture, the band will have greater economic security and be able to do more for band members, he said.
In seeking to expand its portfolio, the band has plenty of company. The economic growth of tribal nations and threats to Indian gambling revenues have propelled tribes around the country to expand beyond gaming in recent years.
The Winnebago Tribe of Nebraska, for example, owns more than two dozen businesses — everything from construction and information technology firms to media companies that operate in several states and overseas. In 2011, the tribe reported $227 million in revenue.
In Wisconsin, the Potawatomi Business Development Corporation, a $60 million tribal holding company, started in 2003 with revenues from the Forest County Potawatomi Community's downtown Milwaukee casino.
The corporation owns businesses all over the country, said Kevin Allis, its chairman.
"You can't rely on one thing. It's never a safe bet to put all of your eggs in one basket," Allis said. "It's just not smart."
In Minnesota, most of the diversification has been on a smaller scale.
On the White Earth Reservation, there's a mall and a hotel near the Shooting Star Casino.
In Welsh, the Prairie Island Indian Community runs a 2,300 person event center near its Treasure Island Resort and Casino. For years the tribe has owned other businesses, including a gas station, car wash and the Mount Frontenac Golf Course.
But the size of the Mille Lacs Band's investment, and the fact that the businesses are well away from the reservation, set the deal apart from what tribes in Minnesota have done so far.
"I would say that Mille Lacs is in a leadership position in the state of Minnesota in trying to find more diverse ways to solidify their business plans and more ways to do it off reservation than a lot of other people are," said Dr. Anton Treuer, executive director of the Indian Resource Center at Bemidji State University. "But at the same time I think this is a movement among many of the tribes and I think it will only grow."
Casinos benefit less than half of all Indian nations. Among those operating casinos, there is a disparity of wealth.
Still, for many tribes, casinos have made economic development possible. But they are revenue sources that tribes see as threatened. That's part of what's driving desire to branch out beyond casino revenues.
Despite their poor performance, the electronic pull tabs the Legislature authorized last session to fund the new Vikings Stadium represent one such threat, Treuer said.
He expects state governments — in Minnesota and elsewhere — to continue looking at gambling to augment revenues.
"It becomes a little easier for both parties to kind of do an end-a-round on the tribal monopoly on gaming than it is to either make really hard cuts, or raise taxes," Treuer said.
Tribal leaders say diversification is about preparing for whatever competition the future brings, so the tribes themselves have a future.