Art Heroes: Faye Price and Noel Raymond lead Pillsbury House
Here are the challenges faced by Faye Price and Noel Raymond, who run Pillsbury House and Theatre on Chicago Avenue in Minneapolis: It's in a neighborhood which has sometimes had a reputation for crime as much as creativity. It's a professional theater company in a community center that suffers from the low expectations assigned to a "community theater." And its budget took a beating in the recession.
Price ruminated on all three issues recently as actors ran through their lines on Pillsbury's stage for a remount of the play, "Buzzer." It's a provocative piece that's typical Pillsbury fare, highlighting issues of race, class and friction related to urban gentrification. The play got rave reviews last year, and it's now set for a run at the Guthrie Theater, and co-artistic director Price sees challenge ahead.
"I can't begin to tell you how many people think that, because we're in a neighborhood center, because we're in this neighborhood in particular, that if you come to see a play here your expectations shouldn't be very high," she said. "That's what people expect, and we always change their minds."
• Photo gallery: Take a look inside Pillsbury House
Grow the Future of Public Media
MPR News is supported by Members. Gifts from individuals power everything you find here. Make a gift of any amount today to become a Member!
Despite the challenges, Pillsbury House has also changed people's minds when it comes to their expectations for what a community center can achieve with an injection of artistic talent.
For years, Price and Raymond led Pillsbury's professional theater company, which was managed separately from the rest of the community center. But in 2008 the economy forced the organization to take a long look at ways to cut costs and streamline services. Raymond says the then-president of Pillsbury United Communities made a leap of faith, and asked her and Price to take over the entire organization -- which they did.
"It was such a volatile time," Raymond said. "Wacky strategies were okay when they hadn't been before."
Now, nearly five years later, and with the help of Legacy funds, professional artists have joined their staff: Puppeteer Masa Kawahara teaches children dance, movement and mask making; other artists partner with social workers to help come up with creative solutions to meet the needs of their clients. People waiting for help with their taxes might be invited to tell a story about themselves, while clients in line for a doctor's visit can take in a play reading. The staff often uses theater-making techniques to create new programs.
Michelle Barnes oversees a steady stream of energetic kids as they get some food to eat and make their way off to a variety of after-school programs. She's 25 years old now, but 16 years ago she went to Pillsbury's after-school program with her sisters. She describes herself as a product of Pillsbury House -- so much so that after graduating from Pennsylvania State University, she found herself gravitating back to the center to work.
"The things that I've learned from the theater projects and the different art classes that happened in the after-school program or the summer program, those things I still carry with me today, and as an adult those skills that I've learned, and those things that I've learned about myself have manifested in such an interesting way," she said.
Barnes' family moved frequently when she was young, but her mother recognized how important Pillsbury House was to her daughters, so when they had to relocate in the city, she always found a new place nearby. Pillsbury became Barnes' anchor, keeping her family relatively grounded.
"I just think without the Pillsbury House I wouldn't have the connections that I have now," she said. "I think I would be a completely different person."
• Photo gallery: Take a look inside Pillsbury House
Kitty corner to Pillsbury House is StevenBe Yarns, a knitting store located in a renovated firehouse. Owner StevenBe says he brought his business to Chicago Avenue four years ago, in part because he sensed the neighborhood was turning around. He says Pillsbury House helped make that happen.
"Just as Nicollet has Eat Street banners, we want to have Art Street banners, and I think that's all spearheaded by the Pillsbury House. It's been there so long, through good times and bad," he said. "I think it's pivotal to the community, knowing there's a safe place to come to, there's a meal, there's a doctor or chiropractor or a theater. I love that they have that in the mix because usually the arts is the forgotten part when it comes to necessities."
Gentrification -- older housing being snapped up by home buyers looking to renovate in a neighborhood of more modest means -- is a hot topic in the surrounding Powderhorn streets is a hot topic these days, and Pillsbury House is doing its part to facilitate a community conversation through its Breaking Ice theater program.
For this piece, artists met with people in the neighborhood, did research and drew from their own experiences to write their lines. It's part of a broader initiative to not just serve the people who come in to Pillsbury, but to take its work out into the surrounding neighborhoods.
Pillsbury was also awarded a $250,000 grant from ArtPlace to oversee 20 different art projects on a 10-block stretch of Chicago Avenue this spring. It's called Arts on Chicago. Now, Raymond says she's seeing a change in public perception as a result of all the artistic activity.
"The arts have been here all along, but the sense that this is a creative community, and that there's a lot of positive energy and a lot of good things happening and productive things happening, is starting to take over the sense of it being dangerous," she said. "I think that's really great. It feels like a lot of fibers of the community are weaving together in a new way." Consultant and arts advocate Bill Cleveland worked with Raymond and Price to help transform Pillsbury into an arts-driven community center. He said social service agencies are usually where you go when something is wrong. But with this new artistic model, Pillsbury House has reinvented itself.
"I think the analogy could be drawn in the health care world, it's the same as transitioning from a symptom based triage to prevention," Cleveland said. "It becomes a place of both healing and building. And in my mind that's a pretty revolutionary transformation in the field of community development, social work and the arts."
Cleveland cites research showing that high concentrations of artists and arts organizations in distressed communities, over time, reduce poverty and increase civic engagement. That's no surprise to Noel Raymond.
"You know what the arts do for me, and I see them do for other people, is give you the ability to -- with a community -- imagine something that didn't ever exist before and then make it come into being. And the very act of doing that gives you a power, a personal power that you didn't have before, a collective power that you didn't have before. It's huge."
Gallery
1 of 2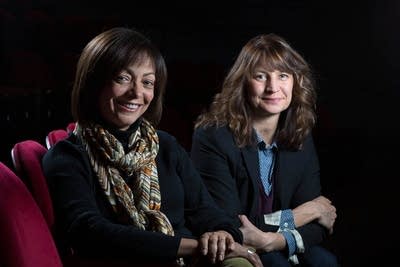 2 of 2