Indie star Paul Giamatti revels in new schlock-horror film
Paul Giamatti is known for his portrayals of troubled middle-aged guys, from his breakout role as a vacationing wine snob in "Sideways," through his Emmy award winning portrayal of President John Adams.
Now he's trying his hand at horror in a movie opening this weekend in Minnesota. And not just any horror -- he's working with cult director Don Coscarelli.
To horror fans, Don Coscarelli is best known as the creator of the "Phantasm" series which began in 1979. But for indie film fans, Coscarelli's masterpiece is much more recent. "Bubba Ho-Tep" is the bizarre tale of how an elderly man who may or may not be Elvis Presley, deserted in a retirement home, gives his all to save the residents from a soul-stealing mummy.
"I was going down for the last count, and I knew it. But I still had my soul. It was still mine," Elvis snarls in a way only capable of the King.
Grow the Future of Public Media
MPR News is supported by Members. Gifts from individuals power everything you find here. Make a gift of any amount today to become a Member!
With horror veteran Bruce Campbell as Elvis, "Bubba Ho-Tep" is a mixture of scares, humor, and outright strangeness. Giamatti loved it.
"I actually think that's a very powerful movie about being old," Giamatti said. "And about not wanting to die. And it's a really interesting way to tell that story. It sneaks up on you. At the end of that movie you are kind of strangely moved by this completely goofy weird movie." To be honest, "Bubba Ho Tep" is pretty straightforward compared Coscarelli's film with Giamatti, called "John Dies at the End."
"Solving the following riddle will reveal the awful secret behind the universe, assuming you do not go utterly mad in the attempt. If you happen to already know the awful secret behind the universe, feel free to fast forward ahead," intones the film's narrator.
"John Dies at the End" is the story of a young man who falls afoul of a strange drug which allows him to cross dimensions and battle some very unpleasant things. Coscarelli said he came across the original novel simply because a computer program recommended it.
"And it was amazing how this algorithm, or whatever kind of program that Amazon has," Coscarelli said. "They selected this project for me, and I loved this book when I finally got it and read it."
A life-changing suggestion from a website is the kind of thing that would happen in a Coscarelli movie and he bit, at least on the novel.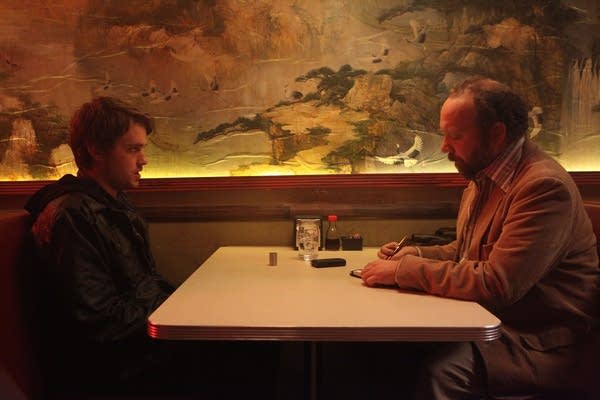 "Look, what's not to like?" he said. "It had a talking dog in it. It has monster made out of freezer meats. It has a sentient drug from another universe that chooses you.
"Now these are all things that I had never thought about filming before, but in the context of the book I just adored them."
And as it turned out, so did Giamatti.
"This is exactly the kind of thing I have been waiting my whole life to do," Giamatti said.
Giamatti plays a newspaper reporter who the hero approaches with what he promises will be a career-making scoop. He is skeptical at first, but then drawn in.
"You've got my attention, Mr Wong," Giamatti's character growls. "This slack stuff, this sauce..."
Wong interrupts, "You can see things you shouldn't be able to. If I show you what is in this container you will never feel at one with the human race."
Giamatti and Coscarelli don't expect to get rich on the box office proceeds, but they do hope to be able to make more movies. And Giamatti has become an advocate for Coscarelli.
"He does things his own way. He does truly independent movies," Giamatti said. "I just was happy to do whatever I could with this guy because I just think he is someone who should be making more movies than he has made in his life. But he does it the hard way and he likes it that way."
Coscarelli returns the admiration. He's clearly overjoyed to have Giamatti, who he describes as the best actor on the planet in his film. While Coscarelli is waiting to see the response for "John Dies at the End," he's already got his eye on the sequel novel with the title: 'This Book Is Full of Spiders: Seriously, Dude, Don't Touch It.'
And in Coscarelli's world if that isn't box office gold, then nothing is.
More films with Paul Giamatti
Gallery
1 of 1