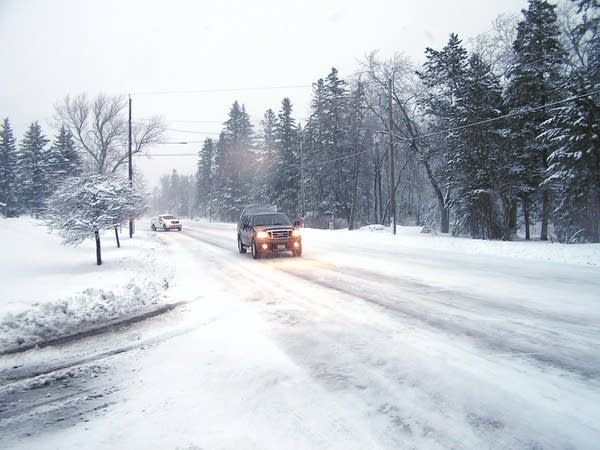 Northeast Minnesota dug out Friday from a record-setting storm that dumped nearly two feet of snow on parts of the region, closed schools and cut off electricity to thousands of customers.
Babbitt reported 23 inches of snow, while a National Weather Service spotter near Two Harbors reported 22 inches; 17.7 inches fell at the Duluth International Airport.
Early Friday, as many as 8,000 power customers were without electricity. By noon that number had dropped to about 1,000 as crews worked to repair downed power lines.
"Heavy snow and ice on the lines are causing strain on the lines, along with brisk winds that are causing trees to blow into the lines," said Tami Zaun, spokeswoman for Lake Country Power.
The Minnesota Department of Transportation reported difficult driving conditions across the region, and asked drivers to avoid travel if possible. Winds gusted to nearly 50 mph in Grand Marais early in the day. MnDOT officials issued a warning that those gusting winds can cause drifting snow to cover highways and blow salt off roads.
MORE WEATHER COVERAGE
• Updraft blog: Latest weather forecasts and analysis
• Table: Snowfall tables across Minn.
• Twin Cities traffic conditions

RECORD-SETTING WINTER
In April alone, 41.7 inches of snow have now fallen on Duluth, smashing the old record for April set in 1950 by more than 10 inches. The period of February through April has seen 86.6 inches, also breaking a record that had stood for over 60 years. And this winter now ranks as the fifth-snowiest ever in Duluth, with a total of 120.3 inches.
As if that weren't enough, National Weather Service forecaster Declan Cannon is forecasting an overnight low in Duluth of 13 degrees, which would break the previous record cold temperature of 14.
Normally, he said, "We're supposed to be up somewhere around 50 for a daytime high in Duluth.
"It's criminal behavior," he said, that "we're not even going to be out of the thirties today."
FLOOD CONCERNS
This latest storm has increased snow depth in the Duluth area to 28 inches. According to Steve Gohde, Observation Program Leader with the National Weather Service in Duluth, there's never before been that much snow on the ground this late in the spring.
"It's just kind of like a ticking time bomb for us here," Gohde said. The longer the spring snowmelt is delayed, he said, "I think the closer we're going to get to having ... very warm air come in here."
Gohde said the main concern is either a very quick warm-up, where the six or so inches of water the snowpack contains runs off very quickly, a big rain event that rushes off over the still-frozen ground, or a combination of both.
"There's going to be a lot of water in people's backyards, that just doesn't have any place to go except down in the lower levels," Gohde continued. "Folks should start thinking about doing preventative actions, if they routinely get water in their basements, especially during the spring time."
Gohde also said there's now a greater than 50/50 chance of minor flooding in the Mississippi River basin near Aitkin. He said minor flooding there typically only affects agricultural areas.
Despite all the snow and water on the ground and last year's devastating floods in Duluth and the Northland, insurance agents report no uptick of interest in flood insurance even though there was a spike in interest after the flooding last June.
MORE WINTER ON THE WAY
After a brief respite of sunny weather Saturday afternoon, another winter storm is expected to arrive in the Twin Ports Sunday, with a 50 percent chance for rain and snow.
The National Weather Service predicts the potential for more rain and snow will continue into early next week, with highs only getting into the low 40s.
The good news, said the NWS' Steve Gohde, is that the 10-day forecast calls for gradual warming, which could limit flooding potential by melting the snowpack slowly.
But, as Duluth inches toward May with significant snow still on the ground, Gohde said, "we're getting closer to the time where Mother Nature can change her mind pretty quickly on us."