Will Rochester pay more for Mayo expansion?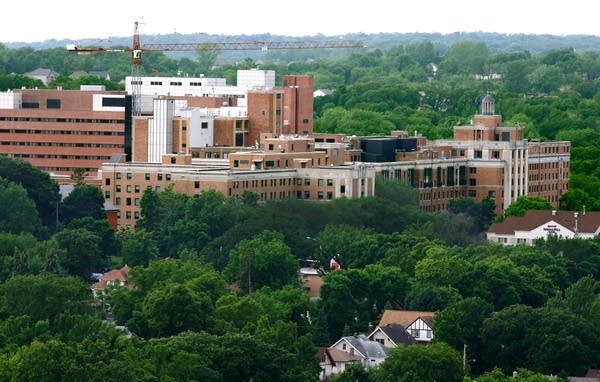 Minnesota state lawmakers have asked the city of Rochester to more than double its contribution for the Mayo Clinic's proposed expansion project. The city's share would increase to $128 million, and most likely would be raised through new local taxes. But it's unclear how much Rochester residents are willing to pay to help Mayo expand.
Mayo Clinic is proposing a 20-year, $5 billion investment plan to make its flagship campus in Rochester a "Destination Medical Center." The clinic would invest $3.5 billion in capital improvements.
The plan also relies on hundreds of millions of dollars in state and local money to pay for improvements like parking, transit, utilities and other public amenities. But lawmakers are balking at the original $500 million request in state money. So they want local entities -- the city of Rochester and Olmsted County -- to pay more of the total.
Revamped plans by both the House and Senate would allow Rochester officials to increase the local sales tax, add a food and beverage tax, and tax certain entertainment events, like the theater.
Grow the Future of Public Media
MPR News is supported by Members. Gifts from individuals power everything you find here. Make a gift of any amount today to become a Member!
Patrons who attended a recent performance at the Rochester Civic Theatre, which is just a few blocks away from the Mayo Clinic, had different opinions on the entertainment tax idea.
Nancy Krupa offered one perspective.
"To go out and have a good time on a Friday night or a Saturday night ... to some people, that's a once-a-month deal. And to add a few dollars to it might exempt them from being able to do that," she said.
Karen Atkinson had a different take.
"Our civic theatre does such a great job with our local talent ... that I would be willing to pay any fees that they might have to add," said Atkinson.
Civic Theatre Executive Director Gregory Stavrou is unsure how a potential ticket surcharge might impact the theater's operations.
"The devil is in the details, and I would like to learn a little bit more," said Stavrou. "From my point of view, we want to be part of this [DMC], we want to support it. And I think our customer base will accept a reasonable surcharge."
But how much, if any, the city ends up taxing things like the theater or sporting events is still unclear.
Right now, Rochester imposes a 4 percent tax on lodging, and does not have a local tax on food and beverages. City leaders are asking state lawmakers to allow them to increase the lodging tax to 7 percent, while keeping a food and beverage tax at zero.
The city still has to determine whether it can make an increased obligation for Mayo's expansion plan work.
"We originally committed to an amount of about $60 million," said Interim Rochester City Council President Randy Staver. "Subsequent to that, we determined we could reasonably and responsibly accommodate up to $88 million. ... $128 million, quite frankly, that's a stretch."
In a city that's so dependent on medical visitors, Staver says Rochester leaders have to decide whether residents or visitors should pay for roads, sidewalks and transit upgrades needed to accommodate the clinic's proposed expansion.
"I think at the end of the day, it'll be kind of a shared, mixed bag of a solution, and we want to maintain the absolute financial stability of the city and our credibility," said Staver. "We made promises to our voters in terms of how we would handle their tax dollars. We owe them to keep up on some of those promises."
That mixed-bag funding solution will likely affect hotels. There are 50-some hotels in Rochester, and most of them cater to Mayo Clinic patients and other visitors. So a higher lodging tax would probably not hinder their business, according to Kristine Ihrke, sales director at the Best Western hotel downtown.
"Our business revolves around Mayo Clinic," said Ihrke. "So anything that helps expand and grow their business -- we're behind that, because that means expansion and growth for our business."
Ihrke says if the lodging tax increases, patients may consider staying at less expensive hotels, or reducing the number of nights they stay in town, but they're not going to stop coming to Rochester altogether.
"Maybe they'll think of, 'Do I really need to come up Sunday night or can I drive Monday morning?' When you look at 3 percent, it's just not that much to really impact their buying decision," she said.
The current 4 percent lodging tax on a room at the average rate of $120 amounts to $4.80 per night. A 3-percentage-point increase -- to a 7 percent rate -- would bring that up to $8.40 per night.
Lawmakers in the House and Senate still have to come up with a compromise bill. And ultimately, that's what Rochester officials say will help them determine how to meet the city's commitment to Mayo's proposed expansion plan.
Gallery
1 of 1