Xcel Energy Center also now eyeing big upgrades, potential expansion
Call it keeping up with the Petersons. As in Adrian. Or the Mauers, as in Joe. Or the Gophers, as in... Well, okay, maybe not them.
But St. Paul has renewed hope for a facelift for the 13-year-old Xcel Energy Center, thanks to legislation this spring that will forgive more than $28 million of outstanding debt on a $48 million interest-free loan the state gave St. Paul to build the place. Planners are even thinking about expanding the building itself, to make its concourses wider and possibly even extend the glass face of the arena. All to keep up with Target Field, TCF Bank Stadium, Target Center renovations and the new Vikings stadium.
City spokesman Joe Campbell says about $4 million still will have to be repaid through 2015, and the forgiven $28 million will be "solely to pay for or finance design, construction or equipment to make arena improvements."  The Minnesota Wild will make its remaining payments to the city of St. Paul until 2021, city officials said.
The money will likely go to improvements like new scoreboard displays.
"We're looking to upgrade those screens," says Kathy O'Connor, spokeswoman for the facility. "Make them larger. Have better clarity. People expect these days to walk in and have high definition. That's what they see in their homes. Right now we are using equipment that is five generations old. We can't even buy new parts to make repairs on the scoreboard right now."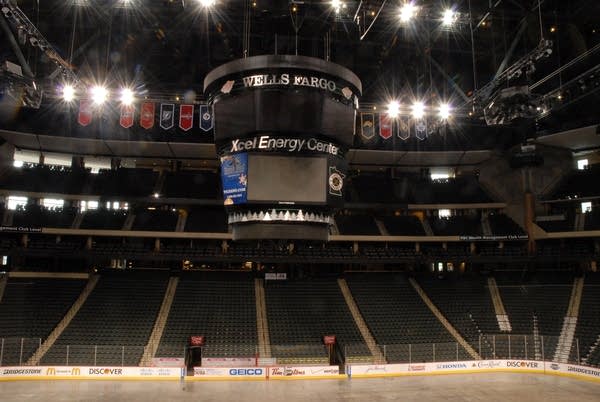 And that isn't all. "We have over 18,000 seats in here, that's no small feat to replace them," O'Connor says. Many have already been repadded and reupholstered, but she says its getting to be more practical to just replace them entirely.
If you look between the cushions, you can see the foam is literally sifting out of seats and backs and onto the floor.
Other improvements may include
More bathrooms

More concession stands

More backstage space

An escalator on the north side of the building

Pushing the walls out to widen the concourses around gates 2 and 4
O'Connor says the wish list will have to be negotiated with the city of St. Paul and the arena's managers and users:
"I think certainly if we're going to put a shovel in the ground we want to maximize those dollars and make them work as hard as they can for improving everything about this place. What we've seen with the Vikings stadium is things that are even more open. Certainly, we have the glass wall exterior on one side. If we can extend that, it would be beautiful. Again, it'll depend on what becomes available. But I think the overall theme is something that's more fan friendly, a little higher def, if you will, and something that's relevant and competitive with everything else you're seeing in our market."
Here's how the financing works out. It's a calculation the city based on the Rivercentre language in this year' s "omnibus jobs" bill, HF 729:
Your support matters.
You make MPR News possible. Individual donations are behind the clarity in coverage from our reporters across the state, stories that connect us, and conversations that provide perspectives. Help ensure MPR remains a resource that brings Minnesotans together.