Same-sex couples start applying for marriage licenses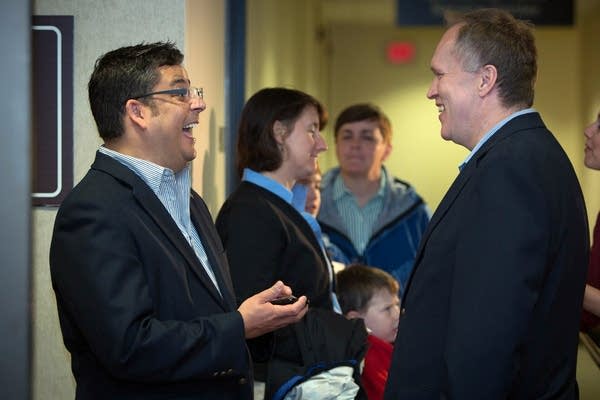 Same-sex couples are heading to government offices in the Twin Cities this morning to apply for marriage licenses for the very first time, just a few weeks after the move was made legal in the state.
Al Giraud and Jeff Isaacson were among the first in line at the Hennepin County Government Service Center. They say they met 11 years ago and have been together ever since.
"We've been waiting a long time, so we wanted to be first in line, said Giraud, a corporate trainer in downtown Minneapolis. "Its a historic day, so we wanted to be here."
Isaacson, a banking analyst, said the day comes as a relief.
"It's the commitment between the two of us, and the fact that it not only is going to be recognized by our friends and family, it's now going to be recognized by the state," he said of their motivation. "We won't have to fight for any of the same rights that married couples currently have."
RELATED SAME-SEX MARRIAGE COVERAGE
• Photos: Couples line up for marriage licenses
• Story: Governor signs bill legalizing same-sex marriage
• Map: Marriage amendment, bill votes compared
• Interactive: Deep roots of the marriage debate
• Special report: Defeating the marriage amendment

Giraud says he and Isaacson plan to be married early in the morning of Aug. 1.
Only handful of couples lined up at 6 a.m. to get the first marriage licenses in Hennepin County. In St. Paul at the Ramsey County Public Health building, only one couple was there when the doors opened at 8 a.m.
The law legalizing same-sex marriage in Minnesota was signed in May by Gov. Mark Dayton and takes effect on Aug. 1. Officials in Hennepin, Ramsey and Washington counties are taking applications early. Couples will receive a post-dated marriage license the same day.
Minnesota has a five-day waiting period for all marriage licenses. Counties that are taking early applications will do so until July 26. Instead of sections for bride and groom, Minnesota marriage licenses now read "first applicant" and "second applicant."
SUPREME COURT RULINGS EXPECTED
The U.S. Supreme Court is expected to rule on two cases this month having to do with same-sex marriage. One involves California's Prop 8. That will determine the fate of a same-sex marriage ban in California. The other case involves the federal Defense of Marriage Act, or DOMA, and whether same-sex couples who are legally married in jurisdictions that allow same-sex marriage can be denied federal benefits.
If the court throws out DOMA, Minnesota's same-sex married couples would be seen as married in the eyes of the federal government, which means joint tax returns, social security benefits and the thousand or so other rights and benefits conferred by marriage. If DOMA is upheld, then they would be seen as married in Minnesota, but not by the federal government.
In Minnesota, the history of the debate over same-sex marriage stretches back to 1970. Jack Baker was a law student at the University of Minnesota at the time. Mike McConnell was a librarian working at the U. The men had been a couple since meeting in Oklahoma a few years before, and on May 18 that year, they applied for a marriage license in Hennepin County.
Gallery
1 of 1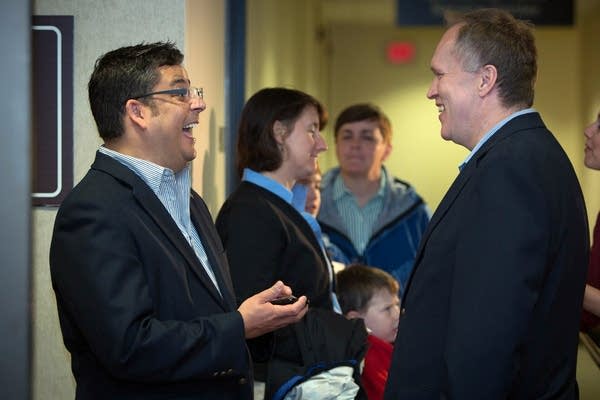 Your support matters.
You make MPR News possible. Individual donations are behind the clarity in coverage from our reporters across the state, stories that connect us, and conversations that provide perspectives. Help ensure MPR remains a resource that brings Minnesotans together.