PAC to back 15 Minn. legislators who supported same-sex marriage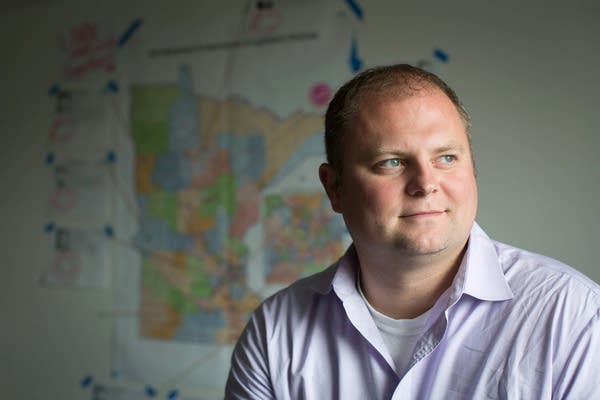 Some of the state legislators who voted to legalize same-sex marriage in Minnesota this year will receive some extra help in their re-election campaigns -- whether they want it or not.
Officials with a recently formed political action committee are raising money on behalf of the DFL and Republican lawmakers that they have named "The Minnesota 15."
The MN United PAC will raise money and mobilize volunteers to support the legislators, said Richard Carlbom, director of the political action committee.
Grow the Future of Public Media
MPR News is Member supported public media. Show your support today, donate, and ensure access to local news and in-depth conversations for everyone.
• What Supreme Court's same-sex marriage ruling means for Minn.
• Same-sex marriage: In states, a hodgepodge lies ahead
• Same-sex marriage bill signed; thousands cheer at Capitol
• MPR News Primer: Same-sex marriage
• Same-sex marriage: Reaction from Minnesota residents
The PAC was created by Minnesotans United for All Families, the organization that campaigned against last year's unsuccessful constitutional amendment proposal to ban same-sex marriage in the state. It then advocated for legalized gay marriage this year as Minnesotans United.
"The goal of the PAC is to make sure that the legislators who had our backs, and voted in favor of freedom, know that we're going to support them in their re-election efforts in 2014," Carlbom said.
Carlbom made his first fundraising appeal in mid-June, naming five of the 15 lawmakers targeted for support -- DFL state Reps. Joe Radinovich of Crosby, Shannon Savick of Wells, Tim Faust of Hinckley, Roger Erickson of Baudette and John Persell of Bemidji. The five represent rural districts where a majority of voters favored last fall's proposed constitutional amendment. All voted for the same-sex marriage bill this year.
Radinovich, who won election in 2010 by a mere 323 votes, expects a challenging re-election bid and welcomes the outside help.
"I embrace the help of MN United's PAC and of We Are Minnesota and of any other group of concerned citizens that wants to help with our campaign," Radinovich said. "I think we've done the right thing, and I think having that help back home will help get our message out."
The second appeal last week identified the remaining 10 lawmakers, including DFL Reps. Tom Anzelc of Balsam Township, Andrew Falk of Murdock, Jay McNamar of Elbow Lake, Paul Marquart of Dilworth and John Ward of Brainerd.
Marquart said he appreciates the offer of help. The seven-term incumbent said the response from constituents to his vote has been mixed, and he is not sure what it will mean for him next year. But Marquart said he's content with his vote.
"I can sleep at night because I voted the way I thought in my heart was right," he said. "If there's a political hit to be had, I'm going to have to take it. But I voted the way I thought was the proper way to go."
The group is also supporting all five Republicans who voted for the marriage bill, including state Sen. Branden Petersen of Andover, who doesn't face re-election until 2016. GOP state Reps. David FitzSimmons of Albertville, Pat Garofalo of Farmington, Andrea Kieffer of Woodbury and Jenifer Loon of Eden Prairie also are listed.
Loon said she wasn't told in advance about the effort. She also is not sure if she will accept the financial help.
"I'll see if that occurs, I'll make that decision at that point. I do take PAC money. Some members don't. I do," Loon said. "I think most members do. If someone wants to support my public service and my campaign efforts, I'm fine with that. It doesn't mean they get anything from me other than a thank you note. But I'll cross that bridge when and if I face it."
The response was even cooler from another Republican on the list. Garofalo declined to talk about MN United and said he is not yet thinking about the campaign -- or whether he will need any PAC help.
"I've accepted those contributions in the past; I will in the future," Garofolo said. "Right now, I've been getting a lot of support from the business community, from donors in my district. So I'm not sure if I'm going to need PAC money from anyone."
Democrats who will be trying to retain majority control of the Minnesota House next year might not like the idea of Minnesota United supporting some Republican candidates, especially when the DFL majority legalized same-sex marriage after a Republican majority tried to ban it.
But Carlbom said he hasn't had that conversation with anyone. He said the PAC's focus is on supporting the Minnesota 15 for their support of the marriage bill.
Gallery
1 of 1