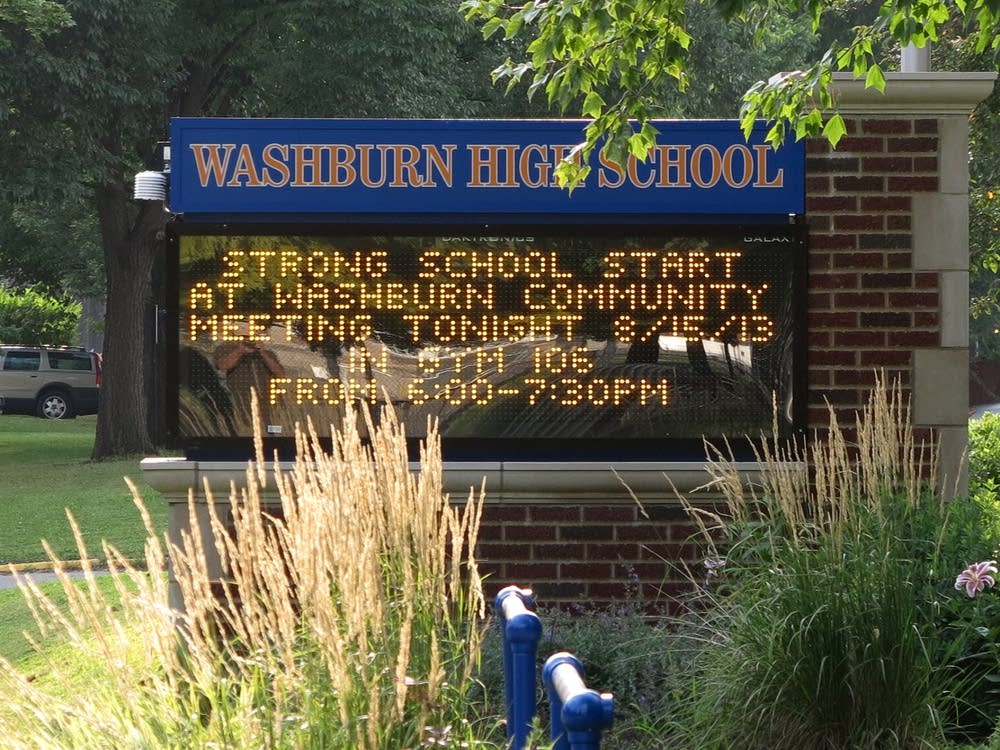 About 200 people gathered at the Washburn High School auditorium Thursday night to hear district administrators explain how a principal was hired for the school without the district discovering allegations that he tampered with student test scores at his last job.
Superintendent Bernadeia Johnson told the crowd that she realizes the last year has been difficult for the school's community, and that district administrators know they need to work to rebuild trust.
"I want to personally apologize for what you've been experiencing, and how it's played out in the media, but also for how you're experiencing the district," Johnson said. "The district must and can do better."
Just last week the Minneapolis district removed newly-hired Principal Patrick Exner after an anonymous letter accused him of tampering with student test scores at his previous school. Exner is still on the district's payroll, Johnson said.
Exner replaced Principal Carol Markham-Cousins, who was transferred from the school in April after several high-profile incidents at the school, including the hanging of a dark-skinned doll in a stairwell and a student walk-out in support of the former athletic director.
Johnson said the district received 23 applications for the high school principal job posting, although she sent only Exner forward to a school interview before she appointed him.
"In hindsight I could have sent forward more people but, quite frankly, some of the people had limited experience, they worked in small private schools and didn't have the experience with a diverse school community," Johnson said. "We were concerned about that."
She said the district did check Exner's references, but acknowledged that the district did need to update its hiring process to include the use of tools like Google search to find more out about candidates.
Parents were divided in their reactions at the meeting.
Alison Yocom, mother of an incoming Washburn High freshman, said she felt the superintendent was dodging parents' questions.
"I don't have a lot of faith in the district," Yocom said. "I have heard a lot of promises and I've heard Ms. Johnson say a lot of things, and I haven't seen a lot of change as a result of those promises."
Yocom said she believes the interim principal at the school has the students' best interests in mind, but called on administrators to improve the district's operations.
"The way that it functions, it just boggles the mind they're still employed," Yocom said.
Julia Mullin, mother of an incoming sophomore, said it was helpful to hear the superintendent explain how Exner was hired. She said the school has improved its handling of controversial incidents over the last year.
"There are always issues; there are always things that could be better," Mullin said. "I just want a positive atmosphere where we can keep moving forward and make the place great."
Since Exner was removed as principal, Assistant Principal Linda Conley has been acting as interim principal.
District CEO Michael Goar said the district planned to start the search for a new principal much earlier this time around. He said the district will try to involve parents more in the hiring process and put more emphasis on finding internal candidates.
"Often I think we do external and then come inside, but rather we should start with inside candidates and then go outside," Goar said.
In the wake of the incidents at Washburn, Johnson said district administrators are talking about hiring a public relations firm.
"I'm not trying to pass the buck, but the PR piece is really important," Johnson said.
The first day of school at Washburn High School is on Aug. 26.