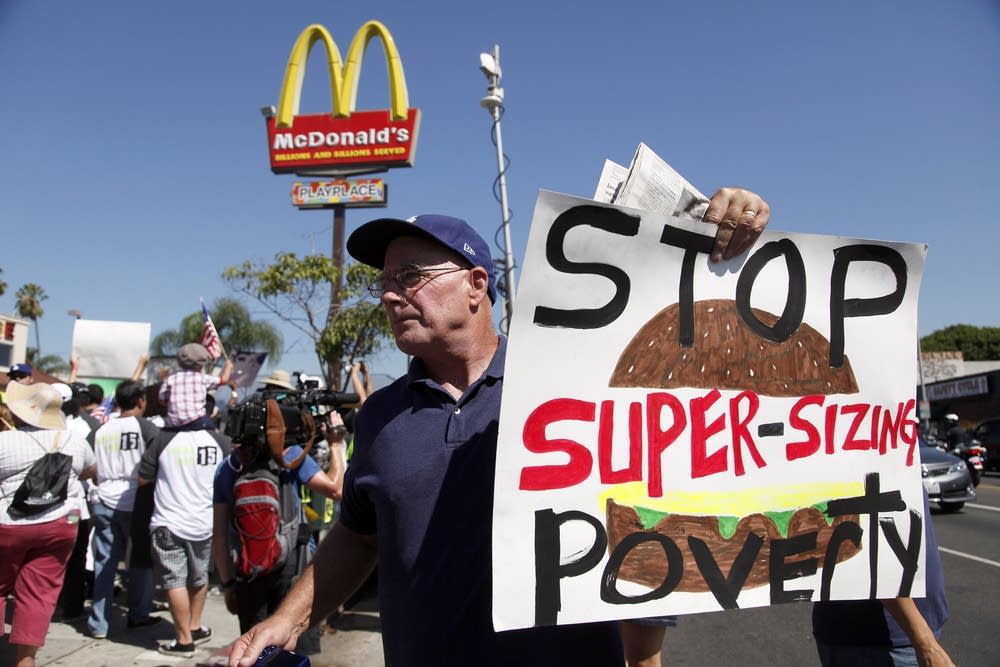 While the jobs may be coming back as the unemployment ticked down to 7.4 percent in July, wages are stuck.
At the end of the recession in June 2009, the average hourly pay for a nongovernment, nonsupervisory worker was $8.85. That number has declined to $8.77.
Wages are also at a record low share of the country's gross domestic product, according to the New York Times:
Until 1975, wages nearly always accounted for more than 50 percent of the nation's G.D.P., but last year wages fell to a record low of 43.5 percent. Since 2001, when the wage share was 49 percent, there has been a steep slide.

"We went almost a century where the labor share was pretty stable and we shared prosperity," says Lawrence Katz, a labor economist at Harvard. "What we're seeing now is very disquieting." For the great bulk of workers, labor's shrinking share is even worse than the statistics show, when one considers that a sizable — and growing — chunk of overall wages goes to the top 1 percent: senior corporate executives, Wall Street professionals, Hollywood stars, pop singers and professional athletes. The share of wages going to the top 1 percent climbed to 12.9 percent in 2010, from 7.3 percent in 1979.
Some workers are fighting back, particularly in the fast-food industry. Last week, employees at McDonald's, Burger King and other restaurants demonstrated outside their establishments for better pay.
From Reuters:
They are demanding $15 an hour, more than twice the federal minimum of $7.25. The median wage for front-line fast-food workers is $8.94 per hour, according to an analysis of government data by the National Employment Law Project (NELP), an advocacy group for lower-wage workers.

"It's almost impossible to get by (alone)," said McDonald's worker Rita Jennings, 37, who was among about 100 protesters who marched in downtown Detroit Thursday. "You have to live with somebody to make it."

Jennings said that in her 11 years at McDonald's, she has never received a raise above her wage of $7.40 an hour.
On The Daily Circuit, we discuss the reasons behind wages' failure to keep up with inflation and what workers can expect in the coming years.
LEARN MORE ABOUT AMERICAN WAGES:
• Where Wages Have Grown the Most (and Least) Since the Recovery
More than half of American workers say that their income has grown over the last five years, telling Gallup that they are making either a lot (28 percent) or a little (30 percent) more money since the onslaught of the economic crisis. However, workers' wage growth has been uneven across the country's metros. (The Atlantic)
• A Decade of Flat Wages
The revived discussion of strengthening the middle class, however, has so far failed to drill down to the central problem: The wage and benefit growth of the vast majority, including white-collar and blue-collar workers and those with and without a college degree, has stagnated, as the fruits of overall growth have accrued disproportionately to the richest households. (Economic Policy Institute)
• Between 2000 and 2012, American wages grew...not at all
Real hourly wages for people at the middle of the wage distribution were no higher in 2012 than in 2000. While the early 2000s saw some growth, it's all been wiped out since the recession hit, and hasn't rebounded at all. (Washington Post)
• US fast-food workers in vanguard of growing protests at 'starvation' wages
Since last year, when Walmart faced the first coordinated strikes in its history over pay and conditions, similar protests have been spreading through America's low-wage workforce. Earlier this month thousands of fast food workers in cities including New York, Chicago and Detroit took to the streets. (The Guardian)
• Living on Minimum Wage
Because of inflation, the minimum wage loses value over time if it is not bumped up. Accounting for inflation's effects, it is now worth less than in the 1960s and '70s. And, as the people pictured here can attest, getting by on it — whether the federal minimum or a state version, which can be somewhat higher — is getting harder. (New York Times)
• How She Lives On Minimum Wage: One McDonald's Worker's Budget
McDonald's made headlines for offering a sample budget to its employees living on minimum wage. Instead, the company's goodwill gesture seemed to highlight the near impossibility of surviving on that level of pay. (Forbes)