'June' the research bear killed by hunter
The Minnesota Department of Natural Resources confirmed that a research bear near Ely was shot and killed by a hunter.
The Wildlife Research Institute in Ely posted a notice on its website saying the female bear, "June," was likely killed last week. Researchers say the bear's collar quit sending GPS signals Friday night. A member of the public dropped off the device at a Department of Natural Resources facility in Tower, Minn.
The institute and its founder, Lynn Rogers, have been locked in a legal battle with the DNR. The agency tried to revoke his permit to collar bears earlier this year, citing doubts about the validity of his research.
DNR spokesman Chris Niskanen said the agency asks hunters not to shoot collared bears, but that it's not illegal.
"The DNR recognizes that many bears are taken early or late in the day, and hunters may not be able to see a radio collar," said Niskanen.
Rogers said the bear killed Friday was the most valuable animal to his research. "We not only had the collar on her but we could walk with her. That meant we could get much more detail," he said.
MPR News is Reader Funded
Before you keep reading, take a moment to donate to MPR News. Your financial support ensures that factual and trusted news and context remain accessible to all.
Two other collared bears have been shot this month, including one injured Sept. 5 and another killed Sept. 13. The bear hunting season runs through Oct. 13th.
Reporter Dan Kraker contributed to this report.
VIDEO: Rogers and June, September 2012
Gallery
4 of 4
1 of 4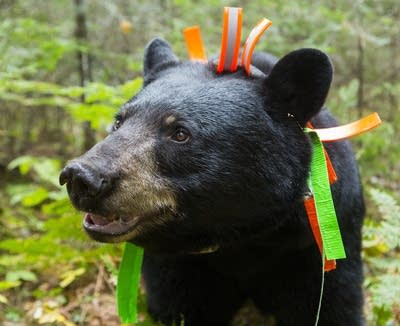 2 of 4