Officials want more spending to fight invasive species
Joe Eisterhold ran his hands across a boat lift near Big Detroit Lake, feeling for tell-tale traces of juvenile zebra mussels. On painted surfaces, the tiny, destructive pests feel like sandpaper.
"Gotta emphasize that people need to look at their equipment," Eisterhold, a Minnesota Department of Natural Resources invasive species specialist, said as he felt around the lift.
There were no signs of zebra mussels this day and nothing alarming at Big Detroit since an unconfirmed mussel sighting this summer. Still, vigilance is crucial. Becker County has more than 800 lakes and lots of docks and boat lifts where the mussels can hide. With people pulling boats out of the lake for the winter, there's no question it's a good time to check.
A harder question -- who should pay for that vigilance? -- is up for debate.
Grow the Future of Public Media
MPR News is supported by Members. Gifts from individuals power everything you find here. Make a gift of any amount today to become a Member!
Local officials and private groups want the state to spend more, but they aren't waiting for that to happen. That's true in Becker County, where officials are planning to set up boat decontamination stations next summer and get more involved in enforcement of invasive species laws, said Steve Skoog, the county's environmental services director.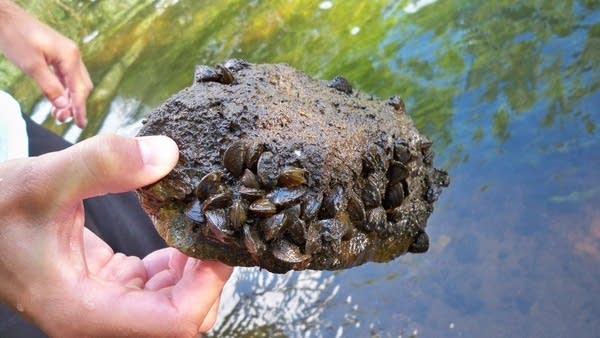 The next threat is sure to come, he added, so officials are "trying to bring together different levels of government, from townships and cities, county, lake shore associations and try to figure out how much outreach we need, how much enforcement we need and who funds it."
The money will have to come from government and private funds -- perhaps user fees to pay for boat decontamination, he added.
The DNR has an $8 million budget to fight aquatic invasive species. Local groups spend a similar amount. People attending citizen forums on environmental issues late last year ranked aquatic invasive species second among all water related concerns. But there's not enough support to push for additional state money, said Tara Guetter, administrator of the Pelican River Watershed District.
The perceived lack of funding is very frustrating for lake residents, Guetter added.
Last week the Legislative Citizen Commission on Minnesota Resources did not recommend funding for a $5 million DNR proposal to help local organizations fight invasive species. Instead, the panel backed a $219,000 project to control aquatic invasive species in the Red River Valley. The Lessard-Sams Outdoor Heritage Fund is recommending $3.6 million for a project to develop pilot projects around the state.
"The Clean Water Fund, the Lessard-Sams Outdoor Heritage Fund, the LCCMR -- it seems like each of those the council members are pointing the finger at the other funds and saying, 'No, we think you should be funding this,'" said Guetter, who's also part of a local committee that's planning for a more aggressive campaign against aquatic invasive species.
Guetter hopes that by next spring, there will be a better plan to address aquatic invasive species in Becker County and across the state.
The need is obvious, especially when it comes to zebra mussels. As they invade and multiply, they filter lake water, allowing sunlight to penetrate more deeply. That causes more plant growth, including and algae and weeds. They kill native clams by colonizing on the clam shell so they can't move or eat. Their razor-sharp shells can slice open bare feet.
While the money questions are sorted out, the DNR strongly encourages lake residents to check gear that's been in the water.
"People are very engaged in our area here. The lakes are our livelihood," Guetter said.
"My husband and I we took our boat, docks and lifts out ourselves," she added. "I was in the water and feeling with my hand and checking everything out with my heart beating strongly, praying I didn't see anything on our own equipment."
Gallery
1 of 1