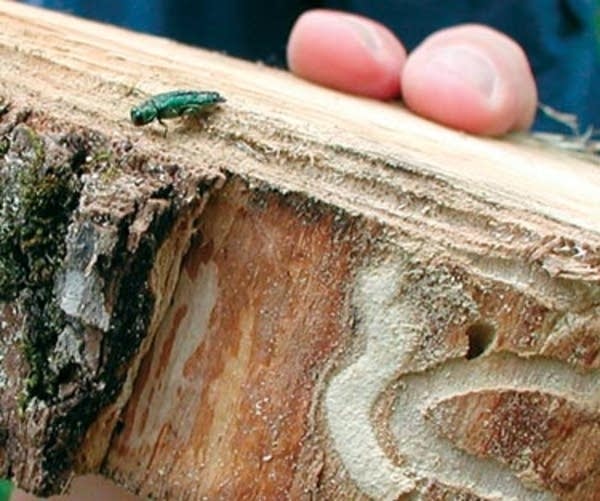 This week's cold weather may have had at least one upside. It got so cold for such an extended period that up to 80 percent of invasive emerald ash borers may have died.
Lee Frelich, director, Center for Forest Ecology at the University of Minnesota, said the cold may have killed a majority of the emerald ash borers, but it likely didn't eliminate the beetles.
The emerald ash borer kills ash trees when its larvae tunnels into the bark and feeds on the tree's nutrients. Some research has been done at the University of Minnesota, but it's uncertain how exactly the cold will affect the beetles.
"The bark of a tree is actually a pretty good insulator and if the cold doesn't last long it won't get as cold inside the tree as the air temperature," Frelich said. "We'll see if fewer of them are found in the spring."
The cold won't be enough to stop the invasive beetle's spread, but it will give the state a little more time to replace ash trees, according to University of Minnesota Extension entomologist Jeff Hahn.
"Ash trees can tolerate some emerald ash borer, so the more we can keep those numbers low, the better that is in the short term," Hahn said. "Ultimately, they are going to expand and get to all the areas. But at the moment anyway, if the numbers are down, that will definitely be a good thing."
A number of Minnesota counties, including Hennepin and Ramsey, have instituted quarantines that prohibit the movement of some firewood to slow the spread of the beetles.
"There are a lot of resources involved as we try to protect ash trees, as we replace ash trees, as we give new trees the opportunity to grow and be the size of mature ash trees now," Hahn said. "The more time we have to spread those resources out, the better."
There are almost a billion ash trees in Minnesota, including a substantial number in the northern black ash forests.
"That's a situation where our options are that much more limited. Here in urban areas, we have insecticides, we can treat individual trees or small numbers of trees," Hahn said. "If you're talking about large numbers of trees, it will be difficult to combat emerald ash borer."
The emerald ash borer has devastated ash tree populations in other parts of the Upper Midwest since it was discovered in Michigan in 2002. The beetles were first found in Minnesota four years ago.