Independent report slams MNsure leaders, says state should consider scrapping system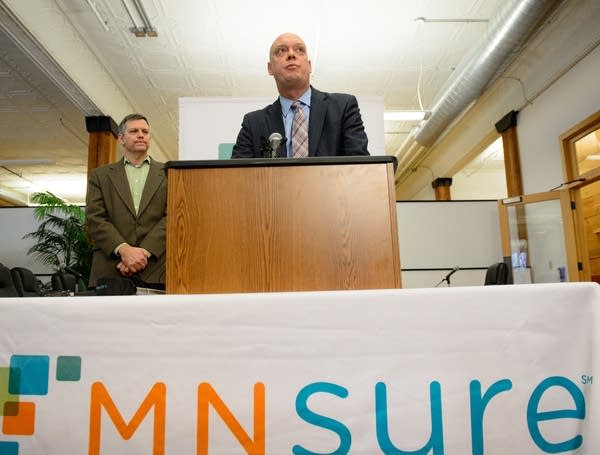 An independent consultant has issued a damning report of the state's troubled online insurance marketplace.
MNsure's management structure is "non-existent" according to Optum, a subsidiary of Minnetonka-based UnitedHealth Group, which recently performed a week-long analysis of the more than $100 million website.
• NewsCut: DFLers own a MNsure program that fails
MNsure executives have been making decisions in a "crisis mode," the report states.
MNsure's board members called for the end-to-end review after the website continued to experience major technological issues three months after it launched.
The report found the agency's ambitious enrollment goals will suffer as a result.
Before you keep reading ...
MPR News is made by Members. Gifts from individuals fuel the programs that you and your neighbors rely on. Donate today to power news, analysis, and community conversations for all.
"While MNsure will fall short of achieving its original enrollment goals and consumer satisfaction levels, continuous improvements can be made in both the short-term and long-term," the report states.
Those problems, however, won't be fixed quickly and the state should consider scrapping the system altogether and starting over, the report said.
MNsure needs 100 more call center staff to get wait times down from the current duration of more than 50 minutes, Optum added.
The center is not only overloaded but disorganized, which also has hurt customer service. More than 3,000 people call the center daily, but because people trying to enroll are intermingled with people who have non-enrollment questions, wait times are long.
"The challenges we face ... are real, but the Optum report lays out a practical and aggressive approach," said Scott Leitz, MNsure's interim chief executive.
In the short term, MNsure will work on stabilizing call center times and reinstating the governance structure that disintegrated when the website started having trouble in early October, Leitz said.
MNsure will decide during the coming week whether to scrap the project and start from scratch or work with what the state has.
Some MNsure fixes are already working, Leitz said. For instance, previously 30 percent of people were having trouble with the site; now only 1 percent of users are having problems.
MNsure's woes, though, extend from its call center to the technology the state licensed to build the site.
A "large gap exists between required functionality and what has been delivered," the report states. Technological testing was inadequate, and schedules took precedent over quality.
In particular, Optum faulted IBM Curam for more than 100 defects in its software - more than twice as many as any other vendor on the MNsure project.
In December, Gov. Mark Dayton blasted IBM, which responded that improvements were underway.
IBM declined comment Wednesday.
It's not just the Curam software that has contributed to the site's technical problems. The report cited a "significant gap" in program management at MNsure, which has made software development, testing and readiness difficult.
Among other things, Optum recommends MNsure adopt a clearer reporting, communication and governance structure.
Despite MNsure's problems, roughly 80,000 people have enrolled in either a private plan or a public program like Medical Assistance.
That's still behind where MNsure hopes to be. MNsure wants about 70,000 people to enroll in private plans by April 1, but they're only about 40 percent of the way there, according to Leitz.
Sign-ups can turn around quickly, though, said Scott Keefer, vice president of policy and legislative affairs for Blue Cross and Blue Shield of Minnesota
"As is the case with most types of open enrollment periods, I expect a lot of last-minute shopping decisions will happen close to the cut-off date," Keefer said.
"I can see a realistic scenario where as many people enroll in the last ten days of March as in all the weeks and months prior," he added. "So it's critical that MNsure is prepared to handle that type of spike in volume."
The Optum report offered these eight steps to help with short- and long-term challenges:
1. Reduce contact center wait times and improve customer satisfaction through additional contact center staff and process improvements.

2. Improve planning and decision making by reinstating the program governance structure that existed prior to 10/1/13, including proper oversight and key leadership positions.

3. Deliver higher value software releases aimed at improving the customer portal experience and throughput by establishing a strong prioritization process for defects and functional capabilities.

4. Improve software quality by enhancing testing environments and establishing a dedicated quality assurance team.

5. Secure commitment from IBM to deliver critical Curam product releases and long-term product viability.

6. Establish a technology roadmap to address architectural issues, such as a source of truth database, unique customer identifier, integration hub, and operational data stores.

7. Define business requirements that address missing functionality and integration needs across the multiple state systems (e.g., life events and enrollment). This will inform technology investment priorities for 2014 and 2015.

8. Immediately develop exchange solution options for 2015 and 2016.