More construction workers needed in Rochester as housing market recovers
It's a good time to be a construction worker in southeastern Minnesota.
With home construction on the rise, the job forecast is good in the construction and trade industries. Over the next two decades, more workers will be needed to help Rochester keep pace with the expected growth.
During that time, the city is expected to grow by 32,000 residents, in part because of Mayo Clinic's $5 billion plan to remake its flagship campus. The plan includes $327 million in state aid, largely to fund improvements to public facilities in the city.
• Related: Mayo Clinic expansion costly for some local businesses
Given the residential and commercial construction likely to be spurred by Mayo Clinic's planned Destination Medical Center, the city will need more workers like Shaun Sloan, who has worked area construction sites for 15 years.
Sloan, who is among the workers building homes in a new subdivision in southeastern Rochester, said the recent uptick in activity is a huge relief after a few slow years.
Before you keep reading ...
MPR News is made by Members. Gifts from individuals fuel the programs that you and your neighbors rely on. Donate today to power news, analysis, and community conversations for all.
"Last couple years, we might have been lucky to get three houses a year," Sloan said. "Now, it's probably 20 houses a year. So a lot better than the past few years."
New home construction is surging in Rochester. Permits for single-family homes increased 71 percent from 191 permits in 2011, to 326 permits in 2013. Builders expect the city's housing market to fully recover by 2015.
Demand is up for all kinds of homes, including ranch-style, two-stories, and townhomes, homebuilder Patty Reiland said. She and her husband Dave have been building homes in Rochester for 35 years.
"We were busy all through the winter, too," Patty Reiland said. "We've got 12 homes going right now that are pre-sold and four more to dig, and two meetings this afternoon. So, it's a really great time to be in the building business."
Another hopeful sign: construction jobs were up about 2 percent in February compared to last year, even though the winter was exceptionally cold this year.
The mining, logging and construction industry added 2,879 jobs in Rochester in February, up 1.9 percent from last year, according to the state's Department of Employment. Statewide, the construction industry has added 6,766 jobs over the last year, an increase of 8.5 percent, according to the department.
While permit applications were off to a slow start this year because of the weather, builders expect a strong rebound this year, said John Eischen, executive director of the Rochester Area Builders, a trade group covering southeastern Minnesota.
"When spring comes, my builder members are saying it's just going to get crazy," Eischen said. "A lot of pent up demand and people are just waiting for the ground to thaw before they start building."
A recent builders' association survey found the strongest demand for homes in the $250,000 to $300,000 range, Eischen said.
To find workers, homebuilders are trying to recruit college students at construction and trade job fairs, like a recent one at Rochester Community and Technical College.
Reaching students is important because the International Union of Painters and Allied Trades District Council 82, which represents 4,000 workers, needs to replenish an aging workforce, said Scott Parker, the union's business representative. The average age of a painter in the union is 45, he said.
"It's going to be insane the amount of work in Rochester. And right now, our biggest problem is we cannot find skilled workers," Parker said. "I'm talking about people that can come into the building trades that have the skills to put these buildings up in a safe and correct manner. All facets — carpenters, plumbers, painters, electricians, sheet metal — we're all going to be short help."
That's welcome news for Josh Johnson, a student in the building utility and maintenance program at the community college. Johnson, 28, wants a full-time construction job.
"It feels really good knowing that there's opportunities after we graduate," said Johnson, who picked up a couple applications at the job fair. "There's plenty of opportunity out there and stuff, especially with people starting to retire, Destination Medical Center, stuff like that. So yeah, it's a good deal."
Gallery
6 of 6
1 of 6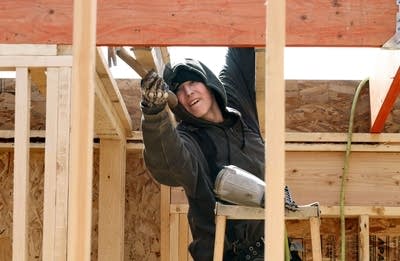 2 of 6