Video: Nienstedt admits archdiocese hid info on abusive priests
Updated: 4:13 p.m. | Posted: 11:23 a.m.
Archbishop John Nienstedt acknowledged in sworn testimony that he took steps to hide information on abusive priests and never provided complete files to police, according to a transcript released today.
Explore the full investigation Clergy abuse, cover-up and crisis in the Twin Cities Catholic church
Grow the Future of Public Media
MPR News is supported by Members. Gifts from individuals power everything you find here. Make a gift of any amount today to become a Member!
Nienstedt said he had followed a subordinate's advice that he keep no written notes of certain discussions, in case those notes should later become public in legal proceedings. He said that he didn't publicly disclose which priests were being monitored, and that he relied on others to keep parish trustees informed.
• Transcript: Nienstedt's deposition
Nienstedt made the remarks in a four-hour deposition taken April 2 as part of a lawsuit filed by a man who said he was sexually abused by the Rev. Thomas Adamson in the mid-1970s. The man alleges the Archdiocese of St. Paul and Minneapolis and the Diocese of Winona created a public nuisance by keeping information on accused priests secret. The man's attorneys, Jeff Anderson and Mike Finnegan, argued that the deposition could provide evidence of a pattern of deception by the archdiocese.
"The archbishop and his predecessors have promised zero tolerance," Anderson said at a news conference Tuesday, but "there has been an ongoing tolerance of sexual predators" among the clergy of the Twin Cities archdiocese.
Video: Watch the full deposition | Read the transcript
Video courtesy of St. Paul attorney Jeff Anderson
Throughout the contentious questioning, Nienstedt portrayed himself as having relied on others to handle the clergy sexual abuse crisis. He professed little knowledge of the scandal within his archdiocese and said he assumed the archdiocese was safe for children. Nienstedt said that it "didn't occur" to him to ask for a list of abusive priests when he arrived in 2007 and that he didn't review any clergy files. He said he did not know that one priest had pleaded guilty to sexually abusing a boy in the 1980s or that another was receiving secret disability payments for pedophilia.
"Typically, I'm a hands-on person, but I have to delegate responsibilities," Nienstedt testified. Read the transcript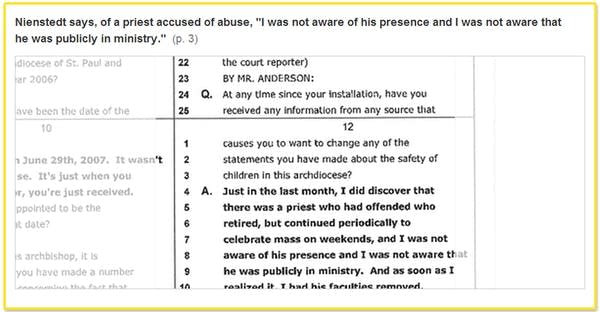 Nienstedt has been under intense scrutiny for months since an MPR News investigation found that he failed to report possible sex crimes to police. Several priests have publicly criticized Nienstedt's leadership, and at least one has called for his resignation.
• Betrayed by Silence | An MPR News investigation
The archbishop shifted responsibility several times in the deposition to the Rev. Kevin McDonough, who served as vicar general for two of Nienstedt's predecessors. Nienstedt appointed McDonough delegate for safe environment, a position responsible for ensuring the safety of children in the archdiocese. Nienstedt said McDonough advised him that some conversations not be written down because the notes could become public in a lawsuit. Nienstedt said he followed McDonough's suggestion in several cases but could not recall the details.
Deposition excerpt: "Did you ever make any effort ... to see that the statements you were making to the public about the safety of children were true?" | Read the transcript
McDonough did not immediately respond to a request for comment. Nienstedt was in Rome for the canonizations of Popes John XXIII and John Paul II and could not be reached, according to a spokesman for the archdiocese.
---
Victim's attorney: "Kids are at risk"
Nienstedt said he couldn't recall disclosing any files to law enforcement and does not know of a single case in which the archdiocese provided a complete file to police.
He said he doesn't turn over information to police unless they ask.
Anderson ended the deposition with a request: "Why not just privately turn the files over of those priests to law enforcement to let the professionals review it instead of trying to do this yourself?"
Deposition excerpt: "Don't you think it's past time to turn it over to law enforcement...?" | Read the transcript
An attorney for the archdiocese objected, but Anderson persisted.
"Why not?" he asked.
"My answer would be, we are prepared to do what we have to do when the Kinsale file review has been done," Nienstedt said. Kinsale, a private firm, was hired by the archdiocese last year to review its files.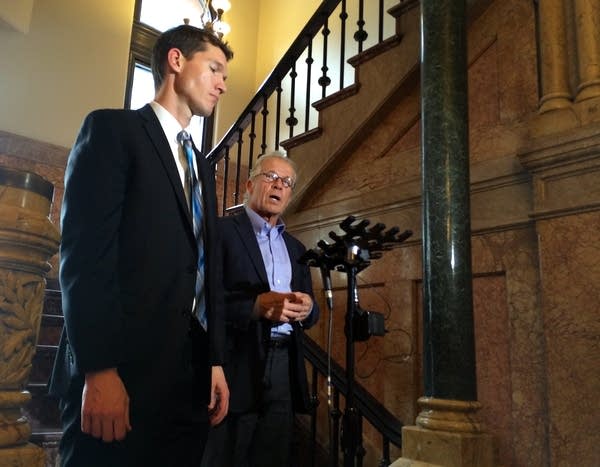 "Don't you realize how risky it is and the danger this poses by keeping all these things within your control and those you hire, and keeping it under the internal processes that you have, instead of turning it over to the professionals who are trained in law enforcement investigation?" Anderson asked.
Again, archdiocese attorney Daniel Haws objected. "You're trying to make sound bites," Haws told Anderson. "There's no evidence that the archdiocese has not cooperated with any law enforcement officials, with any person that's been — "
Anderson cut him off. "That's not a legal objection."
"That is a legal objection, Counsel, because you continue to create your own clips and that's not — "
"No," Anderson interrupted. "We're trying to protect kids here. We're trying to protect kids, Counsel."
Anderson again asked Nienstedt the question.
Nienstedt said, "As I indicated to you, once we have the file — "
Anderson interrupted. "Why wait? Kids are at risk."
Haws, the archdiocese attorney, then said, "Counsel, we're done," and the deposition ended.
Dennis Gerhardstein, a spokesman for Ramsey County Attorney John Choi, told MPR News that "Investigators and prosecutors are currently reviewing the information and have incorporated it into their ongoing work." He said that further comment on a continuing investigation would be inappropriate.
St. Paul police spokesman Howie Padilla said police "will be examining this new information to determine its value to our current criminal investigations."He declined to comment further, citing the ongoing investigations.
St. Paul police have not asked the archdiocese to turn over all of its files. Choi and Smith have said they don't have enough information for a search warrant to force the archdiocese to turn over the files.
• Police departments: Archdiocese hasn't delivered priest files, yet (April 4, 2014)
The archdiocese has acknowledged that its private files include documents on priests accused of sexually abusing children and it has publicly disclosed the names of scores of priests it considers "credibly accused" of child sexual abuse. It also has acknowledged receiving abuse allegations against other priests that it has deemed not credible.
The archdiocese has not released those names to the public. MPR News has found that the archdiocese failed to report several allegations to police, including those against the Rev. Harry Walsh, a priest who later taught sex education to at-risk youth and vulnerable adults in Wright County.
• Abuse claims kept secret allowed priest to minister and teach sex ed (Dec. 19, 2013)
---
Nienstedt describes meeting on child safety
Nienstedt said senior archdiocese officials told him shortly after his arrival in St. Paul in 2007 that the archdiocese was safe for children. He recalled a two-hour meeting about clergy sexual abuse with McDonough; Sister Dominica Brennan, who was serving as chancellor for canonical affairs at the time, and former in-house attorney Andrew Eisenzimmer.
"I had asked for the meeting precisely so that I would know what the situation was and that I could assure myself and assure my publics that the environments were safe," he said.
Nienstedt said "it didn't occur to me" to ask for a list of credibly accused priests. He said he took no notes. Read the transcript
McDonough assured him that the archdiocese was monitoring abusive priests and "that they were not likely to reoffend," Nienstedt said.
He assumed McDonough had notified parish trustees of priests with credible allegations of child sexual abuse, although he never checked, he said.
Anderson, the victim's attorney, asked, "What about the parishioners and the public? Didn't they have a right to know who was being monitored and who had been accused?"
Nienstedt replied, "I find it difficult to answer that question."
Eisenzimmer declined Tuesday to comment on the deposition.
The archbishop acknowledged later in his testimony that the archdiocese didn't tell everyone which priests it monitored because "I believe that I felt that we could monitor the situation without making a total disclosure to the people."
"You still feel that way?" Anderson asked.
"No. I do not," Nienstedt replied.
Nienstedt added, "I think over my tenure as being archbishop, I have had new insights into how we should proceed with these, these situations." He said, "I can't give you an exact date, but it's been probably over the last two years I've come to appreciate that."
Nienstedt said he removed McDonough as the head of child safety about a year ago and appointed the Rev. Dan Griffith to fill the position. The archdiocese has previously said that McDonough left the position voluntarily in September.
Nienstedt said his decision to remove McDonough did not reflect on McDonough's performance. Rather, "I realized that he had multiple responsibilities, he's been in the job for 17 years and I felt it was time that we needed a change."
He said he cannot recall punishing McDonough. "I've always believed that Father McDonough had the best intentions," Nienstedt said. "He certainly shared with me the priority we had of maintaining safe environments in our parishes, our schools and our other programs."
He faulted McDonough for one decision only — that he did not tell parish trustees that the Rev. Curtis Wehmeyer had been arrested for drunk driving. "I disagreed with him in that decision," Nienstedt said. "That's the only one I can think of."
• Archdiocese knew of priest's sexual misbehavior, yet kept him in ministry (Sept. 23, 2013)
Wehmeyer is now in prison for sexually abusing two children and possessing child pornography. McDonough had advised against warning parish employees of Wehmeyer's sexual addiction. The archdiocese later learned that Wehmeyer had been sexually abusing two sons of a parish employee.
Nienstedt said he thinks McDonough did a good job. Read the transcript
"Do you think you're doing a good job?" Anderson said.
"I believe I am, yes," Nienstedt said.
---
Nienstedt denies knowing details of abuser's story
Anderson questioned Nienstedt extensively about Wehmeyer. Nienstedt defended his decision in 2009 to appoint Wehmeyer pastor of two parishes despite warnings from Jennifer Haselberger, his chancellor for canonical affairs at the time, that Wehmeyer was a sex addict who had propositioned young men in a bookstore and had been caught cruising in a St. Paul park. Haselberger later resigned in protest of the archdiocese's handling of abuse cases.
"I obviously didn't see him being same-sex attracted as an indication that he had any interest sexually in young children and that he was a pedophile," Nienstedt said.
Nienstedt said he talked to Wehmeyer about his anger problems but never about his known sexual misconduct because that had taken place several years earlier.
He said he knew that Wehmeyer had been arrested for drunk driving in 2009 but did not request the police report. The report revealed that Wehmeyer showed up drunk at a gas station and invited teenage boys to party with him at a nearby campsite.
Nienstedt professed no knowledge of several key points disclosed by MPR News in its Sept. 23 story:
• He said he didn't know that Wehmeyer approached teenage boys at a gas station until Anderson asked him about it.
• He said he didn't know until early October that the Rev. Paul Sirba, now the bishop of Duluth, knew that Wehmeyer had taken camping trips with children, in violation of the archdiocese's child safety policy, and that Sirba had called the children's mother but did not disclose Wehmeyer's sexual addiction.
• Nienstedt also said he didn't know that McDonough had seized Wehmeyer's computer before police arrived at the parish. "This is the first I've heard of that," he said.
• He said he didn't know that an archdiocesan official had interviewed one of the victims before police did. "That is news to me," he said.
Anderson focused on the timeline from when the archdiocese learned of the abuse to when it reported the abuse to police. He noted that an internal document, signed by Nienstedt and dated June 20, said that the archdiocese first learned of the allegations four days before Wehmeyer was arrested.
• Rev. Curtis Wehmeyer timeline: Risky priest, secret past
Nienstedt said that although he signed the letter, it was written by Haselberger and the dates were wrong. "I wasn't paying attention to the dates per se," he said. "I was looking at the content of the statement."
• Document shows church leaders knew of abuse, but waited to report (Jan. 29, 2014)
Nienstedt said that the Rev. John Paul Erickson was the first priest to learn of the abuse and that he passed along the information to the archdiocese. Eisenzimmer, the attorney, reported it to police, Nienstedt said.
"In hindsight, I suppose [Erickson] should have taken this to the police himself once he had clarified the context of which the communication had taken place," Nienstedt said.
Nienstedt said he did not learn of the allegations until the day of Wehmeyer's arrest, when Eisenzimmer told him that McDonough and a deacon were going to visit Wehmeyer at his parish to tell him that he was being removed from his assignment, he said.
Nienstedt said the decision to confront Wehmeyer before police arrived "was a mistake, but I think we wanted to act immediately on the information that we had."
Nienstedt said his top deputy, Vicar General Peter Laird, resigned because of the Wehmeyer story.
Laird told the archbishop, "The media is painting us with the same brush, and for my own integrity, I need to resign," Nienstedt said.
• Laird, top deputy of archdiocese, resigns (Oct. 3, 2013)
Laird could not be reached for comment.
---
Testimony contains contradictory statements
In several cases, Nienstedt offered testimony that directly contradicted internal archdiocese documents and previous public statements.
For example, he said that the archdiocese voluntarily provided a "full disclosure" of its abusive priests in October "in an attempt to be transparent with our publics." The actual disclosure took place in December — and came after a judge's order forcing the release of names. Nienstedt denied that his decision to release the names was because of a judge's order or public pressure. "I think it was conversion of my part to see that this was something we should do," he said.
• The List: Archdiocese names priests credibly accused of sexual abuse (Dec. 5, 2013)
Nienstedt offered confusing testimony on the case of the Rev. Jonathan Shelley, a priest investigated by the archdiocese a decade ago for "borderline illegal" pornography found on his computer. Police learned of the images last year, when then-Chancellor for Canonical Affairs Jennifer Haselberger called law enforcement.
• New documents show church leaders debated legality of priest's porn (Oct. 7, 2013)
Nienstedt, however, insisted at first that the archdiocese reported the images to St. Paul police in 2004 and that police found no child pornography in that investigation. He said that Eisenzimmer, the chancellor for civil affairs at the time, told him that three files had been turned over to police. Given that police had already viewed the images, he said, he didn't think it was necessary to make another report years later.
Later in the deposition, Nienstedt asked to correct his testimony on Shelley. "I was told by my counsel that I was confused about the 2004 investigation of the Shelley computer," he said.
Deposition excerpt: "Could I make a correction?" | Read the transcript
The archdiocese turned over the images in 2004 to a private investigator, not to police, he said. The investigator was a retired police officer, "so I got that confused," Nienstedt said. "I apologize for that."
Nienstedt acknowledged that Haselberger, his former chancellor, showed him some of the images. "I could not tell whether they were adolescents or older," Nienstedt said.
Nienstedt later said he didn't report the images to police because he didn't believe they were child pornography.
"So what training do you have in the area of what is and isn't child pornography?" Anderson asked.
"Not very much," Nienstedt said.
"Well, what training at all?"
"None," Nienstedt replied. Read the transcript
---
Nienstedt acknowledges one "mistake"
Anderson also asked about the case of the Rev. Michael Stevens, who pleaded guilty in 1987 to sexually abusing a child in a motel room in Fridley. Nienstedt said he wasn't aware that Stevens pleaded guilty or that he was removed from ministry in 2002.
Stevens had worked for the archdiocese's IT department "some time ago, but I can't tell you the exact date," Nienstedt said. He said he didn't know why Stevens left. "I would presume Father McDonough would know. I think that happened under his watch."
However, just two days earlier, the archdiocese had released a statement claiming that Stevens worked as an IT consultant until November 2013.
• Priest kept in ministry until December despite credible allegations of child sexual abuse (April 1, 2014)
Anderson did not ask Nienstedt about the discrepancy.
Nienstedt said he still believes that the archdiocese is safe for children. His only mistake, he said, was not realizing that the Rev. Kenneth LaVan, a priest considered by the archdiocese to have been "credibly accused" of child sexual abuse, had remained in ministry. Nienstedt said he learned in December that LaVan was assisting at area parishes and then removed him.
---
"I can't say for sure"
Nienstedt said that the Rev. Joseph Gallatin, who remains on leave, had been investigated and found to have committed "inappropriate boundary violations, that it was not criminal intent."
• Archdiocese: Two priests reported to police (Dec. 29, 2013)
The archbishop said he could not remember who investigated. When asked whether the file was turned over to police, he replied, "I can't say for sure."
Nienstedt also testified about allegations against the Rev. Mark Wehmann, who went on leave in December for unspecified boundary violations.
Nienstedt said his new head of child safety programs, the Rev. Dan Griffith, decided that Wehmann's actions were not criminal. He said he doesn't believe the allegations were reported to law enforcement.
When asked whether Griffith was qualified to investigate whether a priest has committed a crime involving children, Nienstedt said, "I don't know that I can answer that."
Nienstedt also said he was "not familiar" with a high-profile lawsuit filed in about 2010 by a man who said he was abused by Adamson, a former priest. The case went to the Minnesota Supreme Court and the archdiocese sued the alleged victim for its legal expenses.
Haselberger, the former chancellor, told MPR News that she attended a meeting in which Nienstedt gave the order to sue the man to recoup the legal expenses. "He didn't even hesitate," she said.
---
Victim's attorney
Throughout much of the deposition, Anderson appeared incredulous that Nienstedt would not have paid more attention to the problem of clergy sexual abuse.
Nienstedt said McDonough talked about the priests being monitored by the archdiocese for misconduct.
"Who were those individuals?" Anderson asked.
"I can't recall all the names right now," Nienstedt said.
"Why didn't you write it down?" Anderson asked.
"It didn't occur to me at the time to do so," Nienstedt replied.
"At the time, didn't it seem like one of the most important things you needed to do as archbishop, knowing the crisis in America of Catholic clergy abusing kids, to know who in this archdiocese had been accused and who are being monitored?" Anderson asked.
Nienstedt did not directly answer the question.