Critics: 'The Three Musketeers' fun, but long
 Walking Shadow Theatre Company has taken on Alexandre Dumas' great adventure novel "The Three Musketeers." While the book has been adapted for stage and screen numerous times before, playwright John Heimbuch went back to the source for this new production.
Many critics found the show a spirited delight, if a bit long, featuring plenty of swordplay, but one critic claimed the show involved too much "show," and too little "tell." What's your review?
From John Olive at HowWasTheShow.com:
Here's my firm advice: go with the sprawl. Lay aside whatever need you might have for coherent narrative, for sensible multiple casting, for developed non-cinematic structure and let playwright John Heimbuch's clutch-popper wash over you. After all, the play, sprawling though it certainly is, is chockful of delicious dialogue, deft turns of character, quick and fun little scenes piled one atop the other. The play features swordplay galore.
From Dominic P. Papatola at the Pioneer Press:
MPR News is Reader Funded
Before you keep reading, take a moment to donate to MPR News. Your financial support ensures that factual and trusted news and context remain accessible to all.
Heimbuch's script remains guilty of trying to stuff too much into a nearly three-hour production. Director Amy Rummenie's staging periodically gets stuck in the mud, particularly during the second act. But let's call these crimes misdemeanors. The script and the cast do a good deal well: The spirit of the piece acknowledges the iconic nature of the story and its characters, but it's not afraid to have a little fun in the telling.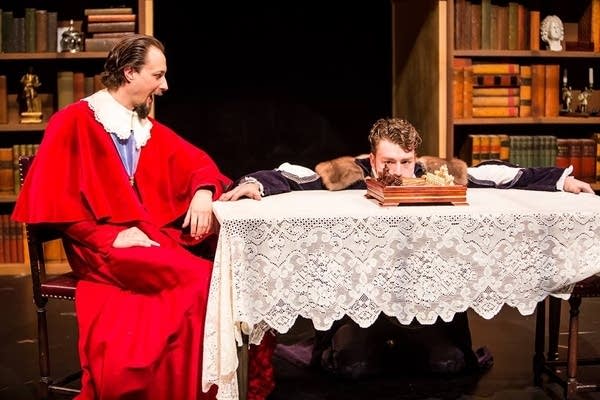 From Christine Sarkes Sasseville at Aisle Say Twin Cities:
In the end, the play offers fans of the novels and movies a fun evening of fine acting, impressive swordplay and clever dialogue. As a narrator states early on in the play, "The definition of a hero is one who tries." The Walking Shadow Theatre Company, its director and playwright, deserve much credit for trying.
From Graydon Royce at the Star Tribune:
Even with the accoutrement of sound work (excellent, by composer Michael Croswell), dynamic lighting schemes (Karin Olson) and period costumes by E. Amy Hill, Walking Shadow's "Musketeers" does not break the chains of Dumas's plot machinations, and Heimbuch's narrative too often has us listening rather than watching.
"The Three Musketeers" runs through May 25 at the Guthrie Theater.