Walleye limit on Minnesota's 'crown jewel' lake sparks outcry
For fishing, nothing beats a big pontoon boat bathed in floodlights and loaded with anglers, bobbing at night on the calm waters of Mille Lacs Lake. There's food. There's probably beer. Hefty walleye flop over the rails in droves.
More on this story:
• Walleye limit on a 'crown jewel' lake sparks outcry
• Millions of tiny fish, millions of dollars: A fish stocking FAQ
• You caught 'em. Now, how to cook them? Pro tips
Terry Thurmer sold that dream, one launch boat cruise at a time, for decades: night fishing for Minnesota's premier sport fish, the walleye. It's a species behind plenty of fish tales, however this year, fewer anglers will have stories to tell and that's by design.
This year, the Minnesota Department of Natural Resources extended the regular four-week early season night fishing ban on Mille Lacs through the full season, requiring fishermen to get off the lake by 10 p.m. The decision sparked some outrage on the lake.
"This is terrible," Thurmer said. "Night fishing was a big part of our business."
Thurmer owns Terry's Boat Harbor, a marina and launch service on the west shore of Mille Lacs. Over the past 25 years, he said, night launch trips were his most popular.
Twin Cities anglers drove north after work, stepped on launch boats at 8 p.m. and cast for walleye until midnight. As many as 40 at a time crowded the decks of Thurmer's boats and those of the half-dozen other launch businesses on Mille Lacs, he said.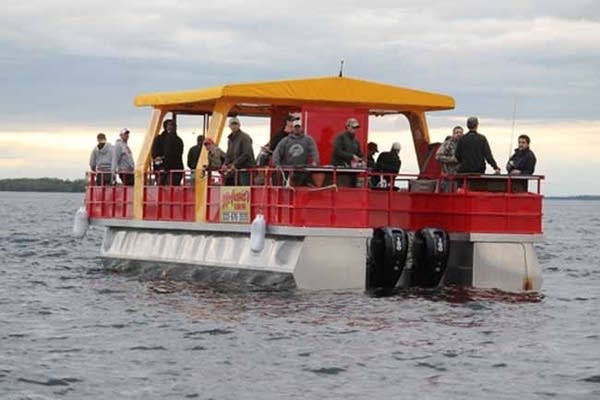 Thurmer also ran launch trips through daylight hours, but said night trips made up roughly 70 percent of his business.
That level of popularity, in part, prompted this year's ban.
"It's actually pretty simple," said DNR fisheries supervisor Rick Bruesewitz, who manages Mille Lacs. Each fishing season Mille Lacs has a walleye kill limit. This year it's roughly 60,000 pounds. To stay within that, the DNR has to limit the walleye catch.
In the hours on either side of dusk, fish are more likely to bite. Since it's easier to catch fish at night, there have been more people on the water after dark. Bruesewitz couldn't nail down exact fishing data based on the time of day, but said a good portion of a season's catch leaves Mille Lacs under cover of darkness.
The night ban clips off the most productive part of the fishing day.
"Even if we take the same amount of effort and move it to before the night closure, you end up catching fewer fish," he said. "So more fish stay in the lake."
Mille Lacs Lake is a big deal for the DNR. It's been called the crown jewel of the state's large-lake walleye fishery. Local businesses thrive and fail with the walleye population, and right now the walleye population is at a 40-year low.
Business owners like Thurmer are watching Bruesewitz like hawks. Locals hold a lot of opinions about what's been happening to the walleye population, but Bruesewitz isn't actually sure why walleye numbers are so low. "We're trying to figure out what's going on," he said.
Tribal members from the Mille Lacs Band of Ojibwe are allowed to net fish from the lake, but Bruesewitz said the practice isn't responsible for declining walleye numbers. Researchers are considering climate change as well as competition from other species.
While many business owners see the night ban as a hit to their bottom line, Terry McQuoid, isn't one of them.
McQuoid, who runs launch cruises from McQuoid's Inn on the southeast side of Mille Lacs, said a night ban will keep the fish population healthy.
"It's just slowing the catch," he said. As a 40-year fishing veteran of the lake, he avoids night fishing for what amounts to ethical and moral reasons.
"It makes it too easy fishing at night," McQuoid said. "It's not a challenge." At night, he said light from the launch boats attracts plankton, which attracts bait fish, which in turn brings in the big fish. He described it as a biological chain reaction which gives anglers an undue advantage. Even before the night ban, he didn't run night trips on any of his three launch boats.
"We get in at 10 anyhow," he said, "and we have no problem keeping our people coming in the daytime."
By next season, DNR researchers will have a better sense of how the night ban affects walleye numbers, and whether the ban will be extended further.
"Everybody, including us is wondering why we're in the predicament we're in," Bruesewitz said. "That's what we're working on. Everybody is looking for answers, but sometimes answers don't come quickly enough."
Your support matters.
You make MPR News possible. Individual donations are behind the clarity in coverage from our reporters across the state, stories that connect us, and conversations that provide perspectives. Help ensure MPR remains a resource that brings Minnesotans together.