This week has been really soggy. Knowing which roads you can actually drive on will be a crucial part of making weekend plans.
So far this year, we've had 25 inches of precipitation at Minneapolis-St. Paul International Airport.
"We have never lived through a year like this, so far, in Minnesota history. The 25 inches and counting through June 20 blows the previous record year of 2001 out of the water by over four inches," MPR News' meteorologist Paul Huttner wrote in Updraft.
• Check the latest forecast for your area
• More weather news
Food & Drink
In case you haven't noticed, doughnuts are stealing the food spotlight.
And the Twin Cities has its fair share of doughnut shops cropping up, including Bogart Doughnut Co.
Rachel Hutton, editor of Minnesota Monthly magazine, joined MPR News' All Things Considered to talk about the trend.
"Doughnut shops are hot right now so there are a lot of options in the Twin Cities, but each one seems to take a slightly different approach. The old-school bakeries, places like Sara Jane's in Northeast and A Baker's Wife in Longfellow, excel in classic cake doughnuts," Hutton said.
• Appetites: More food news and reviews
The men of Minnesota shared their favorite recipes with The Daily Circuit this week.
• Author Steven Raichlen coaxes men from grill to kitchen
Host Kerri Miller talked to Steve Raichlen, author of "Man Made Meals: The Essential Cookbook for Guys." He said men are underrepresented in the kitchen -- at least enough to justify the publication of his book, where he coaxes his readers indoors -- away from the grill and into the kitchen.
Festivals
This week's exploration of the upper Midwest's many summer festivals brings us to Ellsworth, Wis., where they're celebrating cheese curds.
The Director of Ellsworth's chamber of commerce, Sarah Ries, spoke with MPR News' Tom Crann about the festival -- and how Ellsworth became the cheese curd capital of Wisconsin.
• Friday Festivals: Cheese Curd Festival
Another food capital is celebrating this weekend. Le Mars, Iowa, the self-proclaimed Ice Cream Capital of the World, will be hosting a festival to celebrate its favorite flavors.
Rock the Garden takes place Saturday and Sunday at the Walker Art Center. The line up includes Spoon, Dessa, De La Soul, Lizzo and Jeremy Messersmith, among others.
• What songs are you hoping to hear at Rock the Garden 2014?
Music
Twin Citians have the chance to hear a truly amazing voice this weekend, reports MPR News' Euan Kerr.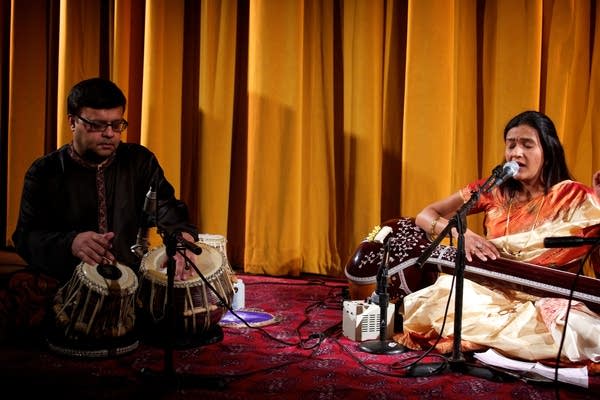 Minneapolis-based, north Indian classical singer Pooja Goswami Pavan will perform at Pangea World Theater on Lake Street.
• Songs of Sufi love from a Hindustani voice anchored in Minnesota
Pooja and her husband will help with a lecture and performance on North Indian music on Sunday morning at Pangea World Theater in Minneapolis. The event begins at 10:30 a.m. and is free.
The Minnesotan behind some of the best-known animated films of recent years will be onstage this weekend with the Minnesota Orchestra.
While the acclaimed musicians practice their art at Orchestra Hall, just a few feet away in the host's chair, Bloomington native Pete Docter might be doodling in his sketchbook - creating the kind of drawings that helped make him an Academy Award-winning director.
• Pixar's musical Minnesotan, animated and onstage this weekend
Books & Movies
It was Western Week on The Daily Circuit and L.A. Times Film Critic Ken Turan joined in to talk about his favorites.
• Film critic Ken Turan on his favorite Westerns
In his new book, "Not to Be Missed," he talks about sitting side by side with his dad watching "Wagon Train" and "Maverick" and "Rawhide."
In another segment on The Daily Circuit, we learned that generations of immigrants in the early days of Minneapolis' history lived in the eclectic area along the Mississippi River known as the Bohemian Flats.
Today, the flats are largely parkland that offer scenic views of the University of Minnesota and the Minneapolis skyline. This is much to the chagrin of author Mary Relindes Ellis, who returns us to the heyday of the flats as a residential area in her new novel, "The Bohemian Flats."
• Author Mary Relindes Ellis recounts Bohemian Flats history in new book
The Daily Circuit also caught up with Rachel Sussman about her new book "The Oldest Living Things in the World."
• Photographs offer striking glimpse of our oldest living things
Her photographs offer a glimpse of the Earth's evolution since before "year zero." And they provide clues to what we might expect in the future, as climate change looms large.
World Cup
What fun would this weekend be without the World Cup?
U.S. plays Portugal in the World Cup on Sunday at 5 p.m.
They may have been drubbed 4-0 by Germany but Portugal are a threat to any international side and happen to have one of the most feared players in the world in Cristiano Ronaldo.
Luckily, there are lots of places in Minnesota to watch, in case you don't have ESPN.
• 10 places in Minnesota to watch the World Cup
• World Cup Live: USA v Portugal
• Photos: Our favorite photos of obsessed World Cup fans in Brazil
Of course, there is so much more going on this wekeend, so don't forget to follow us on Twitter and Facebook for updates.