They're doing laundry and washing dishes again in Norwood Young America after a weekend warning that the city's drains were basically not working anymore.
As much as 9 inches of rain wiped out the city's wastewater treatment plant, backing up sewage into people's homes and wrecking electrical equipment.
• Photos: The waters keep rising
• More: Documenting the flood: Stories behind the photos
• Tips: 12 ways to stay safe after a flood
• Mudslides: Geology, sodden soil a troublesome mix
• Road closures: The latest from MnDOT
• Related: Why sump pumps may cause sewage backups
• Forecast: More from Updraft
The city's sewer lift station may be a total loss, said Steve Helget, the city administrator. Temporary equipment is up and running, but Helget says it could be months before the plant is fixed.
The city has insurance, but he fears repairs on the sewer system could run into seven figures in a town with 3,500 people and a $3 million annual budget.
That's the story across much of the region right now. Skies have been blue, but the damage left by last week's storms and flooding is still creeping up, in small towns and farms across the state.
The city of Waterville declared an emergency Tuesday afternoon. Water was standing on the floor of a downtown Delano coffee shop this morning. A 50-yard stretch of retaining wall toppled over and blocked Castle Ridge Road in Watertown and Blakeley Township in Scott County is still without power.
In some parts of the state, nearly half of this year's crops are gone, said Gov. Mark Dayton, who toured areas west of the Twin Cities Tuesday and pledged money and help to keep up the flood fight.
"Rock County, the southwestern corner, has 250,000 farmable acres and 100,000 of them are damaged or destroyed," said Dayton. "The farm impact is horrific."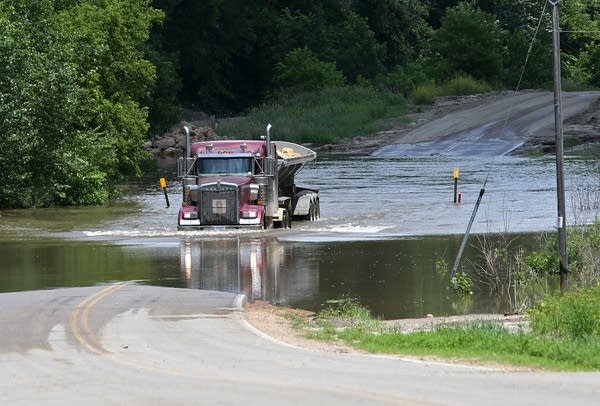 Dayton met with local officials, Carver County Sheriff Jim Olson and state representatives from the region in Delano in the morning to talk about the cumulative impact of torrential rains that are still filtering through the region.
It's the second biggest flood in nearly 50 years and the third flood in Delano since 2009, Delano Mayor Dale Graunke said.
GOP state Rep. Ernie Leidiger, from nearby Mayer, told the governor that the far-flung extent of the damage makes it hard to grasp from the ground, but that it's very serious.
"We're going to have to fix a lot of these things. It's going to cost a lot of dollars," Mayer said. "This is very similar, if you think about that tornado that came through a few years ago and caused all that damage in north Minneapolis. When you take everything in the aggregate, this equals that."
Dayton told officials that he's confident the state will top a $7.3 million dollar damage threshold that would trigger a presidential disaster declaration — and federal aid to repair damage on public property.
The state also established its own $3 million disaster fund last legislative session. Dayton said that money will backfill federal aid when that likely arrives.
The governor says there has been some good news: flood mitigation efforts like holding ponds in Owatonna seem to have helped limit the damage there. More are in the works — like a new Highway 101 bridge in Chaska to replace the old one that's even now closed by high water.
In the meantime, some homeowners continue to struggle.
A handful of homes have been destroyed, and untold others have been damaged by floodwater and sewage backups.
The problem is compounded by the calendar. Homeowners typically get insurance in anticipation of the spring melt, but few have flood insurance now, in the summer, Deb Paige, Carver County's emergency management director, told the governor.
Homeowners insurance typically doesn't cover flood damage.
At least the water is receding in some places: the National Weather Service shows river levels dropping in Fargo, Mankato and Burnsville, although St. Paul may have another foot to go by Thursday as the high water works its way down the Mississippi River.