Mu's 'A Little Night Music' impresses critics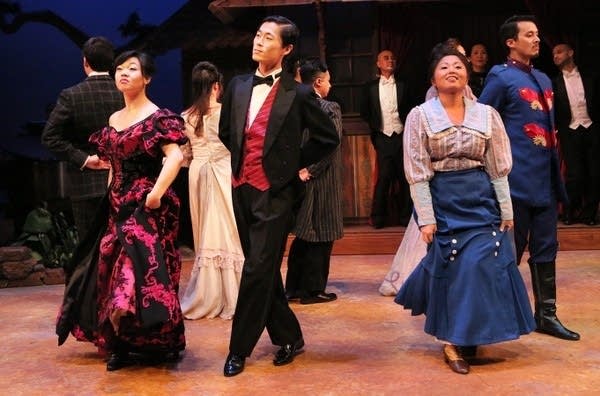 "A Little Night Music" is not your traditional, happy-go-lucky musical. Its ample humor is dipped in remorse and regret. Its characters are not what you might call positive role models. Its music is beautiful and complex. But it is an unusual, lovely and heartfelt show, given an unusual, lovely and heartfelt staging by Mu Performing Arts.
Grow the Future of Public Media
MPR's budget year comes to a close on June 30. Help us close the gap by becoming a Sustainer today. When you make a recurring monthly gift, your gift will be matched by the MPR Member Fund for a whole year!
Director Shiomi maintains a leisurely, lighter-than-air pace throughout, allowing full rein to the sparkling complexity of Sondheim's wit and wordplay, while Jason Hansen's music direction lends lovely lyricism and texture to the proceedings.

An adept chorus, lush costume design by Lynn Farrington and six-member onstage orchestra are the dazzling finishing touches that make this production of "A Little Night Music" a thoroughly delightful confection of a show.
Though the story is set in Sweden, the cast is almost entirely composed of Asian-American performers, who inhabit fully realized and complex characters — and sing a rich, absolutely satisfying score to boot.
The Mu production of A Little Night Music is directed by former artistic director Rick Shiomi. Shiomi presents the brilliant music perfectly, giving us a simple, yet effervescent and energized reading of the material. Shiomi has also cast performers who possess the musical chops – and then some – to sing Sondheim's deceptively simple music.