Jungle's 'Heiress' probes love and money, wins critics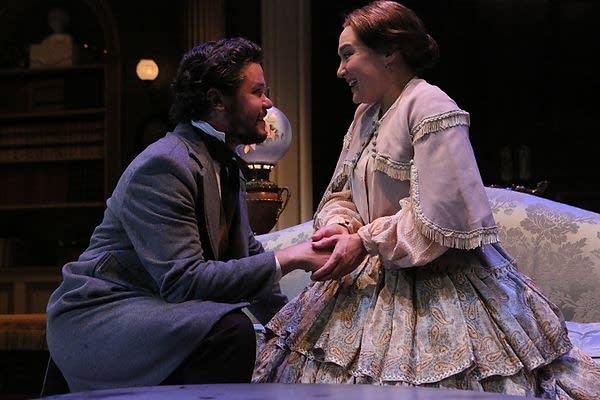 Based on Henry James' novel "Washington Square," "The Heiress" features a poor suitor and a rich, shy heiress with a domineering father.  Twin Cities critics are calling the Jungle Theater's production "gorgeous," "heartbreaking," "nuanced" and "engaging." Have you seen the show? What's your review?
From John Olive at HowWasTheShow.com:
The Heiress... plays, very effectively, on our own ambivalence about wealth: we want the comfort that money buys but at the same time we like to think that we are, somehow, above the pecuniary fray. Pure humanity will always shine through. Won't it? Selfless love overcomes everything. Doesn't it? The Heiress will make you wonder.
Grow the Future of Public Media
MPR's budget year comes to a close on June 30. Help us close the gap by becoming a Sustainer today. When you make a recurring monthly gift, your gift will be matched by the MPR Member Fund for a whole year!
From Rohan Preston at the Star Tribune:
The well-acted and beautifully designed drama holds a viewer from the moment the curtain rises on the breathtaking set, also by Boehlke, to the very end, when the title character, portrayed with sublime sympathy by Kate Guentzel, resolutely carries a light up a flight of stairs. That light is a symbol of her development in a drama that could be subtitled "an education in cruelty."
From Ed Huyck at the City Pages:
Boehlke thrives in plays like this. It shows through strong and confident direction. At times, the pace seems too quick, leaving few moments to breathe. Yet it settles by the second act, allowing the company to dig deep into rich material — and Guentzel a chance to showcase why she's a performer always worth watching.
From Dominic P. Papatola at the Pioneer Press:
"The Heiress" is a play squarely in the Jungle's wheelhouse, meticulously designed and studiously directed by Bain Boehlke, with Bill Healey's deft-but-understated lighting and Sean Healy's evocative sound design making the atmospheric picture complete. The Jungle production manages to be fusty and fresh at the same time, articulating a time long past, but conflicts and characters that are -- unfortunately -- with us still.
"The Heiress" runs through August 10.