As U.S. Sen. Al Franken emerged from a jobs training meeting at a Goodwill-Easter Seals facility in St. Paul, a few operatives from the Minnesota Republican Party held up a life-size cardboard cutout of President Barack Obama.
They taunted Franken, a Democrat, for voting with the president 97 percent of the time last year. "Senator, do you want a picture with President Obama?"
The scene was turnabout from six years ago, when as a candidate Franken accused then-U.S. Sen. Norm Coleman of being a rubber stamp for President George W. Bush.
But businessman Mike McFadden, the Republican endorsed candidate in Tuesday's primary, has a new political problem of his own. A recent misstep undercut his message that Franken and other Democrats have voted against the interests of workers.
• Select-A-Candidate: Whose views match yours?
• More: Senate candidates focus on Franken at Farmfest debate
Besides winning the Republican endorsement, McFadden has raised millions compared to the thousands raised by his main Republican challenger, state Rep. Jim Abeler.
McFadden also has the support of some powerful Republican insiders, including Coleman and another former senator, Rudy Boschwitz.
Those connections were evident over the weekend as McFadden delivered the national Republican rebuttal to the president's weekly address.
"We are heading in the wrong direction," McFadden said. "America is experiencing one of the slowest economic recoveries in our nation's history. Minnesotans feel like we're falling behind. Wages have been stagnant, but the cost of everything from gas to groceries keeps going up."
In his speech McFadden blamed Democrats for over-regulating businesses, from proposed copper-nickel mining on northeastern Minnesota's Iron Range to pipelines.
"Whether it's the Polymet mine in Minnesota or the Keystone pipeline, there are good paying jobs waiting to be created if we just use more common sense in regulation," he said.
But last week McFadden stepped into his own job creation controversy.
After a candidates' forum at Farmfest, McFadden told reporters he would not support requiring that American-made steel be used to build the Keystone pipeline if the project goes through.
Democrats jumped on the comment and spread it through the state, especially in northeastern Minnesota where iron ore mining employs thousands of people.
Franken said that's the wrong position for a Minnesota politician to take.
"When you use American steel those are not only American jobs they're Minnesota jobs," Franken said. "We have something called the Iron Range."
McFadden later said if the pipeline could be approved with the caveat that it be built with U.S. steel, "that would be fantastic."
McFadden's American steel comment was a gaffe, said Abeler, who is wrapping up his 16th year in the Minnesota Legislature. He said McFadden may well have answered differently if he had more political experience.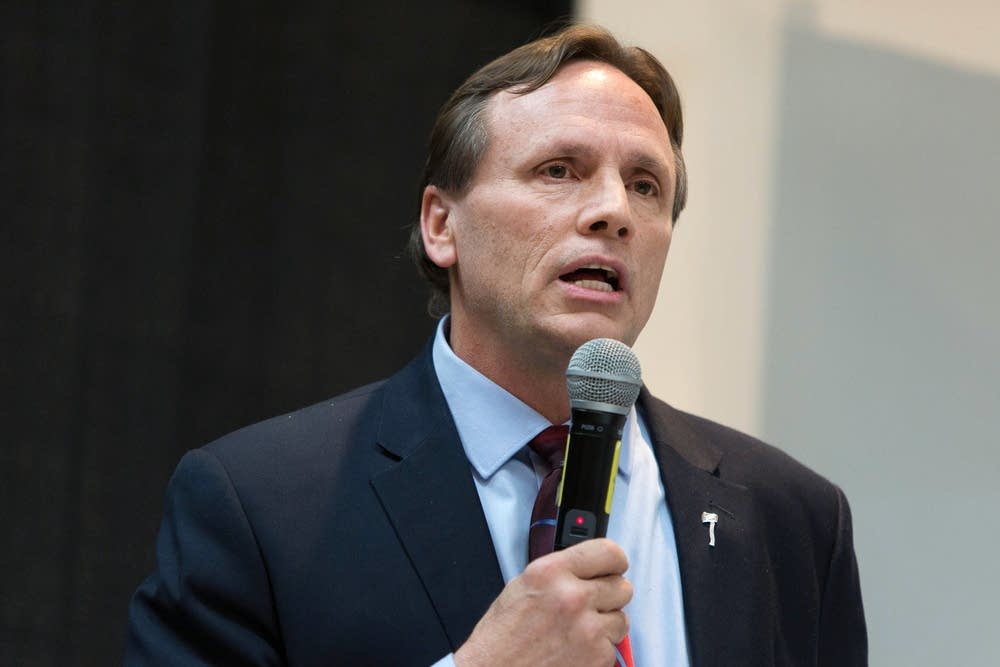 For Abeler, whose endorsements from prominent Republicans include those of former U.S. Sen. Dave Durenberger and former Gov. Al Quie, experience governing is more important than McFadden's money and connections.
"What we've given people is an alternative," Abeler said. "If they want one, that's me. If they want somebody who actually knows what to do when they get there, who knows how to manage the budget, who knows how to deal with health care in a way that actually has been proven to be valid, who knows how to work across the aisle, then I'm their choice.
"If they want a person who has a lot of resources and a lot of connections to Washington, then I'm not that choice," he said.
Until recently most of the nation's top political handicappers ranked Franken's Senate seat as "safe" going into this year's election. But now the consensus is that Franken is "likely," but not guaranteed, to win re-election.
"I would put Sen. Franken in a distinct third tier of races," said Nathan Gonzales, deputy editor of Rothenberg Political Report. Barring a great year for Republicans, Franken is probably safe, Gonzales said.
"These aren't races that are considered toss-ups," he said. "They aren't even, I would say, great Republican opportunities, but it's a group of races that could develop into serious Republican opportunities if the entire kind of midterm cycle deteriorates for Democrats."
That's why Republicans are trying to tie Franken to President Obama, whose approval rating in polls has been dropping.