Gone to Syria: Family fears woman latest Minnesotan drawn to war-torn region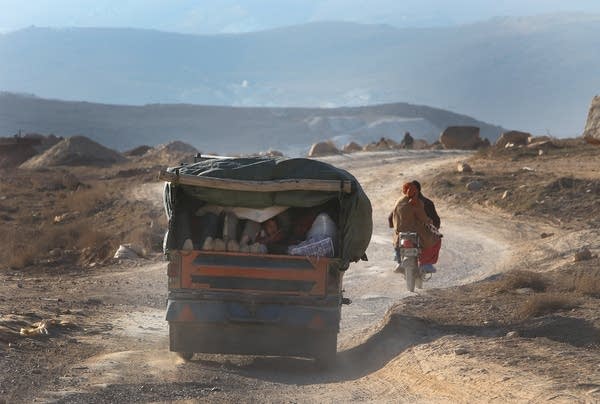 Updated: 6:50 p.m. | Posted: 1:09 p.m.
The week she disappeared, the biggest worry on the mind of the 19-year-old St. Paul woman seemed to be what to wear to a friend's bridal shower.
Previous MPR News reporting
• Jihad in Syria lures Somalis from Minnesota
• Mom reflects on son, friend both lost to jihad
Grow the Future of Public Media
MPR News is supported by Members. Gifts from individuals power everything you find here. Make a gift of any amount today to become a Member!
The shy Muslim woman hated to shop and typically wore a loose-flowing hijab. Seeking a new look, she tried on her sister's western-style dresses and fretted over the ones that clung too tightly. Finally, she chose an orange and white dress, shimmery brown cardigan and fitted headscarf.
That was Aug. 20. Two days later, she left her house around 5 p.m. in her new clothes. Around midnight, she called her mother to say she'd stay at her friend's apartment if she couldn't find a ride home.
She didn't come home. The next day, she didn't call. The family began to panic.
A day later came a 6 a.m. phone call that would change all their lives: She was in Syria.
The girl said she'd gone to study the Quran. Her sister says she has sounded content in her three calls home. But her family worries she is in a very dangerous place, a war-torn region that continues to lure Minnesotans for jihad.
"She did say, 'I'm sorry.' She kept repeating, 'I'm sorry I left, mom. I'm not in the city anymore, but I promise I'll come back,'" said her sister, who agreed to be interviewed on the condition that MPR News withhold her name and her sister's name.
The sister said she and three other members of her family have been subpoenaed to testify before a federal grand jury. She was served with the papers today, she said.
A federal grand jury has been investigating the movements of young Minnesota men enticed to travel to Syria in hopes of joining brutal militants, including the Islamic State in Iraq and Syria, known as ISIS. Federal authorities have confirmed that a man with Minnesota ties has died fighting for ISIS. A second Twin Cities man is believed dead.
The conflict is also starting to draw women from the West to assist the fighters.
The St. Paul woman's departure has sent her family on a frantic quest for answers. They've met with mosque officials and the woman's friends to find out how a woman with no job or travel documents could have made the trip to a bloody war zone. The family now believes a Twin Cities friend lent the woman her passport (the friend told relatives the woman had stolen it).
"The kind of messages that come out for women are one of sisterhood, one of great comfort, where the women are sitting around and baking cookies."
FBI agents have interviewed family members and told them they're aware of two additional women who have left Minnesota for Syria, according to the sister.
The FBI has declined to comment on the case. But speaking generally, spokesman Kyle Loven said investigators understand that the profile of someone who might fall for jihadist ideology may also include women.
"When it comes to focusing on strictly men, that's something we're not doing," he said. "We're keeping an open mind with respect to our efforts."
Academics say women are among the hundreds of Westerners recruited by ISIS. But the propaganda used to hook females is far different than the gruesome videos of beheadings intended for male audiences.
On social media, female recruiters for ISIS entice women by promising a romantic notion of what their lives will be, said Mia Bloom, a professor of security studies at the University of Massachusetts, Lowell and author of "Bombshell: Women and Terrorism."
"The kind of messages that come out for women are one of sisterhood, one of great comfort, where the women are sitting around and baking cookies, or they're having these little parties where they're cooking," Bloom said. "They're tweeting the pictures or they're posting to Tumblr, to show how wonderful their life is."
The reality is ISIS sexually exploits its women, who are expected to help populate the Islamic State, she said. The group, she said, "uses them for rewarding the fighters and having babies."
Family members of the St. Paul woman remain hopeful that she would never join a terror group, let alone one as brutal as ISIS.
"What they're doing is terrifying and completely wrong," said the sister.
The missing woman was born in Nairobi, Kenya, the eighth of nine children, and raised by a widowed mom. The family, ethnic Somalis, came to the United States five years ago, and had applied this year to become U.S. citizens, the sister said.
To outsiders, the teenager was excruciatingly shy. When visitors came to the house, she greeted them briefly before retreating upstairs. "She loves to be alone most of the time," the sister said.
Over the years, the woman volunteered at her family's local mosque in St. Paul and also tended a community garden while attending a Minneapolis charter school. She graduated last spring, her sister said, and expressed interest in one day going to school to become a nurse.
"We hope she pops up randomly and tells us it was a prank."
But she began to become more fixated on memorizing the Quran. It's a point of pride among the most devout young Muslims, but the family feared the woman was taking it too far. She stopped going out for long walks with her family, saying they diverted her from her religious studies.
"We used to go to Lake Calhoun and laugh and talk," the sister recalled. "But then she said, 'I don't want to waste my time. Praying and reading the Quran makes me feel good and closer to God.'"
Roughly two years ago, the woman changed mosques, telling her family she preferred a place where there were fewer friends to distract her. Officials with the Al-Farooq Youth and Family Center in Bloomington confirmed the woman attended the center, but said she had no formal role there, according to mosque attorney Jordan Kushner.
In the six months before the woman left, family members became increasingly concerned about the lack of balance in her life. They even confronted her. But in the end, her mom reasoned that her daughter was safe in the family's home and under her watch, according to the sister.
The teen didn't party or smoke shisha tobacco, after all. She strove to be modest, and frequently donned the head-to-toe covering known as the niqab when she went to the mosque.
Listening to R&B tunes by Muslim singer Maher Zain on her phone seemed to be the only pastime at odds with her beliefs. The woman deactivated her Facebook account several months ago but may have been active elsewhere on social media, said the sister.
As for world affairs, the sister never noticed the young woman showing an interest in jihadist movements around the globe.
Picking out clothes that day three weeks ago, "she really liked the way she looked. She seemed very excited to meet her friends," her sister said.
"Before she left, she never mentioned anything about Syria."
The family sought the help of law enforcement by reaching out to community activist Omar Jamal and former Ramsey County Sheriff Bob Fletcher, who together shared the information with the FBI. She said the family is suffering and wants the FBI to bring her sister home.
The woman called a third time last Friday, sounding enamored with her new environment. She said she shared a house with other girls from around the world. She sounded happy as she described the warm air and teased her family for having to put up with Minnesota winters.
Her sister is still in disbelief that her shy sister could be in Syria. "We hope she pops up randomly," she said, "and tells us it was a prank."