Firewood a hot commodity as rural Minnesotans ready for winter
Loggers Tim, Dean and Duane White typically finish cutting winter wood for their home clients by mid-October, then shift to supplying timber to area lumber mills.
This year, though, the mills will have to wait. Calls for firewood have doubled and the Whites are working against the clock to cut fuel for customers before it gets truly cold.
"Usually we cut 500 cords. We've done that already this year," Duane White shouted over the roar of heavy machinery in the woods north of Akeley as he grabbed timbers with a swinging steel claw and dragged them through a car-sized circular saw. "We have 500 more waiting to be cut that we've already sold."
After last year's long cold winter spiked propane costs and left firewood piles burned to nothing, White said rural Minnesotans are stocking up on anything to keep their homes warm.
They don't have many options. Natural gas isn't piped past city limits and electric heat is notoriously expensive. That leaves mainly firewood and propane and the use of those fuels tend to swing with the price.
Shortages last year doubled propane prices for a few weeks in the middle of winter, just as many 500 gallon home propane tanks ran dry. That cost Minnesotans an estimated $71 million in extra fuel costs according to a recent congressional report (.pdf).
Before you keep reading ...
MPR News is made by Members. Gifts from individuals fuel the programs that you and your neighbors rely on. Donate today to power news, analysis, and community conversations for all.
The shortage forced some propane users toward firewood, said Steve Vongroven, a forest utilization coordinator for the Minnesota Department of Natural Resources.
The propane industry says last year's problems — triggered by a shift in the use of a local pipeline and a lack of reserves — won't happen this year.
Suppliers over the summer added rail terminals, beefed up storage capacity across the state and shipped in more fuel, Minnesota Propane Association Executive Director Roger Leider said. Customers stocked up on 1.35 million gallons of propane over the summer, a 30 percent increase in pre-season sales, he added.
Leider doesn't expect any propane shortages or price spikes this year.
Firewood on the other hand is in critically high demand. Reserves were bled dry last year, and spring logging was stalled by muddy ground. Last month Twin Cities-area firewood suppliers made news when they were unable to keep up with orders.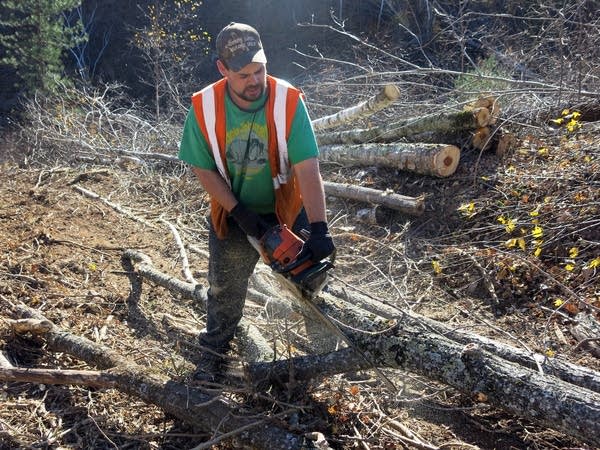 Northern Minnesotans, White said, have greater access to wood since they're closer to the source. But getting enough still isn't easy. He had to raise his prices this year from $75 to $80 a cord for green, lower-grade firewood and bump up the cost for oak from $80 to $85.
"Most of the time people want seasoned hardwood," he said. "This year they're taking birch, pine, whatever I'm cutting."
A standard full cord of wood measures 4 feet high by 4 feet wide by 8 feet long and White says his customers average seven to 10 cords of wood through the winter.
The lack of good firewood, he said, isn't driving users back to propane. He figures last winter left people nervous. They might be pre-buying propane, but White said rural Minnesotans are also paying to stock up on whatever firewood they can get, just in case propane prices spike again.
Wood remains a good deal relative to electric heat. Local interviews in northern Minnesota put the cost of heating a typical home with wood at about $640. The Beltrami Electric Cooperative estimates it costs about $2,100 to heat with standard electricity, though that cost can drop to $1,340 if there is a secondary source of heat, like a wood stove, and off-peak pricing kicks in.
Wood cutting, of course, takes a lot more preparation.
Steve Schaubhut heats his home north of Bemidji with an exterior wood furnace. He spends evenings and weekends with a chainsaw gathering and splitting wood from his 100-acre homestead. It takes all year to get enough. Last winter he nearly ran out, so this time around he's working faster.
"This is the time of year you take stock," Schaubhut said. "You wonder if you're ready for winter. You hope you didn't procrastinate too much."