MNsure officials, consumers hope for smooth open enrollment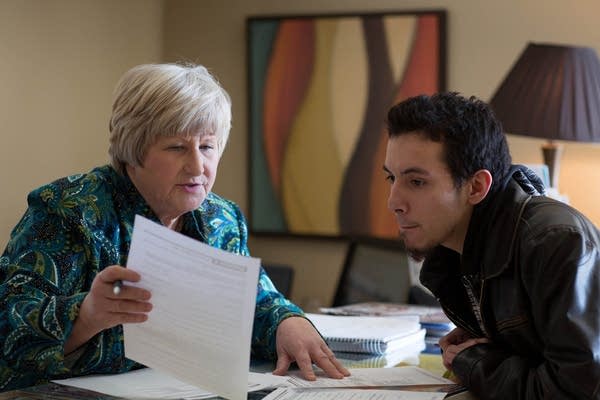 Minnesotans who are in the market for private health insurance can start shopping Saturday on MNsure, the state's online insurance website.
The state exchange had a disastrous debut a year ago, but agency officials expect the process to go much more smoothly during the second open enrollment period.
MNsure officials are not promising a flawless customer experience. But the troubles that plagued MNsure's rollout last year — including slow-to-load web pages and long wait times on the phone — are far less likely this time around, CEO Scott Leitz said.
Leitz said MNsure will have 300 call center operators, far more than the 22 that were available to help consumers last year. He also said the website's pages will load five times faster. But just in case, troubleshooters at MNsure's incident command center will be ready to deal with any problems.
"We're cautiously optimistic that we're on the right pathway here," Leitz said. "But should something be not going as planned, we want to make sure we have a good clean well-documented and well-structured process to be able to deal with those issues as they come up."
One person who is counting on MNsure to work smoothly this year is Deanna Wyman of White Bear Lake. The real estate agent celebrated her 26th birthday this summer and became ineligible for her parents' health insurance. With no health insurance through her job, she bought a platinum-level plan offered by PreferredOne on MNsure.
MPR News is Reader Funded
Before you keep reading, take a moment to donate to MPR News. Your financial support ensures that factual and trusted news and context remain accessible to all.
A day after Wyman received her new insurance card, she found out PreferredOne won't be offering plans on the exchange for 2015. That left her extremely frustrated and disappointed because she had good coverage for $153 a month and a deductible of just $1,000.
The first thing Saturday morning Wyman will be at her computer shopping for a new plan.
"I'm kind of hoping that it'll be a breeze," she said. "I'll just be able to sit down, find a plan I like, select it."
Based on insurers' rate filings, Wyman can expect nearly 100 different options. They range from a high-deductible catastrophic plan that costs $90 a month to her current plan.
Wyman said renewing it would cost her an extra $100 a month, so she's considering a gold-level BluePlus plan now that the Blue Cross-Blue Shield HMO is offering plans on MNsure this year. However, the coverage Wyman is eyeing costs a little more than her current plan, covers less and has a slightly higher deductible.
"I'm OK with paying a little bit more," she said. "And I also realize that I'm probably going to have a higher deductible. I definitely have limits on how high I'm willing to go both on premium and deductible. But hopefully I'll be able to find something that still covers everything that I want and need it to."
There are about 47,000 people covered under individual and family private health plans. MNsure officials say it's important for those people to shop around again on the exchange for next year, even if they have a plan they like.
More than 30,000 could wind up being disadvantaged if they don't. The risks are losing out on federal subsidies or being hit with an unexpected tax bill for receiving a subsidy they are no longer eligible for.
Julie Sonier, a health care policy analyst at the University of Minnesota, said there is a lot at stake in whether MNsure's website performs well.
"This is the avenue for Minnesotans who don't have other coverage options, don't have the option of getting health insurance coverage through an employer," Sonier said. "This is the avenue that they have to obtain affordable health insurance, so it's important that it works well."
MNsure officials are largely focusing on people seeking commercial coverage. The exchange also is the primary portal for people to enroll in the government-sponsored Medicaid and MinnesotaCare plans. But MNsure officials say people enrolled in those plans can "sit tight" for a while as state officials are testing an automatic renewal system for them.
When the open enrollment process begins Saturday, state Sen. Sean Nienow, R-Cambridge, hopes it goes smoothly.
Nienow, a member of the MNSure Legislative Oversight Committee, said MNsure is here to stay, and the system needs to work for customers.
"Last time it was real people in the street having to suck it up and having real, real problems," he said. "I'm hoping that we get past that and that we can avoid the problems for the real people and their real lives and just have the problems for government. That, at least would be an improvement."