Rochester expansion plan is a vision for urban and walkable development
When planners of Minnesota's largest economic development project unveil a final draft this afternoon of the city's massive expansion project, they will present a new vision for downtown city life.
The $6 billion Destination Medical Center aims to make Rochester a global health care hub. But it also would make big changes to the city, among them:
• Remaking the area in front of Mayo Clinic's 20-floor Gonda building into an ice skating rink, replacing a quiet pedestrian walkway.
• Covering the city's main plaza a few blocks away with a towering light pavilion.
Grow the Future of Public Media
MPR News is supported by Members. Gifts from individuals power everything you find here. Make a gift of any amount today to become a Member!
• Eventually creating a farmer's market next to the Zumbro River, which is now a concrete channel aimed at flood prevention.
• Creating a "Discovery Square" to house science, technology and bio-business start-ups and research groups.
As Destination Medical Center Corporation and city officials move closer toward a crucial vote on the plan early next year, they are evaluating proposed designs.
"The change for this community is only going to enhance the experience for our patients and those of us who live here," said Lisa Clarke, executive director of Rochester's Economic Development Agency.
For months, the private group has been trying to incorporate plans for a much more urban, walkable and commercial center for downtown Rochester.
Toward that end, the plan proposes a dramatic transformation of the city's core and highlights six unique development regions, including the riverside market and amphitheater, a transit hub with access to future light rail connections from the Twin Cities, and a busy commercial and retail space in what Master Planner Peter Cavaluzzi calls "The Heart of the City."
Rochester is in a competition to attract the best talent and the city must build on Mayo Clinic's reputation to grow its economy, he said.
"That new best and brightest generation, they want to live in authentic urban places where they can live in the downtown, they can walk to work, they can take transit, they can be on a bike path, they can go to the waterfront, they go to a farmers market," Cavaluzzi said. "Those are the things this generation is calling for."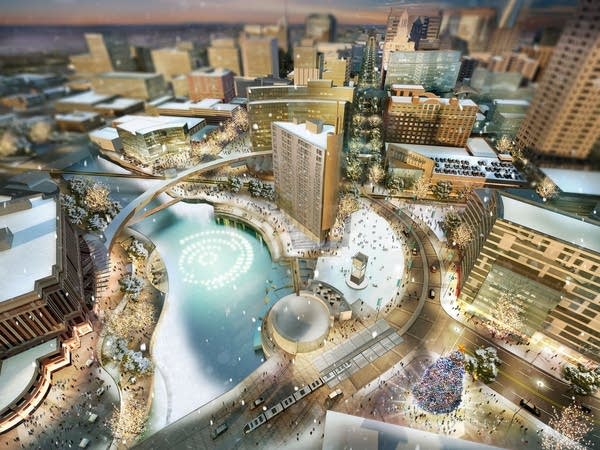 Based on public comments so far, Cavaluzzi said, waterfront development is the most popular feature in the plan.
"All great cities have tremendous waterfronts and they're wonderful attractions and Rochester really needs to include that in their array of places and spaces that they offer visitors and residents in their downtown," he said.
Transit is a priority for Rochester Mayor Ardell Brede, who sits on both the Destination Medical Center Corporation's board and the City Council.
"If we just build a big building and we have no place to park cars or have people come in, then we're going to be short-changing ourselves," Brede said. "We better get that transit thing taken care of first. That's my opinion. We really need to get that part done before we start thinking of grand staircases and all that sort of stuff."
Last year, the state Legislature approved $455 million in taxpayer funding — $327 million in state aid and $128 million from city — to help support Mayo Clinic's expansion and add tens of thousands of new jobs to the region over the next 20 years. Most of that aid will fund improvements to public facilities — from parking ramps and roads to sidewalks.
According to a draft released last month, some of the plan's big ticket items include $1.35 billion for public facilities and $557 million for transit and transportation over 20 years.
But Clarke, the development agency official, said the plan will be implemented in five-year phases and by law all of its aspects — from financing to marketing and operations — will be assessed every five years. The plan her team presents now, she said, will evolve over time.
"The market changes and it changes regularly," said Clarke, who also works as a division chair at Mayo's Department of Public Affairs. "I think it would be a disservice to Rochester and to the state of Minnesota if we created a plan for today and for today's environment and today's market, and expected it to be the same 20 years from now. It just won't happen."
Planners will try to win over the Destination Medical Center board members today and clear a key hurdle before the plan enters a 60-day public comment period. The City Council has the final vote on the plan in March.
What comes next?
Dec. 17: Economic Development Agency submits the plan to the Destination Medical Center Corporation board for review
Jan. 29, 2015: DMCC board votes on the plan and submits it to the City of Rochester, which triggers a 60-day public review period
March 2015: Final deadline for city officials to approve the development plan