'Crashed,' bashed and cashed: St. Paul embraces extreme ice racing
St. Paul Mayor Chris Coleman stood atop the Crashed Ice course — a 500-yard, 12-story high ramp in front of the Cathedral of St. Paul — and offered some advice to some fellow skaters that he got from a pro.
"You can't lean forward enough," the mayor said, adding "like you're downhill skiing."
Coleman made it about 100 yards down the ice from the start line Wednesday morning — 50 yards on his skates and another 50, roughly, on his backside.
The course has been much kinder to St. Paul. The three-day stunt race has drawn huge crowds the past few years to one of the nation's coldest cities in the depth of winter. Last year's February event brought an estimated 120,000 people downtown, as many as two Vikings games.
It returns on Thursday and promises to be bigger than ever.
"It's great for our bars and restaurants ... but it's just a lot of fun," said Coleman. "People come out. They see that iconic image of the cathedral that gets broadcast across the globe. Millions of YouTube hits on Crashed Ice St. Paul. So it's about the best advertisement you can get for our city."
Gain a Better Understanding of Today
MPR News is not just a listener supported source of information, it's a resource where listeners are supported. We take you beyond the headlines to the world we share in Minnesota. Become a sustainer today to fuel MPR News all year long.
St. Paul hopes to turn Crashed Ice from an event into a destination, said Adam Johnson, a vice president with the city's tourism bureau.
"It's going to be a piece of a really huge day on Saturday, with a lot of these other events," including concerts, the Winter Carnival parade and the North Star College Cup hockey tournament, he said. "We've even got a cat show."
Crashed Ice from Mayor Coleman's point of view
This year, St. Paul is kicking off the international Crashed Ice series, with stops next in Helsinki, Belfast and Edmonton. This year's competition also features a women's division for the first time. There will also be a block party in the Crashed Ice Village on West 7th Street in St. Paul on Saturday starting at 5 p.m.
This year also marks 100 years since the first Mass at the Cathedral of St. Paul, and the cathedral is opening its doors so event spectators can warm up and see a display of the church's long history.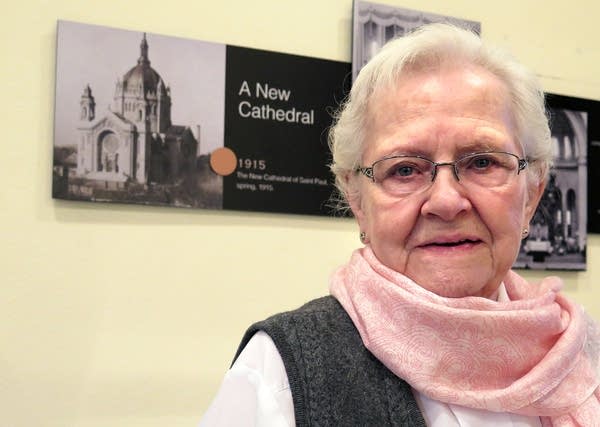 "All of those thousands of people, standing in front of the facade with their phones, and with their cameras, taking a picture with the facade, with the two huge banners that say Celebrate 100. And down the center, right under our beautiful rose window, coming four young, risky skaters — that's going to be the big moment," said Celeste Raspanti, the cathedral's archivist.
All the Crashed Ice events, including the block party, are free and open to the public. There are free shuttle buses from more than 45 locations around the metro area. Bus and light rail rides are free to downtown St. Paul on Saturday afternoon and evening, with a voucher riders can download from the Metro Transit website.
The main event is Saturday night, with the finals starting at 6:30 p.m. The top 64 men and 16 women will race head to head.