Portraits preserve the stories of Holocaust survivors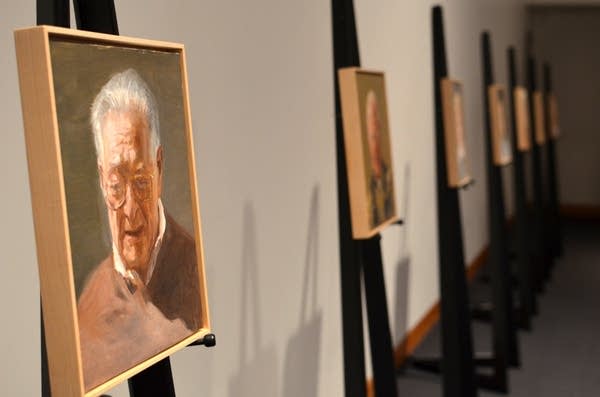 Dora Zaidenweber lost much of her family during the Holocaust, surviving the brutal conditions of the Auschwitz-Birkenau concentration camp.
But even though she was reunited with her father, brother and husband after the war, the devastation of that time has not left her.
"Losing the entire family other than my immediate family still weighs very hard on me," said Zaidenweber, 91, of Minneapolis.
Seventy years ago, the Soviet Army liberated Auschwitz. To mark the closing of the camp where an estimated 1.1 million people died, the University of Minnesota is unveiling an art project of paintings and videos that preserve the stories of Holocaust survivors who settled in Minnesota after the war.
Grow the Future of Public Media
MPR News is Member supported public media. Show your support today, donate, and ensure access to local news and in-depth conversations for everyone.
Zaidenweber, who at 21 was transferred to another camp just days before Auschwitz closed, was one of nine Minnesota Holocaust survivors whose likenesses are captured as part of the Portraying Memories project.
The University of Minnesota Center for Holocaust & Genocide Studies and several local sponsors commissioned Spanish painter Felix de La Concha to create the work, presented Monday at the Weisman Art Museum.
Over two hours, he interviewed each of his subjects as he painted. A video camera captured the process.
"I like this period of the life of the people when they have also this history on their faces," de la Concha said. "It's like a map. It's been marked, their whole lives there."
Among his subjects was Victor Vital, who grew up in Greece. His family hid from the Nazis, moving between mountain villages, but came close to dying from hunger.
Vital, 82, loves the portrait painted of him, though it shows an emotional moment.
"Besides painting the face, he somehow was able to express my feelings at that time," said Vital of St. Paul. "Look at there, my eyes and generally the face, the way I look. And I could not smile telling him all those things that happened."
The portraits and video offer something that still photos and documentaries can't, said Alejandro Baer, director of the Center for Holocaust & Genocide Studies. He hopes the paintings and videos will become part of a permanent collection at a Twin Cities museum.
"This is totally new approach. I think it combines two elements that are of crucial value. On one hand, the portrait, since a portrait is an homage always, it's honoring the person and here we're honoring here survivors," Baer said. "At the same time, Felix de la Concha captures in video, the very act of bearing witness."
But for Zaidenweber, the project brought mixed feelings.
"I am very much in favor of transferring memory. So in that respect, it's a very good project," she said. "But you have to understand that we are now actually limited to a very few remaining people. So that's sad that some of those stories are no longer available."
But one daughter of Holocaust survivors is happy to see their memories preserved through the project.
Joni Sussman of Minneapolis knows many of the people in the portraits, as well as their families. Her parents died about 10 years ago.
"We've lost so many survivors even in the last few years that these are really the last remnant," she said. "I personally find it very poignant that today on the 70th anniversary of the liberation of Auschwitz these survivors are here to tell the tale. It's remarkable."