The shooting at Red Lake: The victims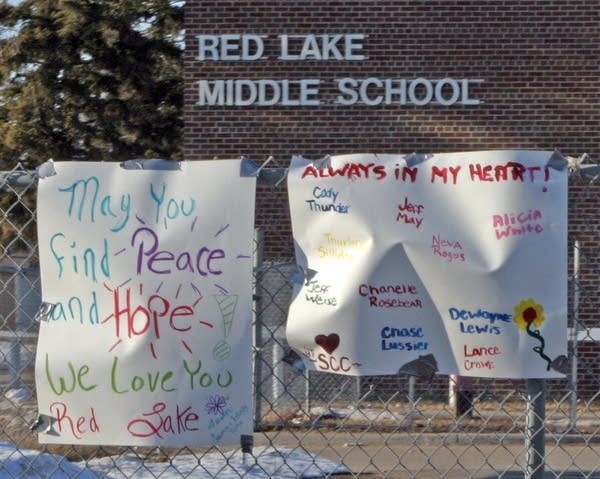 Ten years ago, on March 21, 2005, 16-year-old Jeff Wiese shot his grandfather, his grandfather's partner and seven of his classmates at Red Lake High School before shooting himself.
Daryl Lussier, 58
Most people in Red Lake called Daryl Lussier by his nickname: Dash. He was a lifelong tribal police officer and father of four.
Grow the Future of Public Media
MPR News is supported by Members. Gifts from individuals power everything you find here. Make a gift of any amount today to become a Member!
Lussier was the first to die in his grandson Jeff Weise's shooting spree, but one of the last victims to be found. It was hours after the violence at the school before someone thought to check on Lussier.
John Egelhof, a now-retired FBI agent, worked with Lussier for years before his death. "I knew Dash well," he said, "I called him Grandpa. He was a great guy."
Michelle Sigana, 32
Michelle Sigana lived with Dash Lussier and their then 13-year-old son, Devon. She grew up on the reservation and was known to be a big fan of the Red Lake High School basketball team well into adulthood.
She had been working at the Seven Clans Casino in Thief River Falls before the shooting, a job she enjoyed.
Derrick Brun, 28
Derrick Brun had some hard luck even before Weise came into the school.
His daughter had died a few years before the shooting, and his marriage unraveled. He had gotten the job as an unarmed security guard at Red Lake High School after dropping out of a police training course and losing his position with the tribal police department.
Brun wasn't a cop anymore when Weise started shooting, but Egelhof said he acted as one. If he hadn't confronted Weise, Egelhof said, many more people would have been killed.
Alicia White, 15
Alicia White lived with her grandmother in Redby, helping to raise many of her younger siblings.
Despite her responsibilities, her best friend, Ashley Lajeunesse, said White was a lot of fun. Her bright personality left a lasting impression on Jeff May, who was one of her 9th-grade classmates. May said he had a crush on White before the shooting. Ten years after seeing her die, he's still single.
"The girl I wanted died in that room," he said.
Neva Rogers, 62
Neva Rogers was the only non-Native American killed in the Red Lake shooting. Her blonde hair stood out in the halls of Red Lake High school, where she taught English, but her children said she felt right at home there.
Rogers was known as a demanding teacher who encouraged the best from her students. She often brought gloves and scarves to school for the poorer students in her classes.
When Weise came into the school, Rogers chose to warn students instead of escaping herself.
Thurlene Stillday, 15
Thurlene Stillday was from a big family in Ponemah, the most traditional community in the Red Lake Nation.
She was known for her love of storytelling and skills on a snowmobile. She was looking forward to experiencing high school. Today she rests in her family's burial ground on the reservation.
Chanelle Rosebear, 15
A freshman from Ponemah, Chanelle Rosebear was known for her ready smile.
She developed a love of the Ojibwe language growing up in Red Lake's most traditional community. At school, her height and grace made her a skilled basketball player.
Chase Lussier, 15
Chase Lussier became a father a few months before the shooting.
Even while balancing his time among school, friends and caring for the new baby, he was known for his quick sense of humor. During the shooting, he was seen pushing other students to safety before Weise shot him.
Dewayne Lewis, 15
Dewayne Lewis played a lot of basketball. He played at school, at the community gym, and on the many neighborhood courts scattered across the Red Lake Nation.
Jeff May was one of Lewis's best friends. He said Lewis got him into basketball, and convinced him to sign up for the school team.
"He was a good friend," May said.
Jeff Weise, 16
Jeff Wiese died that day but was not a victim.
Most people remember him as a quiet kid. He wrapped his big frame in a black trench coat, often gelling his hair up into horns or spikes. He didn't say much, and didn't have a lot of friends.
Weise's father had died, a victim of suicide. His mother was in a car accident in 1999 that put her in a nursing home. Weise lived with his grandfather, Daryl Lussier, and spent his time drawing, or online.
On March 21, 2005, Weise shot and killed nine people including his grandfather, and wounded five more before turning a shotgun on himself.
After his death, investigators found his notebooks filled with detailed illustrations of the violence he planned, his Internet history awash with posts on neo-Nazi forums.