What's worse than exploding oil trains? Read on
When a train filled with Bakken crude derailed and exploded near Casselton, N.D., 15 months ago, all firefighters could do was watch.
"We were maybe a little more than a quarter-mile away," recalled Tim McLean, Casselton fire chief. "And when each fireball went up, we could feel the heat. It just kind of lofted that way and hit you right in the face."
That experience puts McLean in a select group of firefighters who have firsthand experience with exploding crude oil tank cars.
Since the accident, eight Casselton firefighters, including McLean, have attended an oil train safety program in Pueblo, Colo., sponsored by the rail industry.
"That was very helpful," said McLean. "When I went, we were the only department there that was volunteer. Everybody else was full-time. They helped us, and we told them about our experience."
But the training wouldn't change his department's response to a burning oil train. Federal guidelines recommend firefighters stay away, and evacuate anyone within a half-mile of the fire.
Gain a Better Understanding of Today
MPR News is not just a listener supported source of information, it's a resource where listeners are supported. We take you beyond the headlines to the world we share in Minnesota. Become a sustainer today to fuel MPR News all year long.
Fear of exploding oil trains is driving new firefighter training initiatives in Minnesota and around the country. But the benefits of such training go beyond crude oil fires and prepare firefighters for situations that are even more dangerous.
Moorhead Fire Capt. Ryan Muchow said that while oil trains are the hot topic right now, first responders must be prepared for accidents involving hazardous chemicals.
"The acute effects of a chemical release like chlorine or anhydrous, that's a significant concern," Muchow said. "And that's where sheltering people in place sometimes is the best thing because a couple of breaths in a true cloud could be enough to cause significant health risks if not death immediately."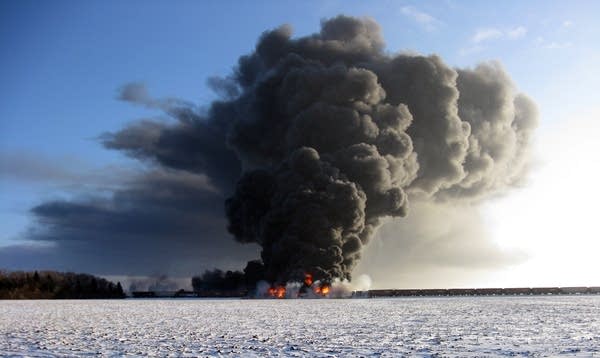 New funding is helping Moorhead firefighters expand their hazardous materials training. Last year, Moorhead joined St. Paul as the state's second designated emergency response team.
According to the Minnesota Department of Public Safety, the state has 11 chemical assessment teams that have equipment and training to identify chemicals and advise local firefighters on the best response. The emergency response teams have the training to attempt to stop a chemical leak.
Muchow said Moorhead's fire department is the first in the state to have new computer software that allows first responders to map a chemical release and predict where a chemical cloud will go.
"If we map it out and it says within 30 minutes we should be getting the product, say, 2 miles downwind, that's where we can make our decision," he explained. "Can we get people out of there before the product gets to them?"
The software doesn't model a crude oil fire. The software company is developing that model to add to the program.
BNSF Railway spokesperson Amy McBeth said that last year the company paid for 118 firefighters from Minnesota and nearly 70 from North Dakota to attend the Colorado training. The railroad also held community hazardous-material classes for 1,000 Minnesota first responders and 780 in North Dakota in 2014.
Muchow said the renewed training emphasis is good because it gets first responders to ask the question, "Are we ready?"
"And if the answer is, 'Well, no,' then what do we need to do to get prepared? And that's not always buying the biggest and best equipment. It might be just a matter of knowing who you need to call and how to pool the resources and rely on one another as response agencies," he said.
A variety of hazardous materials are included in Minnesota Department of Public Safety awareness training sessions mandated by the 2014 Legislature.
"Oil is what brought us to the table," said Kevin Reed, director of homeland security and operations in the Department of Public safety. "But there's many things that are traveling on trains that we need to be aware of and be trained for. Oil got us talking and now we can start talking about all the other things."
About 1,800 Minnesota first responders have attended classes so far. Reed said it will take about two more years to train more than 300 fire departments. The state has spent $50,000 on the training to date.
"But we're also looking at, once we get the awareness done, what is the next level of training?" he said. "What can we bring to the fire departments, police departments, emergency medical service people, emergency managers?" He said his department is likely to consider community training exercises in the future.
Right now firefighters and other first responders are the focus of training. But Moorhead Fire Capt. Muchow said it's critical that residents are prepared, too.
"Are you ready if you got the phone call saying you need to evacuate, are you prepared?" he said. "Are you prepared or do you know what it takes to shelter in place?"
The state Department of Public Safety is encouraging local communities to develop programs that help residents answer those questions.
Meanwhile, Tim McLean says he thinks a lot about what would happen if an oil train derailed in downtown Casselton.
"If it did happen we've have to try to do the rescues that we could," he said. "And pretty much draw a line in the sand: These buildings we can't save; these buildings we're going to protect. As long as we can get an evacuation going, that would be the first thing on the top of the list."