Mille Lacs walleye limit cut to 1; tightest rules yet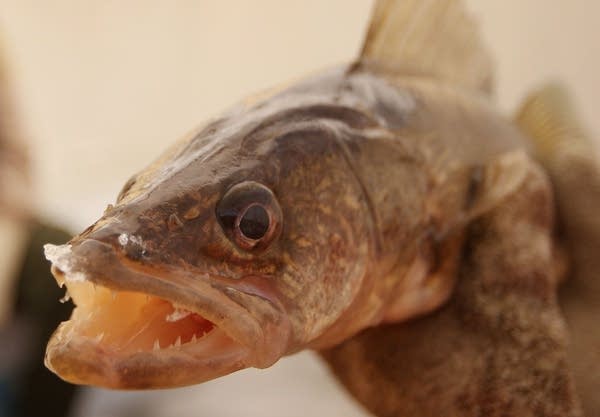 Updated 4 p.m. | Posted 9:50 a.m.
Minnesota's best known walleye fishery got its tightest restrictions ever Wednesday. Anglers on Mille Lacs Lake will be allowed to keep only one walleye daily this season instead of two.
The new regulations will let Mille Lacs sport anglers keep one walleye 19 to 21 inches long, or one more than 28 inches. Last year, Mille Lacs anglers could keep two 18- to 20-inches long or one longer than 28 inches.
Grow the Future of Public Media
MPR News is Member supported public media. Show your support today, donate, and ensure access to local news and in-depth conversations for everyone.
The Department of Natural Resources also said an extended night walleye ban will take effect the Monday after the May 9 fishing opener. The ban will extend to Dec. 1.
DNR officials said the restrictions are necessary to help the lake's walleye population recover from 40-year lows.
The DNR says it has had to reduce the overall harvest limit by a third, down to 40,000 pounds. That's split between sport anglers and eight Native American bands that retained fishing rights to the area in an 1837 treaty. The overall harvest was more than 10 times that as recently as 2012.
Walleye numbers in Mille Lacs have been a growing concern for the DNR. Officials say it will take time for the population to recover.
Efforts to fight pollution and the proliferation of the zebra mussel in 2011 have made the lake clearer than it's been in decades. The cleaner water encourages plant growth and reshapes the lake's food chain.
For instance, the DNR says the population of the Northern pike, a walleye predator, is higher than ever.
The DNR repeated its assertion Wednesday that it believes walleye netting by tribal fisherman isn't a factor.
State officials say they're also partly to blame — that they haven't correctly managed the total pressure on the fish population in Mille Lacs.
But they say they're still trying to strike a balance between the fish and the vast recreation economy that's sprung up around the lake.
It isn't working, according to Bill Eno, who runs three fishing launches from the Twin Pines resort on St. Albans Bay on the west side of the lake. He says the DNR's regulations are filleting off more of the business.
He says the bag limit has all but ended out-of-state fishing tourism. He says the night ban cuts into the casual fishing by people who would otherwise drive up from the Twin Cities for an evening on the lake after work.
Constantly changing regulations are a factor, he said.
"We lose customers every year because of it. Because people just don't want to put up with it any more."
Eno said these new regulations are so close to a ban on taking fish out of the lake that he can't help but wonder if it isn't time to simply stop altogether.
"My choice, to take some of the black cloud off this lake, this lake should just be all catch and release walleyes," he said. "Stop the netting. Stop the taking of the fish. Let the lake come back. Make some strong decisions."
State officials and local businesses say they aren't ready yet to cut the line to one of Minnesota's most storied traditions. The DNR says it still is looking at ways to grow bigger walleyes in Mille Lacs
Tina Chapman, head of the Mille Lacs Area Tourism Council, says there's still plenty of other fish in the lake.
"There's still a lot of great fishing on Mille Lacs. There's still a lot of walleye on the lake. There's lots of other options," she said. "We've got great northern fishing, world class bass, looks like the muskie guys are still going to be able to get out and fish at night."
A fall survey on Mille Lacs did show hopeful signs for walleyes.
Researchers found the highest number of yearling walleyes on the lake since 2008 as well as higher numbers of yearling tullibees, which could help feed predators that threaten the young walleyes, the DNR said in October.