Don't phone home: MN cops launch distracted driving crackdown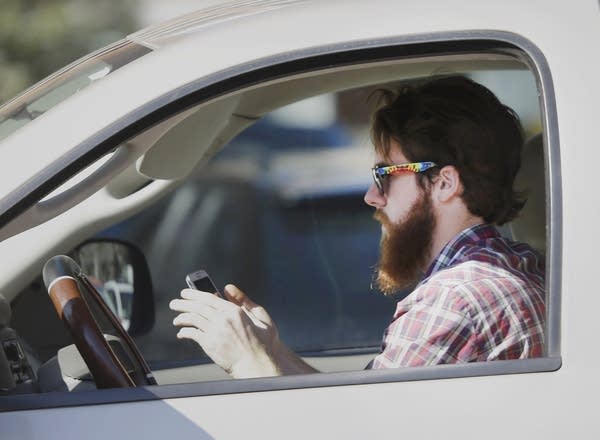 Updated: 4:15 p.m. | Posted: 7:37 a.m.
Police across Minnesota launched a crackdown Monday on distracted driving.
Drivers have already been stopped for applying nail polish, watching videos and texting behind the wheel, among other things, State Patrol spokeswoman Lt. Tiffani Nielson said. More than 300 police agencies are involved in the effort.
Extra officers will be out on more road patrols through Saturday. Fines start at $125 per infraction and go up from there, depending on the county where they occur.
"A lot of drivers think that it's only a distraction if the vehicle is in motion, that if they're stopped at a light, that they're not distracted. But they are absolutely distracted," Nielson said.
Before you keep reading ...
MPR News is made by Members. Gifts from individuals fuel the programs that you and your neighbors rely on. Donate today to power news, analysis, and community conversations for all.
"We've all been at a traffic light where the car in front of us doesn't go because they're looking down at their phone, they're not paying attention to the light," she added. "State law prohibits distracted driving, any time you're in the vehicle."
The push is funded partly by a federal initiative. It comes as part of a rising awareness of the role inattention has in crashes, injuries and fatalities. The state's Department of Public Safety estimates distracted driving is responsible for as many as 25 percent of Minnesota crashes and could account for more than 60 deaths a year.
Police will be looking for distracted drivers — people with phones and other devices in their hands, as well as other signs they're not watching the road, like changing lanes without signaling, unusual speed changes or driving slowly, and driving on road shoulders.
Police realize that phones put technology in easy reach, but want drivers to say no to the distraction, Nelson said.
"We can recommend other options for drivers. Send a message before you leave, send a message after you arrive. Don't do it while you're driving," Nielson said.
"If you have a passenger in the vehicle that you can rely on, have them send your information, check an email or do any of those things, so you can focus on the road," she added. "Pass the phone to someone else do it for you. Designate a texter while you're in the vehicle."