Appetites: Best foodie neighborhoods in the Twin Cities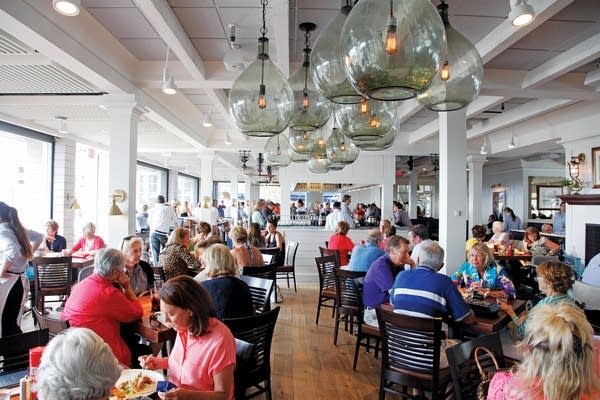 After pulling through the economic recession, several Twin Cities neighborhoods are undergoing a renaissance of sorts, with the addition of new shops and cutting-edge restaurants: 
• Nicollet Avenue: One restaurant spurred change
• Uptown and North Loop: Classics mixed with the new
• Downtown Wayzata: A suburban foodie hotspot
• Payne-Phalen: Up-and-coming spot it St. Paul

Rachel Hutton, editor of Minnesota Monthly magazine, talked to MPR News about some of the metro's hottest new foodie zones featured in their upcoming Best Neighborhoods issue.
Is there one neighborhood you could point to as seeing a substantial change lately?
Nicollet Avenue, south of Lake Street, specifically between 35th and 38th streets. Just five years ago, there wasn't a lot happening in this stretch — that is, until Blackbird Cafe arrived at 38th Street in 2010.
Fast forward five years and it's almost become an extension of Eat Street. At 35th, there's now Pat's Tap gastropub and Hola Arepa, a Latin eatery that grew out of a food truck concept. 
The owner of Pat's Tap, Kim Bartmann, also opened Kyatchi, a sushi place at 38th Street. It's across the street from a cutting edge coffee shop called Five Watt Coffee. It serves espresso drinks spiked with cardamom and black pepper and cocktail bitters. 
What are some of the other hot neighborhoods for food in the Twin Cities?
Uptown is a big one — the new Coup d'etat, Libertine and Agra Culture have been making a splash. 
Things are also changing so fast in the North Loop that places like The Bachelor Farmer, which opened less than five years ago, are starting to feel like "classics," with the influx of new places including Borough, Smack Shack and Spoon and Stable. 
What about in the suburbs?
Downtown Wayzata has seen the most change in the past year or so with the back-to-back arrival of two new restaurants, 6Smith and COV. Both cater to the area's penchant for steak and seafood, but they have a modern ambiance and menus with a few twists on the classics. 
What's an example of a neighborhood that's up-and-coming?
The Payne-Phalen neighborhood on the east side of St. Paul. Now this is a neighborhood that is under the radar for a lot of people outside of St. Paul. In the past, when it did come on the radar, it was often due to violence and crime. Today, a trio of hip restaurants have opened within the past couple of years in Payne Avenue's rehabbed vintage storefronts: there's the Ward 6 gastropub, a place called Cook St. Paul that does diner-fare-plus-Korean-specialties, and Tongue in Cheek, an accessible fine-dining spot opened by a former W.A. Frost chef.