Acclaimed author Louise Erdrich creates interactive exhibit
Internationally-acclaimed author Louise Erdrich has long wanted to have a reading where she doesn't have to be present.
To make that possible, Erdrich has created her first show of visual art, an interactive gallery experience that includes large object sculptures, paintings and audio recordings.
Her fans can take it in at Bockley Gallery, where the author will speak tonight. It's a few doors from her bookstore Birchbark Books in the Kenwood neighborhood of Minneapolis. That's where Erdrich recently got a kick out of watching a trio of women take in her sculptures and paintings.
The show, "Asynchronous Reading," features several telephones placed throughout the gallery, each offering a different message. As one woman picked up a vintage telephone and listened intently, Erdrich couldn't help but smile.
Grow the Future of Public Media
MPR News is supported by Members. Gifts from individuals power everything you find here. Make a gift of any amount today to become a Member!
"I'm so happy," she said. "I don't have to be here. People can walk in and they can pick up the phones and I can read to them while they're looking at something. I've had such a great time with this."
The space is dominated by three large sculptures of women, made from things Erdrich has collected over the years — from feathers and bones to a miniature birch bark canoe.
Erdrich pointed a visitor to a brilliant blue sculpture with a square picture frame for a head, filled with star charts, an old French cigarette pack, and a gumball stuck in a shot glass. She laughed as she explained it's a self-portrait.
While the display is Erdrich's first gallery show, she is not a newcomer to visual art. She has illustrated several of her books for children and since her college days has made found-object sculptures.
Erdrich also has long been interested in painting. Two of her paintings in the gallery look almost like textiles, with blue and red lines running through them. She initially used them to work out literary problems.
"So the paintings with the lines are ways for me to think about 'lines' — because that's what writers do; they work on lines without using words," she said. "But eventually the painting became about itself."
Mixed through the exhibition is artwork by two of her daughters. Aza Erdrich contributed several paintings, one of which was used for the cover art of Erdrich's National Book Award-winning novel "The Roundhouse."
Pallas Erdrich created several short videos, as well as what the author calls a "reassuringly detailed" flowchart of the afterlife.
Erdrich's sister, accomplished poet Heid Erdrich, curated the show.
Heid Erdrich said for a while she and Louise were torn over its form.
"She kept wanting to sew all the objects together and create a narrative arc for it," Heid Erdrich said. "And I, as a curator, said 'well, they don't all have to connect so directly.' So we came up with the idea that we were not investigating a murder mystery but life's mysteries. And I decided to install the 'Agency Apophany' as part of this work."
Set in a corner of the gallery, the "Agency Apophany" is an installation that consists of a worn farmhouse kitchen table converted into a desk where a restored typewriter sits.
To the side are files that visitors can read, marked "Table of Contents," "Findings" and "Back Stories."
They include writing by Heid Erdrich — or "Agent H" as she's known in the installation — in response to her sister's works, sometimes in the form of poetry.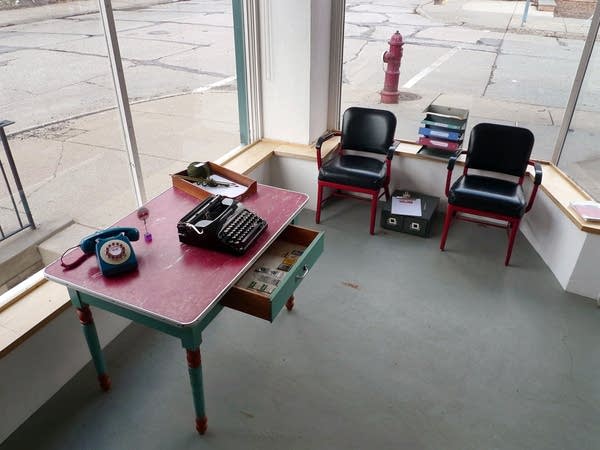 Visitors to the gallery can leave their own responses.
An apophany, Heid Erdrich explains, is a sort of mistaken epiphany. When someone has an epiphany, they suddenly have a deep understanding of something. When someone has an apophany, they think they understand the meaning of something, but they're wrong.
"To me those seem natural because they really are metaphor — as poets we often work with metaphor," Erdrich said.
For those who can't experience the show in person, the Erdrichs also have created a website, agencyapophany.com.
Heid Erdrich hopes people will be inspired to think about how artists cross boundaries and genres.
"For every beautiful novel they've enjoyed from Louise somewhere there's a series of artworks or boxes full of notes," she said. "She's just a consummate artist — there's no other way to say it. Every bit of her life is beautiful and she makes things beautiful."
If You Go
"Asynchronous Reading" is at Bockley Gallery, 2123 W 21st Street, Minneapolis, through April 25. Louise Erdrich is giving an artist talk Friday night.
Gallery
3 of 3
1 of 3
2 of 3