Oil train derailment prompts evacuations of central ND town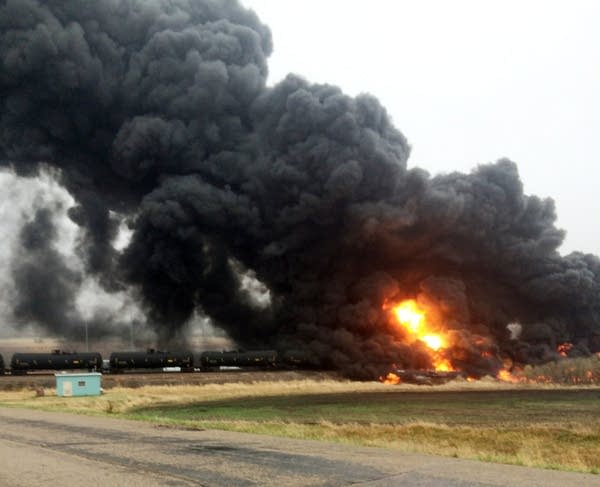 Updated 3 p.m. | Posted 9:25 a.m.
The central North Dakota town of Heimdal was evacuated Tuesday after an oil train derailed near town and tanker cars caught fire.
Six cars were burning but no injuries were reported and no buildings were threatened, North Dakota Emergency Management spokesperson Cecily Fong said. The engine and the cars that weren't on fire were decoupled and moved to safety, she added.
MPR News is Member Supported
What does that mean? The news, analysis and community conversation found here is funded by donations from individuals. Make a gift of any amount today to support this resource for everyone.
The 35 to 40 residents of Heimdal, as well as a few nearby farms, were evacuated within 30 minutes after the cars derailed, officials said.
About three hours after the fire started, there were none of the signature fireballs often seen with previous oil train derailments, Wells County Emergency Manager Tammy Roerich said.
"So far, it's just black smoke and flame," she said. "The tanks are actually doing what they're supposed to do. They're letting off the pressure."
Several area fire departments were on site, but the plan was to let the fire burn out, she added.
The Federal Railroad Administration said it had dispatched a 10 person team to the site to investigate. A National Transportation Safety Board team was also on the way.
BNSF said the train that went off the tracks in a rural area about two miles from Heimdal was made up of 109 cars, including 107 loaded with crude oil and two buffer cars loaded with sand.
The company said the the derailed cars were CPC 1232 models, cars built with industry adopted safety features.
Heimdal is about about 200 miles west of Fargo-Moorhead.
Everett Johnson, a retired farmer who lives just outside of Heimdal, said the cars derailed in an area where there are wetlands near the track.
It's unclear how much oil might have leaked into the wetlands. An Environmental Protection Agency official said the agency sent a team to the area to monitor any contamination.
Fong said smoke and heat are the primary reasons to evacuate people within one-half to three-fourths of a mile from burning oil tankers.
As an example, she cited a December 2013 derailment and explosion outside Casselton, N.D. that forced an evacuation.
"We know from the Casselton incident that when those cars were on fire, the heat that it generates is just enormous and so even up to a mile away the people were able to feel the heat from that fire through their front window," she said.
The Heimdal derailment is at least the 15th oil train accident in North America since early 2013.
This latest accident shows the need to improve rail safety measures in Minnesota, Gov. Mark Dayton told reporters Wednesday.
"It's a reminder that we have that exposure all across large parts of Minnesota and we need to do whatever we possibly can," he said.
Dayton is proposing an assessment on the major railroads in the state to improve rail crossings in Minnesota. He also wants to borrow money to pay for major improvements and change the way railroad property is taxed, which would allow local governments to raise more money for improvements.
However, House Transportation Policy and Finance Chair Rep. Tim Kelly said the railroad companies have already committed to spending more money and that he wants more study to figure out the best way to improve safety.
"To suggest we here at the Legislature know exactly what to do to stop derailments is ludicrous," said Kelly, R-Red Wing. "We do not have that expertise."
Republicans did not include the governor's oil train plan in their budget.
Kelly did not specify how much the railroad companies are going to spend.
Last week, the U.S. Department of Transportation announced a new standard for oil tank cars that includes a thicker metal housing, improved braking and better pressure relief valves.
Cars hauling Bakken Crude from western North Dakota will need to meet the new standard in five years.
But new tank cars won't solve the problem, said Brigham McCown, a former federal pipeline safety administrator who runs a Washington, D.C., nonprofit studying infrastructure policy.
McCown says railroads are spending record amounts on capital improvements, but much more could be done with sensor technology to prevent rail accidents. He also called for more inspectors and greater oversight of railroads.
"So much time and energy has been focused on the tank cars," he added, "we've kind of forgotten about preventing accidents in the first place."
MPR News reporter Tim Nelson contributed to this story.
Map