Photo exhibit puts world's water problems into perspective
A new exhibition of large-scale photographs at the Weinstein Gallery in Minneapolis aims to show the complicated relationships people around the world have with water and the environment.
It showcases the work of Canadian photographer Edward Burtynsky, who has an international reputation for aiming his lens at subjects many landscape photographers would rather avoid.
From his projects on oil wells and mining to his focus on quarries, Burtynsky has used his camera to document with an unflinching eye the effect of human industry on the earth's natural resources. His latest work explores the growing environmental crisis of water scarcity and contamination.
The photos began to emerge in 2007, when he was finishing a series on oil drilling in Australia. The country was in the midst of a 10-year drought, and farmers were losing their properties. Burtynsky said some migrated to the cities to try and find work. Others committed suicide.
Grow the Future of Public Media
MPR News is supported by Members. Gifts from individuals power everything you find here. Make a gift of any amount today to become a Member!
"It occurred to me that with oil there are energy workarounds — you can use electricity and solar and wave power and geothermal," he said. "But when the center of a continent like Australia runs out of water, there's nothing you can do. You have to leave."
Burtynsky spent the next five years studying water issues in seven countries, including India and China. He also shot photos for a National Geographic article about water use by California agriculture. All during that time, he took beautiful pictures, gallery owner Martin Weinstein said.
"This is about as close as you're going to get to a meeting of painting and photography," Weinstein said. "And there's no doubt, as one walks around the exhibition, people are going to see images that immediately bring to mind certain painters."
Weinstein sees everything from abstract expressionism to romanticism in Burtynsky's photos. They capture the surreal colors of light reflecting on oil slicks in the Gulf of Mexico after the BP spill and the mesmerizing patterns of phosphorous tailings ponds in Florida.
Burtynsky first began photographing his subjects from an 80-foot bucket lift, but that wasn't high enough to capture the massive scope of humanity's relationship with water. He ended up relying on planes and helicopters, shooting from 600 to 1,000 feet up. He used the latest technology to capture detailed images that remained crisp even when blown up to five or seven feet across. While the photographs are beautiful, the message they convey is a troubling one. Burtynsky said the goal of his work is to raise awareness, and invite people to have deeper conversations.
But he's not pointing an accusing finger.
"It isn't necessarily an indictment against any particular industry or any particular factory or any particular faction of our communities or anything like that," he said. "Ultimately I'm trying to position that this is a complex issue.
For Burtynsky, at the heart of the stress on water is the fact that there are too many people in the world, and everyone wants so much.
His work aims to document the effect of human life on the oceans, forests and other ecosystems.
"They're all at risk, and if they're all at risk, we're at risk," he said. "But to say [human activity is] wrong, I think, is a simplistic position."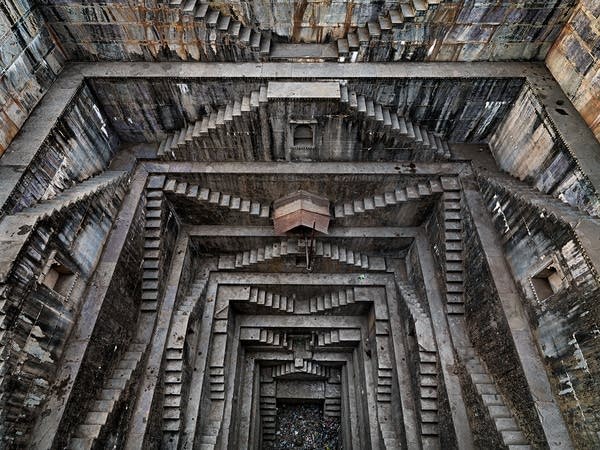 A better question, Burtynsky said, is how can people draw from the environment without destroying it?
That, Burtynsky said, is the challenge of modern life. He hopes that after seeing his photographs, people will be more mindful and respectful of water, whether they're taking a shower, drinking from the tap, or swimming in a lake.
"If you look at these images and see them as horrible destructive human activity ... when you wake up in the morning and look at your home and your toaster and your car and the whole city, then you should technically look at your city the same way," he said. "Because you can't have one without the other. They're bound together."