Dayton and GOP push pre-K aside, but parents want it
When Gov. Dayton and House Republican leaders agreed to spend $525 million more on schools over the next two years, it brought to an end the governor's push for universal pre-kindergarten.
But the deal, which likely will help the state avoid a partial government shutdown on July 1, will deliver more money to Minnesota school districts that already offer free pre-K.
Among them is Rosemount-Apple Valley-Eagan Public Schools in the southern part of the Twin Cities metro area, where officials will use some of the money they'll be getting out of the deal to keep the program going.
At Westview Elementary in Apple Valley, the pre-K program provides 4-year-olds with a colorful classroom for half a day of learning and play. The experience comes with a snack and three recently hatched baby chickens.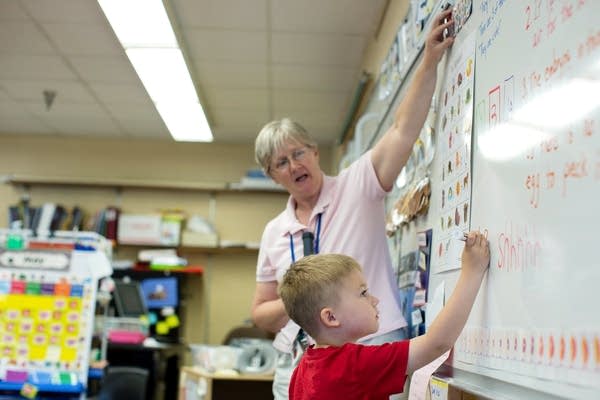 The class is part of the district's strategic plan to boost early childhood education options for families. The district serves 320 4-year-olds in early learning programs and about 140 of them are enrolled in free, half-day programs like the one at Westview Elementary.
Classes like Westview's are unusual in a state with a persistently wide gap in the achievement of white children and students of color on standardized tests. Minnesota also has high private pre-kindergarten costs.
Gain a Better Understanding of Today
MPR News is not just a listener supported source of information, it's a resource where listeners are supported. We take you beyond the headlines to the world we share in Minnesota. Become a sustainer today to fuel MPR News all year long.
But Superintendent Jane Berenz said she had no trouble convincing parents and teachers that public pre-kindergarten is a good idea. The hard part, she said, is figuring out how to pay for it without undercutting other programs.
Berenz wants more money added to the school funding formula, which offers her more flexibility in how she spends what the district is given by the state. That's the strategy House Republicans and Dayton ultimately agreed to.
"You cannot have high quality pre-K, full-day kindergarten and not take care of and nurture these kids as they go through the system," Berenz said. "Otherwise you're going to lose the gains."
The Rosemount-Apple Valley-Eagan district is the fourth largest in the state, and 25 percent of its students live in poverty. Many of its pre-K programs aim to serve low-income and minority students.
At Westview Elementary, pre-K teacher Janet Callahan said her students are getting a head-start on academics. But they're also becoming independent, confident and worldly — skills she thinks will go far in closing the achievement gap for low-income and minority kids.
"They're going into kindergarten, these children from culturally and linguistically different backgrounds, knowing they can succeed in school," Callahan said. "Feeling liked by their peers. Being very confident about what they know and their ability to use that, and learn more, and do well."
But free pre-kindergarten also helps middle class parents who work but can't always afford pre-kindergarten classes.
Vicki Truesdell of Apple Valley is among them. She and her husband work shifts, and until their son landed a spot in Westview's free pre-K program last year, he spent most of the time at home with relatives.
Truesdell said the results were dramatic.
"He walked into that preschool program with no skills," she said. "He couldn't use the scissors."
By the time Truesdell's son started kindergarten at Westview, she said, he was "totally ready to walk in the front doors.
"He's like 'I've got this. I'm walking to school by myself. I don't need your help.'"
Truesdell represents an important demographic for Democrats and Republicans as they hit the campaign trail in 2016. In part, both sides' pledge to support education funding is targeted at middle class suburban voters like her. In a year when former Secretary of State Hillary Clinton likely will be at the top of the Democratic ticket, women will be a highly courted group.
Truesdell said she tends to vote Republican, but not always. Rather than partisan loyalty, she said, her vote is likely to go to a candidate based on his or her view on important issues — like education.
As far as Truesdell is concerned, she wants more free pre-kindergarten no matter how the funding arrives.