Soccer team may be considering more than a stadium in St. Paul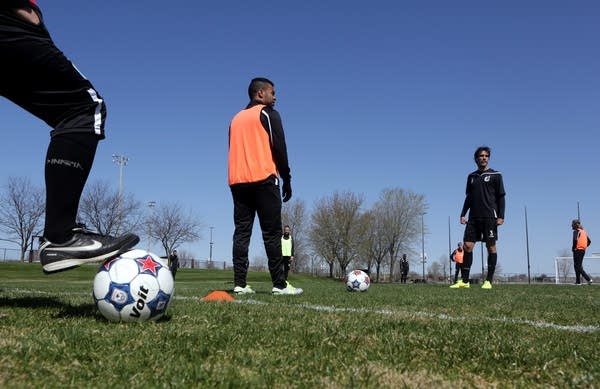 New information from the city of St. Paul indicates talk of a Major League Soccer stadium in the city dates at least as far back as 2013, and involves more than just the preliminary details the city has already disclosed.
The owners of Minnesota United were looking for a stadium site in Minneapolis, but have since started eyeing St. Paul. What's the status on that proposal?
The team is considering a parcel of land near the southeast corner of Snelling and University avenues. It's a 10-acre chunk of land where a Metro Transit bus barn used to stand, just north of Interstate Hwy. 94. The soccer team was initially looking at about an 8-acre site near Target Field. That required some legislation for tax breaks that didn't happen at the Capitol this year.
Is there an actual proposal for a soccer stadium in St. Paul?
Before you keep reading ...
MPR News is made by Members. Gifts from individuals fuel the programs that you and your neighbors rely on. Donate today to power news, analysis, and community conversations for all.
Not yet. There don't seem to be any actual terms being negotiated or boundaries being drawn right now. But the city of St. Paul has released dozens of pages of correspondence about the stadium plan in response to an open records request.
That correspondence shows that Bill McGuire, owner of Minnesota United, and the city have been sharing details of an even bigger project the team has apparently been considering, potentially involving more than 30 acres at Snelling and University.
What's at the site now?
A vacant bank, a vacant video store, the Big Top Liquor store and a Rainbow grocery store — one of four owned by Supervalu, which also owns the Cub store on the next block. There's also a strip mall with an Office Max, a Walgreens and other shops.
Initially, St. Paul stadium boosters only talked about the south end of the site, which has been vacant since the bus barn was torn down. But this new batch of emails and diagrams show McGuire has shared a preliminary sketch with the city for the entire area, including as much as a million square feet of commercial and housing space, and more than 4 acres of park land.
This sketch dates back to a year and a half ago and indicates the team may have also had its eye on the Sears store on Rice Street, and some industrial properties along Highway 280.
Does this mean the talks with St. Paul are more serious?
City staff members have assembled a kind of inventory of what they could do to make this happen. It includes assembling the land for the project, providing some tax-increment financing for public infrastructure and providing some parking in a city-owned ramp on the west side of Snelling.
There also is some evidence that the St. Paul Port Authority has been invited in for discussions. It is a big real estate player for the city and has been key in the deals for CHS Field and for redeveloping the Macy's site — again with a potential sports partner, the Minnesota Wild.
But the city concedes that it can't offer the big ask the team has made: a sales tax exemption on stadium construction materials and a property-tax exemption. The deal would still require state subsidies that the city has no control over.
That is just a list of deal points. There is no indication that the city has offered any of it to the soccer team.
But among these documents is a proposed state law drafted by a Minneapolis law firm that could make thee subsidies happen. It isn't a city proposal, but the mechanism has been sketched out.
What are the parties saying about this?
Minnesota United officials declined to comment further and representaties of the New York real estate company that owns the site could not be reached.
A spokeswoman for Mayor Chris Coleman said that St. Paul has already been developing plans for this site, even without soccer, and that the discussions with Minnesota United remain very preliminary.