TU Dance seeks to inspire more dancers of color
As a young dancer in the Twin Cities, Toni Pierce-Sands was one of few students of color in her classes.
Eventually she moved to New York, where she joined the acclaimed Alvin Ailey American Dance Theater and met her future husband, fellow dancer Uri Sands.
For the last four years, the couple has welcomed dancers of all backgrounds to TU Dance, a St. Paul school that aims to help more dancers of color have careers like that of Misty Copeland, who was recently named to the American Ballet Theatre's coveted principal dancer position, a first for an African-American.
When they moved to the Twin Cities in 2004 to start their own dance company, Pierce-Sands and her husband attended several concerts to see how the local scene had evolved.
"We realized that as we were doing this we were the only two people of color in the audience," Pierce-Sands said. "[That] was completely a shock after being in New York City and our career with Alvin Ailey and traveling all over the world, where audiences were so diverse."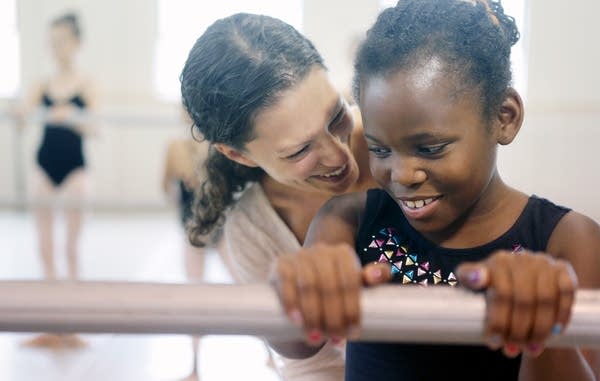 Just as shocking to them was the lack of diversity on stage. Despite the great work that they saw by white dancers, Pierce-Sands couldn't help but wonder, "Where are all the other bodies? Where's everyone else?"
MPR News is Reader Funded
Before you keep reading, take a moment to donate to MPR News. Your financial support ensures that factual and trusted news and context remain accessible to all.
The couple responded by creating TU Dance. The diverse dance company's choreographed pieces combine ballet, traditional and contemporary West African dance with modern North American and hip-hop rhythms and sensibilities.
In 2011, the couple acquired a building on University Avenue in St. Paul, and opened a school. The school welcomes dancers of all backgrounds to study ballet, modern dance and West African dance.
In four years, the number of students enrolled has grown from just over a dozen to 149. Students of color make up more than 60 percent of the school's population.
TU Dance recently completed a second dance studio and classroom, which will allow the company's professional dancers and students to rehearse at the same time.
Black, Latino, Asian and white girls wear leotards and tights as they learn both ballet and West African dance moves.
"Everyone is showing up," Toni Pierce-Sands said.
Pierce-Sands attributes the school's success to deliberately identifying and removing barriers to access.
Fifty-three percent of TU Dance's students enrolled in the 2015 spring semester on reduced tuition through the school's access program.
Pierce-Sands said the school aims to handle funding and other matters so students can bring their best work to the dance floor. The school helps students with everything from getting dance clothes and transportation to making sure there are healthy snacks available between classes.
Uri Sands points out that professional sports teams have for years used the same strategies to ensure access to the best talent.
"If we're striving for excellence as a dance organization, then it would be in our best interest to make sure that we have access to the best possible potential that's out there," he said. "We have to work through all barriers and make sure that accessibility is not only allotted to those who can afford dance."
The strategy appears to be working. Several of the school's students were accepted to summer workshops with the Joffrey Ballet School and Dance Theatre of Harlem.
Canaan Mattson, 17, earned a scholarship from the Ailey School's summer intensive program.
Mattson, who dances five to six hours a day, is a passionate believer in TU Dance.
"It's a communal and family environment, but then you also get the energy level and the training and the professionalism of a conservatory," he said.
Mattson said the training isn't just about dance moves. He's also learned to show up, on time, with all his gear.
"They're preparing you for when you're in a professional setting, and those can be determining factors as to whether you get the job or not," he said.
Correction (July 20, 2015): An earlier version of this story misspelled Canaan Mattson's name. It also included captions suggesting that TU Dance had moved studios. The dance school remains in its University Avenue location, but has added on to its current facility. The story has been updated.
Gallery
9 of 9
1 of 9
2 of 9